Interview
Music Like Evening: How Gregory Alan Isakov's Songs Bloom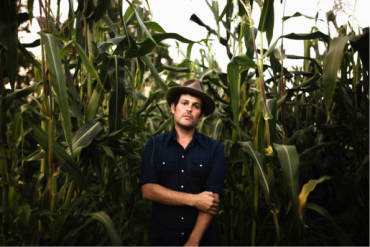 Gregory Alan Isakov understands that every song, even every verse, is an opportunity to begin anew, to live in the wonderful present. The marriage of language and music provides him with the chance to lead an awakened life, and yet also demands that he slave over the details.
Isakov's new album, Evening Machines, his first in partnership with Dualtone Records, began with approximately 35 songs, and with much concern and detail the singer-songwriter selected only the ones that sprouted fresh and green.
"It took me about a year to even decide which ones I was attached to and which ones to arrange," said Isakov, 39. "I'll slave over a line and get attached to a song, and this is something that is great. If it's a song or line that does not make you feel anything, I'll move away from it. I slave over a few moments of a song and the right amount of space in one lyric, and how much intention there is in an arrangement at an emotional level. It's like old vinyl records, where they have a beginning and an ending and you then whittle it down. It's a weird, hard process, and as I was plowing through, I was asking myself, 'what do I want to hear next?' I organically took time away and decided not to listen and then to go back and decide if this makes me feel something."
In Isakov's other life he operates a small crop and seed farm and a vegetable garden that supplies farm-to-table produce to Boulder, Colorado-area restaurants. Spring and fall revolve around the vagaries of gardening, while the slow-paced mellowness of winter allows him the time to craft his music. Evening Machines was recorded at a converted barn studio located on Isakov's three-acre farm, and the mood of working at night allowed for the calm energy of focused flow, which comes across in an upright, stable, and relaxed feel on the album.
"I feel like the night time made it into the record and I was working in the middle of the night, especially in the winter, and every song is really quiet. That studio at the farm can be noisy, with neighbors on mowers, and that can bleed into the mic. But night felt safe for sound and safe to work out lyrics and safe to be ready for the season at night … I would find myself in the light of all these VU meters and the tape machine glow, so that's where the title came from. This music always feels like evening to me."
The first single, "Chemicals," surpassed two million streams in its first week of release, one sliver of a 12-track album that was self-produced and mixed by Tucker Martine (Neko Case, The Decemberists) and Andrew Berlin (Descendents, Rise Against). Evening Machines is Isakov's fourth full-length studio album and first in five years, following Isakov's acclaimed collaboration with the Colorado Symphony, 2016's Gregory Alan Isakov with the Colorado Symphony, which featured orchestral versions of 12 of Isakov's songs. Similar to his earlier work, Evening Machines suspends time and space as well as the simultaneous mood of earthiness mixed with that surreal somewhere else.
The beauty of Evening Machines is that it perpetuates that sense of timelessness so integral to Isakov's music. It delivers the balm of clear water, each song resplendent with freedom, an offering fueled by mystery but also infused with a spirit of optimism.  
"I had to emotionally and spiritually feel it," said Isakov.  
Born in Johannesburg, South Africa, Isakov's first three full-length studio albums, released on his independent label Suitcase Town Music, sold more than 370,000 copies, and he has toured extensively, building a international audience.
"I'm so shocked that I'm playing music for money," said Isakov. "Where in the beginning I did it in the mornings and after work, and it was only as a part of your day. Where now I'm blown away that people will pay money to park and find a babysitter and come out. I know how busy life is and how expensive shows are. And every record is a huge leap, and that's the creative process … to make sure that I've bled and did everything for the songs that I could. I do what I can for the song. I've bled and poured that blood into it, and that's the best feeling."
Isakov has never felt the pressure or the grief of failure as a musician because he never set out to become one. His loftiest initial goal was to set up a few gigs in those towns where he wanted to go camping.
"There wasn't a way to fail because I started out on the first tours at places where I wanted to camp for free, and I played in Montana and Wyoming, and it was cool to just do it. Maybe I would sell a couple of records. My first gig in Missoula was at The Raven at brunch, and there was an Army Navy store around the corner, and I got a blanket, and that's why I got into it, to farm full-time and play music in the winter. It came from a loving place, to pick up a few gigs while working construction jobs making flagstone patios."
Early in his career, Isakov felt the terror of letting the mask slip, of singing a sad song about space to audiences as panic churned in his gut. In fact, it took him several years of performing for the dust of fear and anxiety to settle. 
"To be a part of someone else's life through music is amazing," said Isakov. "Since it scared the shit out of me, I figured that I'd better do this. I figured that if it scares me so much I need to do it. All human anxiety is from that we are going to be so scared that we are doing to die … now (performing) is not a big deal. I mean, it doesn't kill you. If it does kill you, it's still not a big deal. I don't want to live life afraid and have to face it.
"It goes against my basic nature to perform and that's tough for me, but it also feeds the other part of me that nothing else can. I'm a hermit so it's a challenge for me to step out as a solo life and to be in the band, and there is a lot of transition. I love that part of my life, even the challenges, which reminds me why I want to transport someone else to a place I feel like I can go."
Still, the recluse in Isakov needs solitude in order to be light and free, living simply and sanely with few possessions. And the singer-songwriter in him derives harmony, awareness, and liberation in the art and pursuit of his craft, embarking on an extensive worldwide fall tour, including a sold-out headline show at Colorado's Red Rocks Amphitheatre as well as dates at L.A.'s Theatre at Ace Hotel, Chicago's The Vic Theatre, Manhattan's Irving Plaza, Brooklyn's Warsaw, Amsterdam's Paradiso, and London's 02 Shepherds Bush Empire.
Instead of getting stuck in any type of self-analysis paralysis, Isakov stays driven by an interest in exploration and recognizing the opportunities of words. 
"If there is nothing coming as far as songwriting, I try things like to cut out pieces of a romance novel and sci-fi book and start to think about grandma's old sayings and then make up my own. It's great to find something that's thousands of years old and old language and how people talk to each other, and putting that into poetry."
When words come together, he compares it to the same way in which a farmer is filled with the light of the rising sun.
"There is that line about crooked feet on Saint Valentine, I can die when I find that line and it's the greatest feeling in the world. I'm the biggest nerd about it. I can be at the coffee shop and have had five cups and I'm online, and I'm so excited."