Interview
Newcomer Phoebe Bridgers Releases "Killer." a New 7" Produced by Ryan Adams on Pax-Am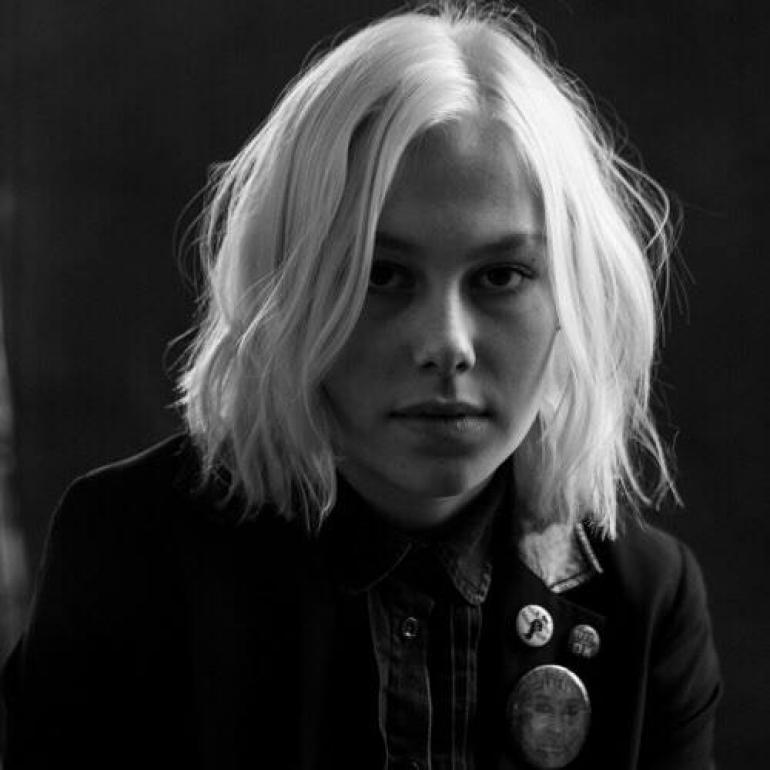 As co-creator of the Americana music series in Los Angeles, The Grand Ole Echo, I've been lucky enough to meet and befriend hundreds of musicians over the past 10 years.  One of those artists is Phoebe Bridgers whom I met when she was 12 years old playing on our back porch stage on the recommendation of her longtime music teacher (and mutual friend), Dean Vivirito.  Now 20 years old, she's played the "GOE" every year since and will return this Sunday as a headliner for the show the same week as her new 7" Killer is released.  It's been incredible to watch her talent grow and her career take off.  We recently met for coffee in Echo Park, where she let me to ask her a few questions for TJ West readers.
Your music has been classified as both folk and Americana, is that how you would describe it?
I think genre is something a lot of musicians struggle with. We'd all like to think we're blazing our own trail, but yes, I have folk and Americana influences, but I'm also a dedicated emo/country/beach Goth fan.
How long have you played guitar and do you play other instruments?
I've been playing guitar since I was about 12. I had a series of amazing music teachers who encouraged me to write. I've messed around with banjo and piano, but I'd never say I PLAY them.
Who are some of your influences?
Elliott Smith first and foremost. He is someone who very successfully defied genre. I love the honest writing and intricate arrangements. Also Tom Waits, Neil Young, Alex G, Elvis Depressedly, Mitski, Joyce Manor, Ryan Adams, Mark Kozelek, Harrison Whitford, and Father John Misty. Just the tip of the influential iceberg.
Speaking of Ryan Adams–Your mom, who is an acquaintance, recently posted a picture of you on social media.  You were onstage with Ryan Adams.  Then I learned that he produced your brand new 7" record, Killer.  How did you meet him?
I met Ryan through my boyfriend, Marshall Vore, another amazing songwriter. We all hung out, I played Ryan some songs, and the next day we recorded three of my songs. Just me, singing and playing Ryan's guitar, with his doctor, his actual literal doctor, on pedal steel.    
You have collaborated with a few folks around town– A while ago you were in a video with I See Hawks in LA and then I saw you on stage with them last April at the Stagecoach Music Festival singing harmonies. How did your collaboration with them begin and will it continue? 
Their lead singer, Rob Waller, has kids at my old elementary school, Sequoyah in Pasadena, CA. We met through one of the first people who ever talked to me about music, Bobby Johnston. At one of the school fundraisers Rob was auctioning off a songwriting session and some friends won the session for me.  We (Waller, Johnston) all started writing together and instantly meshed and just continued to write together. I hope to be writing with those dudes forever.
What's your association with musician and producer, Bryan Whelan?
We met on my 14th birthday. I was playing the back porch of Grand Ole Echo, and he was playing inside. I'm a big fan of his music and would go see his shows with my mom. We've been friends ever since.
Tell us about the 14-year-old singer songwriter, Charlie Hickey that you sometimes collaborate with?
A friend introduced his mom, Sally Dworsky, to me, and she's an AMAZING singer songwriter herself. I met Charlie through her when he was 12 or 13, and was blown away. I sang on his record, Odds, and cover one of his songs all the time. His songs are unreal. He's magical.
Mario Calire who is the drummer for the Wallflowers and Ozomatli said this of you, "Possessing vulnerability and strength in equal measure, Phoebe Bridgers is one of my favorite up and coming singer-songwriters. I love what she's doing, I'm excited to see what she does next, and I hope you enjoy it as well."  Did he happen to catch you in a live performance or have you worked together?
I've been friends with Raul from Ozo since I was in third grade… Another elementary school connection, and I played with them once at a fundraiser for LACHSA (Los Angeles High School for the Arts), my high school. They're all the sweetest guys on the planet.
You were tapped by iPhone 5 to be in a commercial, and you sang a cover of "Gigantic" by the Pixies, which brought a lot of attention to your music.  How did they find you and were you already familiar with the Pixies music?  Have you or would you like to do more commercials?
A friend was casting the commercial, and asked if I had a girl band, so I got some friends together and we got to hang out and jam all day! I've always loved the Pixies, and they're one of my brother's favorite bands of all time. I've been in a few commercials since, all extremely fun. I was in a quick books commercial where, again, I got to jam with a bunch of friends all day.
What's up next?
Writing a full-length record, and playing as many shows as I physically can.
  _________________
https://www.facebook.com/phoebebridgers?fref=ts
http://paxamrecords.com/releases/phoebe-bridgers-killer/
  This interview originally published for Turnstyled Junkpiled Magazine