Interview
Nils Lofgren and the Road Ahead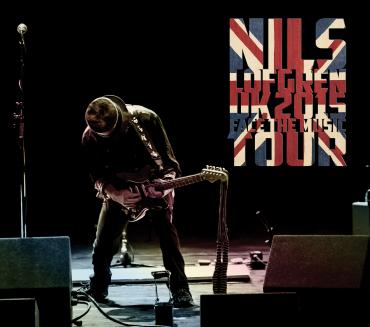 For Nils Lofgren, over the last three decades of touring and recording from the highest of rock & roll peaks, with Bruce Springsteen and the E-Street Band, the frequently asked question comes up, "What's it like working with Springsteen?" Lofgren's response is patiently affirmative.  However, the underlying energy is clear through his words and attitude; he is grateful for all of his gifts and the opportunities life has presented him.
Lofgren is flying high this year with a legacy of music represented by the ten-disc box set, Face the Music, released in 2014-an epic, in depth collection, which includes hard-to-find Lofgren recordings dating back to 1967. He has recently released a live follow-up collection, UK2015 Face the Music Live. Both albums/discs are available at his website, www.Nilslofgren.com.During a recent phone conversation while on a break from rehearsals with Bruce Springsteen and the E-Street Band in New York City, he expanded the artistry that he has contributed to the river of rock music over the last 49  years. True, he has brought unparalleled beautiful, soulful skill and nuance to the work of great icons like Bruce Springsteen, Ringo Starr and Neil Young; however, Lofgren has his own story to tell.
The story that comes through his songs, old & new, is this: Stay on the road of life, live with compassion, energy and love, in big and small ways. Feel the blessings of life's gifts. Be grateful for the present moment. Acknowledge life's disappointments as a part of living in the now. In the end, life is to be celebrated with love and humility.
The years have moved fast for the veteran artist. There have been losses with the passing of dear friends along the way-including two members of the E-Street Band-keyboardist, Danny Federici & Clarence Clemons, and many years ago his friend, singer-songwriter and founding member of Crazy Horse, Danny Whitten. But, Lofgren finds renewal in recent projects and the friends and family present in his life today.
The constant discovery of new creativity and community is what keeps Lofgren connected to the source of life through family music, the band, his close relationships and the audience.  
The just released CD, UK2015 Face the Music Live, is a case in point.
"I didn't realize last January the quality of shows I was doing. The performances were so good, my wife, Amy, insisted on recording them. They were the best shows Greg Varlotta and I had ever done. I've been working with Greg for ten years. We recorded the last eight concerts. People would come after and say, "I loved that show, can I get it?"    
Along with 2014's ten-disc set, Face the Music, the powerful and beautiful live collection is a chance to uncover Nils Lofgren's musical legacy as a songwriter and solo performer, which reaches back to the late 1960's.  What is revealed is a self-assured artist, whose work is energized by compassion, imagination and soul as he rocks his heart out.  
When viewing the scope of Lofgren's career, it's clear to see why Neil Young, Bruce Springsteen and Ringo Starr were compelled to enlist him into their bands. They are all cut from the same cloth. Lofgren doesn't sound like these legendary artists. He is their peer, their blood brother on the road to the creation of great music. They share the same sonic visions.  
Even though he's supported three of the most iconic figures in rock music through the years, he's not fond of the term 'sideman,' nor does he see himself this way. In his view he is an important part of a greater whole as an artist, in his own right and as a member of one of music history's great rock & roll bands.
"Everything I play I hope has a feeling of importance to the whole picture. I've been given the instincts-the gift to be able to hear where it all fits. I bring my own energy. Nothing is secondary. I don't see myself as a 'sideman,' I'm not on the side. I love playing rhythm guitar at times with the E Street Band.  I feel like I can crawl inside Max's high hat and become a giant shaker with my acoustic guitar.  I get down deep in it and I'm breathing with the music."
The long road for Lofgren stretches back to 1968 when he was 17.  He met Neil Young while the former Buffalo Springfield was on an East Coast tour. The same year, he formed and fronted the band, Grin, a country-blues-rock band with a strong singer-songwriter's core thanks in great part to Lofgren's writing and arranging skills.
Over the course of a year, Young and Lofgren formed a musical friendship that would only grow stronger in the years come.
After a year on the road with Grin, playing shows and looking for a record deals, 18 year-old Lofgren was asked by Neil Young to record on the classic album, After the Gold Rush Album, while the band was in Los Angeles.
It was during this time that he joined Crazy Horse as they were recording their first album. Along with the core members, Billy Talbot, Danny Whitten, and Ralph Molina, famed arranger and producer Jack Nitzsche joined the band for keyboard, arranging and production support. Ry Cooder, as a session player, provided his distinctive slide guitar as his own career was in its infancy. The result is an underrated and too-often overlooked classic debut album that demonstrates how Crazy Horse could stand on their own as a creative force.
 By 1970, with producer, David Briggs and Neil Young's support, Lofgren landed Grin a record deal with Spindizzy/Columbia. The band released four albums to critical claim and a loyal following even though a commercial breakthrough proved elusive.  For their fourth and final album, Gone Crazy, they were signed by A&M Records.
With the continued lack of commercial success, A&M dropped Grin from the label. After some negotiation, the label decided to keep Lofgren on as a solo artist where he released a series of critically-acclaimed albums including his self-titled debut, Cry Tough and I Came to Dance.
In 1984, as fate would have it, he was invited to replace Stevie Van Zandt on the landmark Born in the U.S.A. tour with Bruce Springsteen and the E-Street Band. The rest is a 32 year run of rock & roll history.
When Lofgren talked of his long association with Springsteen, his words were emphatic, poetic and clear. Specifically, as a solo artist, on the subject being in the shadow of the legends-like Springsteen and Young-who he has supported over the years.
I have been blessed with the opportunity to work with many great musicians. I learned from them all. But there's nothing shadowy about it. 'In the shadows' is kind of meaningless. I understand the term, but it doesn't apply to me. I've been lucky enough to play with Bruce, Neil Young, Ringo Starr, Willie Nelson, Jerry Lee Lewis, Branford Marsalis and many others."
Lofgren has raised the act of making music and playing concerts out of the conventional sideman status. One reason for this is the musicians he has worked with have allowed him to bring his own unique gifts into play--as an artist in his own right; whether the spotlight shines on him or it is shared with bands like Grin, Crazy Horse and The E-Street Band, his sound is his own unique brand.  
Over the years Lofgren's solo career has been pursued between Springsteen's recording projects and tours. But, it's been prolific enough to produce his own legacy of studio and live albums, like the recent release, UK2015 Face the Music Live.
 In 2014, record label, Concord/Fantasy, asked him to put together the ten-discs on Face the Music. From these albums an artist emerges who is often restless in his skin, and he grows through each era of recording into a songwriter and instrumentalist who displays an earthy and contagious passion for the act of creation.
"It was an amazing stroll down memory lane. It has a 138- page booklet with my story. Dave Marsh insisted that I write it. I handpicked the best of my work over 47 years. It even has bonus tracks I did as a teenager. There are roughly 40 bonus tracks and rarities that have never been released.  My wife, Amy, helped produce the artwork and packaging. Our team had to get the rights to the songs. It was an enormous task. I didn't think we could get it done. But, we did it."
The follow up live album, UK2015 Face the Music Live, is one of the best albums of its kind to come out in recent years. It is a pristine recording of a performer at the peak of his creative powers. The live set from his 2015 tour of England, with his band-consisting solely of multi-instrumentalist Greg Varlotta, Lofgren moves through an anthology of songs, as his performance skills are captured with unmatched musical artistry and unique chemistry between the two musicians. From the opening song, "Too Many Miles," "Walking Nerve" and "The Sun Hasn't Set," to the concluding, "Shine Silently," his major themes of gratitude, struggle, endurance, courage, inspiration found through the act of creation and the value of intimate love, shine through. It's a portrait of an artist with plenty of road behind him and miles to go before he rests…or needs to, for that matter. And most of all, it is a document of his connection with his audience during live shows:
"It's a healthy way of looking at life. The world has gone mad. Lately, it's reaching new heights. So, when I have 600 people to play for, it's really a precious time. Every show has more importance now."
It's an attitude that pours over into everyday life and his relationship with his wife, Amy, his step-son, Dylan, their four dogs and his band members. Each moment and relationship is a bond he treasures.
Then there are reminders of mortality that come with his 60-plus years on the planet. Such a moment of great lost came in 2012 when E-Street Band sax player, Clarence Clemons passed away. His funeral was on Lofgren's 60th birthday. He turned to his own song catalogue for a way to work through the grief. His 2011 album, Old School included a song he wrote for Ray Charles, "Miss You Ray," which he adapted into a song for his dear friend.
"I changed the title to "Miss You, C" for Clarence. It's a metaphor for loss. Turning 60, the losses begin to pile up. Grief can you blind you to who and what remains. After Clarence's funeral Amy insisted on a birthday party for me. I wanted nothing to do with it. But, I went.  We laughed, cried, commiserated and celebrated. It became a time of healing. I found for me to live through this kind of loss, I need to pay attention to the family and friends still left. I need to reach out to them, to continue to work and be engaged."
Today, as he begins the River Tour with Bruce Springsteen and the E Street Band, there is no end in sight, just more music to be made and plenty of road ahead.
There is so much to be grateful for. These are life lessons I have to re-learn. I'm still trying to remember these things. So, if I'm lucky, the pain of being an adult is balanced by being child-like. Not childish. That can get you into trouble as an adult. But, it's important to seek out child-like things.  Gravitating to childlike experiences is healthy. The adult stuff can leave you frayed. But, being childlike is something you need to practice."
For Nils Lofgren this includes a call toward the future with new projects, along with memories of those who have passed from this life. Today he holds on to a strong sense of blessing and gratitude for the present moment. Nils Lofgren says it best.
"For me music is magic.  That's the message of my album Sacred Weapon. Music is just that for billions of people. It is a gift that I have this music wired into my DNA.  It's not of my own making. It is healing and a great gift."