Interview
The Nitty Gritty Dirt Band: Fifty Years and Counting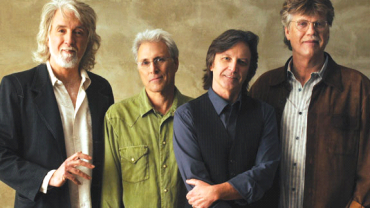 The first time the Nitty Gritty Dirt Band stepped foot onstage at the Ryman, the "Mother Church of Country Music," there were many other people playing alongside them. And as Jimmie Fadden prepared for the band's fiftieth anniversary concert, he could say it was just a bunch of people getting together like previous gatherings.
The main difference is all the fifty years in between.
When Jeff Hanna appeared on the Buddy & Jim Show with wife and songwriter Matraca Berg, he talked about the band "pushing hard" to get to the fifty year mark.
Fadden agreed with the assessment of his partner of five decades. "In the last five years, it's started to sink in that fifty years is closer than we thought," he said during one of the rehearsals leading up to the event. 
The show is airing on PBS during the station's national pledge drive and has been released on DVD, just as the band begins a 2016 tour.
Fadden says it seems the band has a momentum, marked by touring annually and resting in the winter to get ready for the next year. "It's exciting to know that we've actually reached this milestone."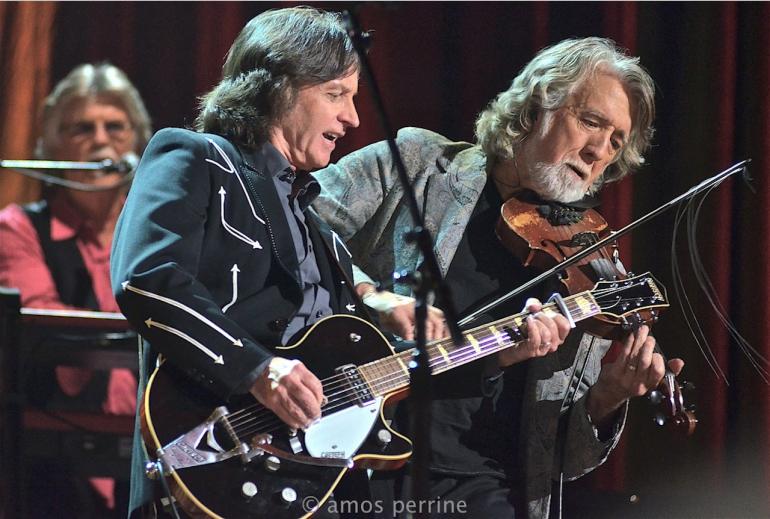 Keeping up with the times also means staying the same because as Fadden explained, the band's anniversary concert was in keeping with honoring the tradition of a house of music. From the drum kit behind which he has sat all these years playing hit songs like "Mr. Bojangles," "An American Dream" and "Fishin' In The Dark," Jimmie Fadden has a unique vantage point. He and guitarist Jeff Hanna are the only two members who have been there since the beginning when the group was a jug band in southern California wearing pinstripe suits..
The Nitty Gritty Dirt Band includes guitarist Jeff Hanna, drummer Jimmie Fadden, keyboards man Bob Carpenter and banjo picker/fiddler/mandolinist John McEuen. For the Ryman show they were flanked by Sam Bush on mandolin, Jerry Douglas on resonator guitar, and Byron House on bass. Guests who appear during the anniversary concert show include Country Music Hall of Famer Vince Gill, Nashville Songwriters Hall of Famers John Prine and Rodney Crowell, legendary gypsy troubadour Jerry Jeff Walker, Rock and Roll Hall of Famer (and original Dirt Band member) Jackson Browne, and former NGDB band member Jimmy Ibbotson. Prine himself appeared at the band's 20th anniversary show in Denver but that seems like ages ago back around the time the band played during the Olympics in Los Angeles.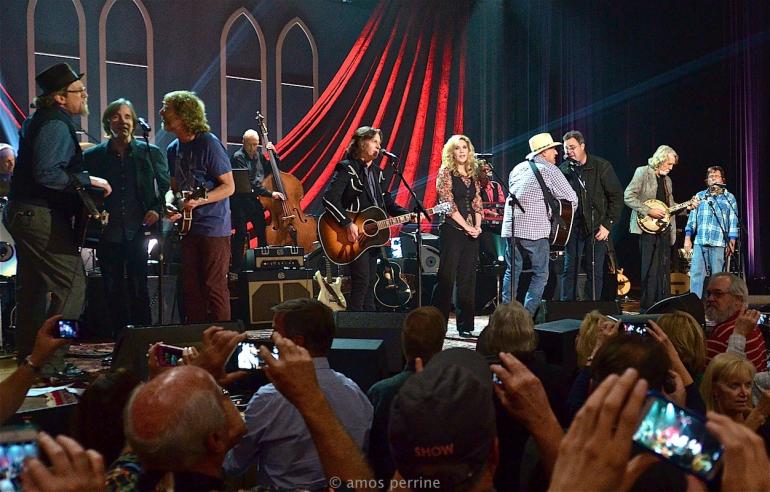 Fadden's observation about the Ryman anniversary show is as a bunch of friends getting together like previous gatherings. This is a reference to the ambitious project the band released in 1972, a then hefty three-album set called Will The Circle Be Unbroken. The group, then a bunch of long-haired hippies, approached some of traditional bluegrass and country greats like Earl Scruggs and Mother Maybelle Carter, one of the founding Carter Family members.
"Within the band there were many musicians, singers, artists and writers who we admired," Fadden recounts. "And we often talked about them amongst ourselves about who was really great and who did this and who did that and 'did you hear this?' The idea of making a record with some people kind of transpired amongst us." Fadden recalls how John McEuen's brother (and their manager Bill) had a "crazy" idea that they could do a record with their heroes. Earl Scruggs said he would be proud to play on it. From there it gathered momentum.
Hanna told McEuen he read in Life Magazine that Roy Acuff said he would play country music with "anyone, anywhere, anytime" and that it was time to put him to the test. It prompts a bunch of laughs from Fadden who doesn't remember hearing anything like that. But he does recall how the band had to go and meet him so he could decide if he was going to do the album. Fadden adds that Acuff was very pleased with the outcome and has several memories of him sitting in the control room enjoying the playback.
As you hear Will The Circle Be Unbroken, it is like being in the studio as you hear the musicians talking. The ideas of keeping a tape recorder running continuously meant that many of the conversations between the musicians made it to the album. It's like listening to oral history in many respects.
One legend who declined to participate was Bill Monroe. Fadden looks back on it and said Monroe would have fit in great but it was a choice he made. The band did concert tour years later with the legend and spent some time with him. "Things are what they are and I think it's a great record with or without him," Fadden says matter of factly. "You can't stop the music."
Nearly two decades later, the group did the second Circle album. It would be named Album of the Year by the Country Music Association and would go on to win two Grammys. The record features Ricky Skaggs, Emmylou Harris, John Denver, John Hiatt, and Levon Helm among others. It brought back original participants including Scruggs, Vassar Clements, Roy Acuff, Johnny Cash and Maybelle Carter.
Fadden relates how the band was much younger the first time around. During the second Circle sessions, both the new and old were among their heroes. "You could include Johnny Cash. I'm sure that Roy Acuff was in the back of Johnny's mind. Maybelle Carter obviously had an influence on John and his life and marriage to June. I think we were all connected in some way to the first Circle'crew and therefore we were somewhat like the next generation."
Bristol, the origin of country music as we know it, is a place that Fadden believes has inspired many a player here today. Fadden has not been to the Birthplace of Country Music Museum in Bristol but says it deserves to be there. When asked about the question John Carter Cash poses to visitors as they exit the museum "Will the Circle Remain?" Fadden believes it will—"if we continue to take up the mantle of what we know to be honest American music and play it the way we do with an unbridled approach." He calls it "giving it your heart, your love and your soul."
It seems fitting that the show at the Ryman would kick-off the Americana Music Festival, a genre that the Nitty Gritty Dirt Band was playing in when the term did not even exist. For Fadden, the descriptor really wraps it up and puts in it in a box with a bow on it.
"For many years, it was always difficult to describe what we did," he adds. "People at radio and record companies didn't really have an answer for that and it didn't seem like we fit anywhere. We were an American band and we played roots music and it's great to see all the people who have come to this format or come to this music idiom and joined the ranks that began back when the originators started it."
The Nitty Gritty Dirt Band once played in front of an estimated 350,000 people at the Ozark Music Festival. They also were the first American group to tour Russia which was still under the communist Soviet Union. It is said that their television special was seen by 145 million people. When you pepper Fadden with these events to try and get him to talk about his most memorable experiences, he finds himself at a loss for words. He puts it in the context of the long lives he and his musical partners have lived.
"It's hard to sum this up in short sentences," he admits. "There's been so many of them. The families, the birth of children, the loss of children, the friends we've had and lost and the music that ties them all together with us. It's very difficult to pick one thing. It's all part of our fabric and all part of the emotion we bring to the music we play."
Fadden says that sometimes you can be overcome by moments from the past when you remember performances from people that are no longer with us. He expected this would happen at some point during the anniversary concert,, especially when he thinks about departed friends Earl Scruggs and Jimmy Martin, "The King of Bluegrass," both of whom he calls "bright lights" in the Circle projects. 
If you were to have asked him about his aspirations for the fiftieth anniversary, it's with a touch of humility as he described his hope that people will walk away with filled hearts. It's about experiencing the joy of coming together and sharing what has been created before and that the Nitty Gritty Dirt Band still carries on, fifty years and counting, to borrow from the name of Rolling Stones' most recent tour.
How much longer that goes on remains to be seen. Right now, plans are underway to conductshows featuring special guests in select markets. For the Nitty Gritty Dirt Band, the only way the four can live life is what Fadden says is one day at a time.
"We've had a good run," he says, summing up the enormity of it all. "We just have to see where it goes."
(This article originally appeared in For The Country Record.)