Interview
Out Of The Woods: An Interview With Twisted Pine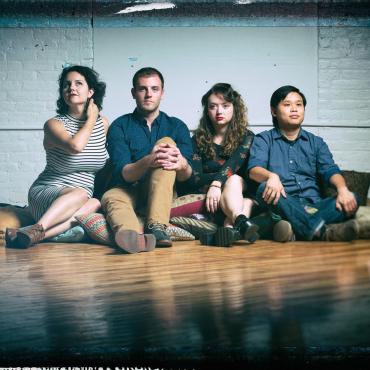 Twisted Pine has been chipping away at making a name for themselves these past few years. Putting in the work, touring and hitting the festival circuits hard. 2014 saw them as winners of the FreshGrass Band Award and the following year they wound up on the main stage with a blistering performance than won over the hearts of the crowd and the trajectory for the band has only continued upward. This weekend the band looks to continue that explosive movement with performances at Green River Festival and the release of their first full length record being released on Signature Sounds.
This weekend will only set the course for a busy remainder of summer for the band as they hit the Northeast and beyond in support of that new release. With performances at Ossippee Valley, GJK Fest, Festival at the Farm and opening for mandolin virtuoso Sierra Hull later this month in Portsmouth, the band seems invigorated by the release and is mighty excited to get it (and their live performances of these songs) out into the world.
I caught up with the folks (Rachel Sumner – vocals, guitar; Kathleen Parks – vocals, fiddle, Dan Bui- mandolin, Chris Sartori – bass) from TP to talk a bit about the record, songwriting within a group and the new record and what it means for them pushing their careers forward as a collective group.
Check it out below and be sure to pick this record TODAY.
RLR: While this is technically your debut full length record, you guys have recorded some material in the past and the band has undergone a few changes in the past couple of years. What is it about this collection of work that you guys are most excited about in terms of how it represents how far you have come as a quartet and shaped where you started to where you guys are right now?
TP: We self-recorded 2 EPs over the years. The first was this crazy overnight session that we got for free because Dan was interning at a recording studio, and the other was collected from several live performances. They were both great for us at the time, but this album is another level of planning and execution. It's the first to feature entirely our own original music, which is something we've been focusing on for the past year. That creative process
RLR: I think what is particularly special about you guys is the dynamic that the four of you have as individuals and how its really brought together in this beautiful way. Everyone is so solid on the instruments, but together you are all greater than the sum of your parts. Has it always been easy for you guys to hinge on that? Was the chemistry with the 4 of you immediate or did it take a long time?
TP: Thanks for saying that! That's definitely something we try to be conscious of. We've always had great chemistry playing together; that's what led us to form the band in the first place, but that dynamic has evolved a lot over several years of playing together and especially through the writing, arranging, and recording of this batch of songs. It's to the point now where we all feel this freedom and responsibility to really bring more of our individual voices and personal musical sensibilities to every performance. At the same time, we're very careful to always be serving the song and making the right musical choices to get the songs across. 
RLR: This one is specifically for Dan…you are one of the growing mandolinists that plays an A style…did you ever had scroll envy? (A style mando bros for life!)
Dan B: Never! Not even once!
RLR: You all are pretty deeply embedded in the Cambridge/Somerville and greater New England community. Have you found it especially supportive over the past few years as roots music really establishes itself as a constantly growing genre of music? Or is there competition in any way to play certain clubs, try and rise up above the noise and establish the band as one that is really doing something different and special?
TP: Luckily, we've found that mutual admiration seems to be the norm. The great thing about being a part of this greater traditional/roots/folk scene is that it's kind of built to be a supportive, self-sustaining thing that grows organically. It's all about hanging and learning and having a good time, and the deeper you get into it, the more you realize that we're all in this thing together and that there's room for everyone. Yeah, we may be working on our thing and trying to make it unique and special, but that doesn't necessarily mean we're competing with anyone else's thing. Success is shared, not won. I guess you could approach it in a competitive way, but that hasn't been the case so far in our experience.
RLR: When you guys were either writing for the record or in the studio tracking, what were your sonic inspirations? Any particular records you looked to for guidance or stuff you listened to in order to decompress from longs days in the studio?
TP: Good question! There were definitely artists/records that we looked to for aesthetic inspiration and as a reference for communicating ideas to each other, mostly in the initial writing stages. A lot of the acoustic music heavy hitters and what you would expect: Nickel Creek, Crooked Still, Punch Brothers, Joy Kills Sorrow.  But also stuff like Paul Simon, Elton John, Margaret Glaspy, Lake Street Dive, old-time fiddle music, funk jams, Jobim. Once the songs started to develop, they usually took on a life of their own and we would try to intuitively follow wherever they would lead us. Our engineer and co-producer Dan Cardinal probably had the biggest influence on the sound of the record. He's worked on so many great albums coming out of Boston, and brought all of that knowledge/experience to the table.He's an extremely musical person/engineer and he really invested and got deep into each song and got what we were going for. He also had this great ritual of playing us stuff he was currently working on with other bands at the end of the day. All of it
RLR: How does the songwriting process work with the band when someone brings a new tune to the table? I am always interested to see the different ways that groups of people tackle this and how it develops from one members idea to the full arrangement we get to hear live on the album.
TP: It works every which way. Some songs are seeds of ideas that get fleshed out by all four of us. Some are more fully realized when they are brought in. 
Usually the songwriter or writers will bring a full song or even an unfinished song to the table. The group will take a listen, and try some grooves. Sometimes the songwriter is very specific with their Groove choice or have an exact idea of the arrangement, and that really helps us! It gets the skeleton of the song down and then we make it our own. We play it out at shows, if we play divey bars then we really like to let loose on the song. Add solos, extend bars at a time, switch up grooves. It's like the human body, you can't always move it in the same way, otherwise it gets tired and the mind gets bored. Same with the songs, we always try to play them down strong, but always adding a little bit of spice, or sparkle to keep the songs fresh.
RLR: So…that Vulfpeck/Bill Monroe mash up…will we get to see that live at Green River…cereal box and all?
TP: Shhh, we can't tell you yet! But Kathleen did mention she bought a box of strawberry cereal for the next road trip…maybe there'll be a bit of Special K from Special Kay??
RLR: Haha!
TP: It will probably happen at some point. We're still looking at equipment rental places to find the right cereal box.
RLR: Whats next for Twisted Pine? Where do you guys hope to be in a year's time?
TP: Next is just getting the music out there anyway we can. We're definitely planning more extensive touring in support of the record. We've also got some fun things in store (our first music video!)
We're looking to do more radio shows, and festivals like Telluride and have hopes of one day getting on NPR's Tiny Desk Concerts! Other than that we're really going to ride this album all over town and get it in as many people's hands as we can. We're ready to hit the road this year with lots of new tunes, and covers to come! 
photo credit: Michael D. Spencer