Interview
From the Ozarks to Osaka: Riding the Waves With Pirates Canoe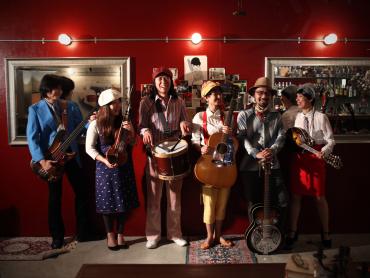 If you've never heard of Pirates Canoe (the name comes from an NYC bar), one of their live albums or maybe their latest studio CD, One for the Pain in My Heart, is a pretty good place to start.  It's a great distillation of what they do best. The quirky, artsy, Kyoto, Japan-based sextet plays widescreen Americana with intangible Japanese nuances, and amidst the picking, the sea chantey sound-alikes and the eccentricities, they come across as something like a Japanese Fairport Convention, or Kaleidoscope...or maybe Camper Van Beethoven. It's sepia tone, a little psychedelic, and wholly engaging.
Pirates Canoe put on quite a dynamic live show as well; don't be fooled by the light chaos between songs and the nervous laughter and endearingly goofy stage patter, conducted in Japanese, by mandolinist/vocalist Sara Kohno. When a song begins, it's all hands on deck. And while you might find your attention drawn to Kazuhiko Iwaki, bent over, rolling off lines on a dobro he built, or lumbering, rock solid bassist Jun Taniguchi, locking horns with drummer Yossie Yoshioka, a drummer with percussive touches don't often hear in this kind of music.
But it's the vocals and instrumentation of Kohno, fiddler Kanako Keyaki and guitarist Elizabeth Etta that are the most obvious enticement Pirates Canoe has to offer. Not only do they provide upfront charm for the group, they also provide the vocals, harmonies and lyrics. Etta, who spent her early years in Arkansas, answered a few questions about the group recently.
How did Pirates Canoe come together?
I met the guys, Kaz, Yossie and Jun, at a show when they were playing in another fantastic band called the Texas Shoe Shine Boys. I was blown away by their music and wanted to be a part of it. When they heard my singing, they introduced me to Sara. So we decided to start a band. Around that time, Sara met Kanako at a baseball bar in downtown Kyoto where they have good beer and great food. The drunken encounter turned into an invitation to the band. Sara was writing songs and, amazingly, asked me to make some English lyrics for them. I was also starting to write my own songs, and that's how we turned into a songwriting band.
I've noticed that although the music has an Americana slant, it is not what we would think of as pure country, nor is it exactly rock music. How has the vision of the band changed through several CDs?
We all have an eclectic palate when it comes to music. I listen to a lot of music, although folk and roots is my first love. Sara also has a wide-ranging music library. So the songs we write are influenced by a lot of different styles. When we work on the arrangements we are conscious that a large part of our audience is Japanese. So we try to make the arrangements interesting, instead of letting the lyrics do the job. Our Japanese audience will not directly understand the lyrics, see.
I don't know if our vision has changed. We've always really just tried to make music that we love, but also that will deliver to our audience.
What does your Japanese background bring to the music and lyrics?
I write mostly from my own experience, but I don't want my songs to be about me. I want listeners to be able to relate to the songs. I want my songs to be about the human experience. I also have songs that are inspired by real people, and I want to record their story in some way.
I don't listen to much Japanese music, but a lot of my songs are about people and places in Japan. There has to be some kind of Japanese influence in there. For example, "The Gate" is about a crazy old Japanese woman I used to live next door to. "Ballerina Meena Jane" was inspired by a Japanese friend of mine who has a love-hate relationship with ballet. I also think that the other members bring a Japanese kind of craftsmanship to the songs. There is a lot of attention to detail, but they never lose sight of the big picture. They don't try to stand out, and consider the overall harmony. It's what they do best, and I feel really blessed to be able to play with them.
Etta says the band is planning a new album this year.