Interview
Parkland school shooting inspires powerful track from Whitney Ann Jenkins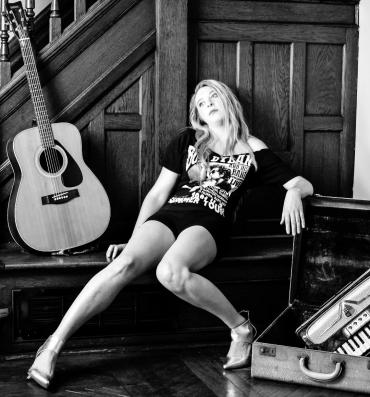 The recent school shooting in Parkland, Florida has lit a volcanic eruption of civilian protest, both online and on the streets, over the easy access of assault weapons in America. The tragedy has renewed demands for gun control, splitting strong opinions throughout the country. The random, violent deaths of innocents, especially the young, haunts the words of "Enough is Enough," an incredibly powerful new track from singer/songwriter Whitney Ann Jenkins. It struck her personally as one of her coaches was actually there at the shooting.
Q: "Enough is Enough" was inspired by the tragic school shooting in Parkland, Florida. What was going through your mind when you first heard the news?
A: My heart sunk, and I thought, not again, and then as the news footage started rolling in, I realized that Coach Willis May was present at the shooting, who was my teacher in high school. He survived and was handling the media with such grace, and humility, like a rock star. Seeing a familiar face associated to the tragedy struck a strong chord.
Q: How long did it take you to write "Enough is Enough"? What was the process like?
A: It took me maybe an hour. It was Friday evening, I had an event that I had to go to, and I picked up my guitar, to move it out of the way, and started playing it. It just poured out. It felt very necessary in that moment. I ended up being late for the event, but I didn't care. I needed to write it.
Q: What actions do you feel politicians should take after the incident?
A: Well, I think that firstly what they need to realize, is that these issues on gun violence are no longer about politics. It's about the value of a human life. The most important thing for them to do is to listen to the students and actually hear what they are saying. Don't ignore the children. They are going to be able to vote in the next election. And they are not going to forget this. This is their life, they live with this fear daily, and it's their future that the politicians are making decisions about.
Q: What has the reaction been thus far to "Enough is Enough"?
A: It seems to be resonating with a lot of people. I've had a few high school students reach out to me, one that I used to babysit for, thanking me for drawing attention to this topic. They don't feel safe in school, and they don't feel that adults are doing much of anything to protect them. And they are right! I've tried to be pretty proactive about this issue since I was in high school, when Columbine happened. I won an essay contest on gun control, I've voted, I've protested. I thought that I was doing all of the things that I was supposed to be doing to help, but quickly am realizing that not only is enough, enough, but I haven't done enough. I want to do more. We need to do more.
Q: What kind of impact do you wish the track to have?
A: Nina Simone has a great quote that says, "An artist's duty, as far as I'm concerned, is to reflect the times." And I couldn't agree more with that. If this song resonates with someone, then I hope that they share it with someone else that it may resonate with that needs to hear it. Music has a way of being able to convey things not easily spoken. But, this is much bigger than me. It isn't about me trying to gain some kind of exposure for myself with a new hit single. This is about awareness and keeping this topic of unnecessary gun violence alive.
Next week, when all of the hype dies down, after all of the funerals happen, and the news coverage fades away, and we all go back to our normal lives, I want us to remember that there is a community in Florida that is still struggling with the question of "Why?" And there are many other communities in this country from past shootings that are still struggling with that, and we've forgotten them. We can't forget them anymore.
Website:
https://www.whitneyannjenkins.com