Interview
Pat Green Reflects on "Drinkin' Days" with New Single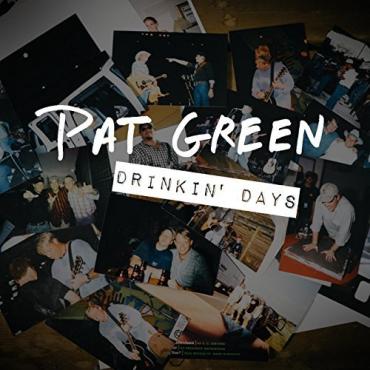 Known for his rousing live shows and energetic stage presence, Pat Green is a three-time Grammy nominee who has sold over two million records, had a string of top ten singles, and appeared on Jimmy Kimmel Live!, Letterman and Austin City Limits. His last album, Home, saw his duet with Lyle Lovett, "Girls From Texas," spend a massive 10 weeks at #1 on the Texas Music Chart and his new single, a perfect song for the summer, "Drinkin' Days," might just find the troubadour atop the charts once again. Written by Jaron Boyer, Ben Burges, and Phil Barton and recorded at Arlyn Studios, "Drinkin' Days" is a nostalgic look back at a younger time when perhaps an adult beverage or two made the best of times just a little bit greater. In advance of a busy Summer, Green took a few moments to talk about the single, its recent video, and more.

"Drinkin' Days" is a carefree, nostalgic track. What drew you to the song and made you want to record it?
Oh man, that song is just so me - there has never been a song written that's more me! On an expressive level, it captures me, on an emotional level it makes me happy, and it has that nostalgia, which I'm a sucker for. 

I was going to start recording an EP and I didn't really think I needed any more material, but when the song was played for me it was such a fit that I knew we had to take the chance and record it. It turned out so great we not only put it on the EP, but it was the next thing we had out to the public.

Did the song change any from the demo to the recording? 
I don't think we ever thought about putting a horn section or du-wop back-up singers on it, I think it always sat with the band as more of an acoustic track – that sounded like a bunch of drunk idiots around a campfire having fun (laughing).

It sure sounds like there's a lot of fun going on in the background there.
I knew we were recording the song that day and so I had five or six couples come to the studio. I  had it catered with some food, and a bottle of wine or two might have been popped open…but who knows, nobody had a camera out, so I don't have any proof (laughing). When we got together I told them I had an ulterior motive so they better drink their Chardonnay and sing along with me for a minute. It was a good time and a good memory for sure.
There's a line in the song that says, 'Don't get me wrong, they still taste good, but not as good as they did back then.' What is it about the drinkin' days of one's youth that make them so memorable?
I think when you're young, you're looking forward to everything and a little bit of booziness always makes that better. But here I am now in the middle of life and I'm really just about looking at life as it is. It's not like I don't look forward to being an older person, I'm just saying I'm great right here. I don't have to get hammered like I used to in order to like things better…..and besides that my body's just not equipped for it anymore, my dance card's been punched(laughing). 

I slowed down and everything else did too, and when you get older you look back and you're nostalgic. The song says it so right though, 'We still have 'em but not like we used to have 'em."

So, when you sing it live, does any particular memory from those days pop into your head?
Well, certainly the negative ones in recent memory come up and I laugh, but certainly, the times when we were a part of big tours, like with Kenny Chesney, my God those memories are great…and there's a lot of them!

I think I can believe that.
The video for the song recently premiere and it's full of old photos including you with fans, dressed as Santa and even one as Elvis. It must have been like a trip down memory lane.
I picked a bunch of those photos, then we sent out notice on the interweb that we were looking for pictures of me and a bunch of people responded and gave us great material to work with. My quote is that the pictures are a lot of "sweat and smiles," because that's all I can see when I look at them.  And really, that's me in a nutshell. I've enjoyed my life so far as much as you can enjoy it without the need for some kind of transplant of some sort.

Sounds like it has been a good one. You mentioned an EP, will the songs lean more like "Drinkin' Days" or will there be a mix?
Most of the EP is recorded right now and it's a mix of new songs and some old songs I dug up that I liked, but never had the time or inclination to put out. There's some cool stuff back there in the past that I found that I really liked that ended up on the EP.

Being that you've had a career spanning a few decades, is there anything else you would like to accomplish?
Man, I would like to grow old. I'd like to see this thing keep going for a while longer, but really, my focus right now is on being healthy and being there for my wife and kids - doing the best job I can and being the best dude I can.

That's a great attitude. Well, finally, is there anyone in the scene that you like a lot and think people should give a listen?
There's so many good bands out there right now. A kid I like listen to, his name is William Clark Green. He's by no means brand new but he's one of the guys around here who I don't think gets enough credit. He has a lot of the same 'hold my beer and watch this' kind of attitude that I love so much and had when I was his age, so I can relate if you will. Check him out.
 
Watch the "Drinkin Days" video HERE
For more information on Pat Green visit his official website
Find him on Facebook, Twitter, and Spotify
Purchase "Drinkin' Days" HERE