Interview
Philly Singer-Songwriter Eddy Mann "Digs Love" While Serving Up Some Humble Pie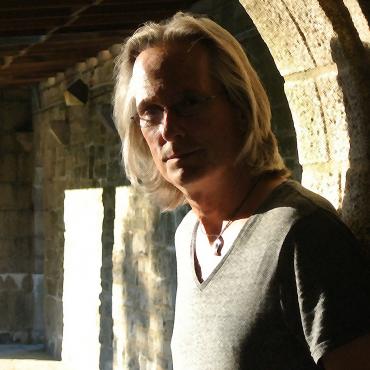 Eddy Mann...musician, songwriter, worship leader, teacher, speaker, coach, husband, and father... whether you know him as one or more of these people, you know his heart; you know his love for life. His musical vision is one of hope, peace and understanding through the eyes of a loving heart.
A worship leader for fifteen years, it was twenty years ago that Eddy made the decision to offer his creative gifts to God. Since then he's released seven CD's and written countless songs for the church and world at large. A tireless and in-demand performer, Eddy performs a rigororous schedule of intimate coffeehouse sets, concert events, conferences, and worship services.  His current release, Dig Love features the first single, "You, You Make Me Feel," which is climbing national radio airplay charts. A new album, The Consequence, touches on the theme of a peaceful and loving existence, while delving into the consequences of our actions. Musically akin to Dig Love, the rootsy americana album is expected for release, this fall.
Eddy took time out from his busy schedule to talk with us about his music, his family, and his favorite dish...Humble Pie:
MTS: You call yourself a "musician, songwriter, worship leader, teacher, speaker, coach, husband and father." Which of these roles is most important to you, and why?
Eddy Mann: Well at different times, each and every one of these roles is the most important. I don't take any of these lightly. Each one offers a distinct creative opportunity to serve others, and so I feel blessed to call each one an equally important part of my life.
MTS: You've been a worship leader for 15 years. How and why did you decide to become a worship leader, and where do you lead worship?
EM: I never really made a conscious effort to be worship leader. In fact when I was approached to become one, the term hadn't really been given a job description yet. As it turned out, one of my albums had found its way into the hands of an assistant pastor who was moved by the compositions and was inspired to meet with me. After a couple of hours of sharing together, I walked out with a new title which led to a fifteen-year residence at the same church in Huntingdon Valley, PA. I just resigned a year ago to explore other options and have been traveling a great bit guesting at different churches when my schedule permits.
MTS: You perform a ton of concerts every year. What is your favorite memory from a performance, and where is your favorite place to perform?
EM: My favorite place to perform is always the next gig. I love that I get to live out my passion. For me each and every performance is special in its own way. As for my favorite memory, there are way too many to pick just one, but my last one would have been opening up for, and hanging out with Phil Keaggy a year or so ago.
MTS: Critical praise, industry awards or record sales--which is most important to you, and why?
EM: Well I'm not big on awards or critical praise because art is so subjective. We'd all like to be appreciated for our efforts, but I don't want to be untrue to myself because of it. I guess what I'm trying to say is that I don't want critical praise, industry awards or record sales to determined the results of my creativity.
MTS: Tell me about your latest album, Dig Love. How did the title come about, and what was the recording process like? 
EM: The whole project was different for me because I wrote and performed all of it myself. I found myself in a new season, writing from a different perspective. I discovered that I was collecting a large amount of material that was simpler in musical terms; I'll call it a folk influence, and it possessed an idyllic peaceful view of the world lyrically. The actual recording was done rather quickly. I really enjoyed the process. The title didn't come about until the last song (Another Trip Around the Sun) was being recorded, and there's this long tag at the end where I was just singing gibberish syllables. Around the third or forth take I began to sing 'dig love' and immediately knew it was the title of the album.
MTS: You're working on a new album, The Consequence. How does it differ from Dig Love? What has the process been like, writing and recording it, and when will it be released? 
EM: Though it wasn't intended to be a follow up of sorts, The Consequence both musically and lyrically is a natural progression forward from Dig Love. The lyrics are more conversational and story like while musically the form is more in a folk tradition. I think it's a little quieter, and hopefully reveals what the consequence of a compassionate lifestyle could be.
MTS: Your current single, "You, You Make Me Feel" is getting some radio airplay, and even charting on a national internet airplay chart...congrats! Why is radio important to the success of a record, and what is your opinion on the current state of radio?
EM: I'm pleased that it's being received well and hope that it continues to reach new ears. Radio has and will always provide an avenue in which to reach an audience that might not be able to catch a live performance due to economic or geographical reasons. That being said, I'm really excited about the advent of Internet radio and the increased opportunity to reach a new and larger audience. The world in general is always changing, always growing and like wise so it is with the listening audience of radio.
MTS: Up to this point, what has been the highlight of your music career?
EM: The highlight would have to be the accumulated years in which I've been able to write and perform while providing a comfortable living for my wife and now grown children. That may not be the normal response to that question, but while the fame moments die off quickly your family is there for the long haul. Imagine, a moderately successful singer-songwriter with no debt. I'm a blessed Mann!
MTS: What is one thing you'd like to accomplish in your career, in the next 5 years?
EM:  I have an abundance of material that I'm working diligently to record and to release. I'd love to get that backlog of creativity realized.
MTS: What does Eddy Mann enjoy, outside of music? If I were coming over for dinner, what would you serve?
EM:  Well I've always been an avid sports fan who supports his local professional and collegiate teams, but lately I've been reading quite a bit more and learning to enjoy some quiet time. As far as dinner is concerned, I'm told humble pie.