Interview
Pianist/Composer Carlos Barba Discusses the Origins of 'Lightyears'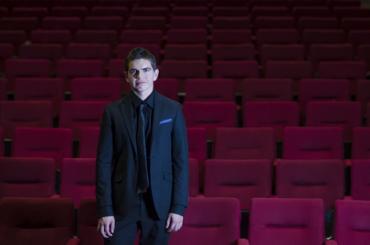 Q:
When did you start playing the piano?
A: I started playing keyboard in 2009. I was finishing high school and when I started to become more interested in music. It wasn't until college in 2011 or so that I started practicing on acoustic pianos.
Q: Did you receive any formal training as a pianist?
A: I finished my music degree at the University of Texas at El Paso in December 2015. I studied both classical and jazz extensively.
Q: When did you become interested in jazz?
A: I liked jazz during high school but did not know much about it. I started listening to jazz and other related genres on a regular basis during my first year of college. I like it more and more every time.
A: What artists have had the greatest impact on you creatively?
Q: Bill Evans, Brad Mehldau, Oscar Peterson, Keith Jarret, and Gerald Clayton are some of my favorite jazz pianists. Miles Davis, Charlie Parker, John Coltrane, Roy Hargrove, etc., are some other amazing jazz musicians that I really respect and admire. Chopin, Bach, Brahms, Beethoven, Mozart, and all the greats have also been a great part of my life over the last few years. All of these have had a great impact on me and continue to shape the way I play and compose.
Q: What songs on Lightyears are the most personal to you and why?
A: "Lightyears" is my favorite track on the album; that is why I decided to name the album after the tune. The piece wrote itself one day when I was messing around on the piano. I came up with the melody and chords in about 20 minutes and was fascinated with the overall sound when I heard it with the bass and drums. "Dreams" is another tune that I really love. I think the melody is catchy and pleasant to listen to.
Q: How would you say your music has evolved over the years?
A: I have really evolved as a musician in the last five years. I started playing piano at 17 so I had a lot of catching up to do. I have been practicing diligently all this time and have noticed a great deal of improvement every year. I have been composing and improvising ever since I started playing the piano, and I like my newest compositions a lot. As I write new material, I stop liking the older stuff. That's really common with anyone who composes.
Q: How did the Carlos Barba Trio form?
A: I had been playing with another piano trio for a while, and there was a lot of chemistry. The bass player moved to another state, and I ended up getting the bass professor at UTEP to join my trio. The drummer has been the same one I've been playing with for many years. We all have other projects and constantly play with other musicians, but the Carlos Barba Trio still plays live often and is scheduled to release another CD in late 2016.
Website: http://www.carlosbarbapiano.com