Interview
Pigs Can Fly! I Talk to Pink Floyd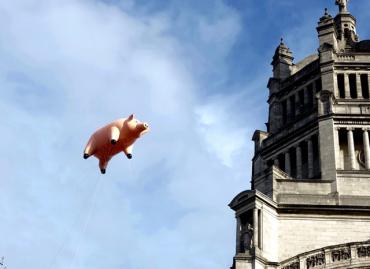 My job, which is primarily concerned with politics and economics, occasionally allows me to do something musical — in the latest case my inner Pink Floyd just got a real outing.
London's venerable Victoria and Albert museum has taken to putting on major exhibitions celebrating the broader aspects of the rock industry. Three years ago it was a highly acclaimed David Bowie retrospective. This month (September 2016) the museum opens "You Say You Want a Revolution? Records and Rebels 1966-1970", a deep dive into  the politics and culture of the Woodstock era. (A shard of one of Jimi Hendrix's smashed guitars is said to be among the items).
But what took me there was the press launch for "The Pink Floyd Exhibition: Their Mortal Remains", an appropriately huge immersive show to be hosted at the museum next May. I love all kinds of music with a passion. But the Floyd would have to be it if I has to choose just one collection to take to a desert island.
So seeking to stifle some highly unprofessional glee beneath the demeanour of "serious journalism", I got to interview drummer Nick Mason, the only original Pink Floyd member still with the band. He seemed very nice (which not all "stars" are as some of you reading this will know only too well). I say "seemed" because I was interviewing him for television and that meant I was paying more attention to setting up the next question that on what was going on. But that's show biz (LOL)
My joy started when I approached the V&A. A pink inflatable pig the size of a bus was floating above it. It stayed there, thankfully,  unlike an infamous outing above Battersea Power Station in 1976 when it broke free and grounded planes at Heathrow and across southern England.
It perhaps slowed traffic a bit, but most certainly caused passers-by to exclaim: "The pig!" No explanation seemed needed, even in 2016.
The exhibition will open next May (tickets now on sale)  to coincide with the (age alert!) 50th anniversary of  "Arnold Layne", the Floyd's first single release. It will go way beyond music, celebrating Pink Floyd's achievements in graphics, design, architecture, staging, lighting, film and photography.
But on to  Mason. I asked him why he thought the band was getting such treatment. "Longevity," he said.
It's the fact that we still sort of exit and we still seem to interest people after 50 years in an industry that was seen as a entirely ephemeral by all of us when we first started. I'm fond of reminding people that Ringo thought that he'd open a chain of hairdressers when the Beatles came to an end ... I don't think we saw any 50 years ahead of us when we kicked off.
I also asked him what item in the collection he liked the most. He said it was the Azimuth Coordinator that the band used at its first major concert when it broke out from the mainstream with an immersive lights and music show no one had experienced before.
As this was for television, I asked him to give me a layman's description. He laughed and then launched into a rather technical description that went well above my head, let alone those of the great unwashed who were going to be watching later. So I have simplified:
Two old men hanging on in quiet desperation
It is a gizmo that spreads music to the four corners of a venue and allows it to be adjusted with kind of joysticks. No big deal at all now, but absolutely revolutionary in 1967 when the band used it at the Queen Elizabeth Hall. (The original was stolen at the gig, by the way, so if you have it do let the V&A know.)
Back to Mason. Like a lot of musicians of that era he bewailed the current state of the music business, mainly wondering how the new kids can make it. He said music shared for free and there are so many bands trying to make it big, so how could  people succeed.
So I asked him if he thought Pink Floyd would make it big if they were all starting up now. Another smile, then:
I don't think we would get on the X-Factor
Now I am a journalist, so I had to ask THE question, even though I did not really want to cause everyone does.  Yes, there are only three of them left - Mason, David Gilmour and, on his own, Roger Waters (and the latter two famously do not get on). They have ruled out a reuninion, but is there any chance of another album?
The last release was 2014's "Endless River" which was basically some unpublished music released by Gilmour and Mason in honour of late band member Richard Wright. Nearly 50 years after "The Piper at the Gates of Dawn", was that the last album?
The initial answer was: "Probably." But then came a sentence that allowed a tad of hope to those of us still hanging  on in quiet desperation.
I absolutely have no interest in telling people everything's all over and good night or anything like that.