Interview
A Portion of Thyself: The Artistic Gifts of Carlene Carter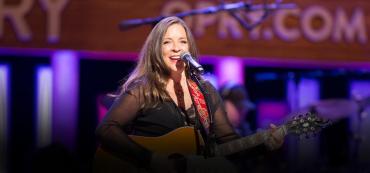 Carlene Carter offered a critical distinction between the vitality of art and the vulgarity of pop entertainment during a recent interview that I conducted with her over the telephone. While reticent to issue a general condemnation of contemporary country music, she did say that there are "too many party songs," and not enough "heart songs." Carter's music, according to the prolific singer and songwriter, is "oriented towards the heart."
The heart that beats wild life into the songs of Carlene Carter pounded underneath the breastbone of the Ravinia Concert Grounds throughout a recent performance with the resonance and reverberation of a gigantic bass drum. With her own guitar, and for certain turns toward the dramatic, her piano as accompaniment, Carter took the audience on lifelong travail from a childhood in one of America's greatest musical families to her own redemptive transformation after years of longing late into adulthood.
Artists excel by channeling the diverse turbulence of human emotion in a medium of expression and an aesthetic of communication. The emotions Carter so skillfully and movingly projected and presented during her live set, opening for John Mellencamp, are universal, but she allows for audience appreciation through her unique gifts. Her voice offers a glimpse into an odd, but beautiful genre of operatic country. She can transport her listeners to the old, roadside honky tonk just as quickly as she can sound like a cantor providing the purity of devotion in a quiet cathedral. On the guitar, she can delicately pick the strings like she belongs in a bluegrass band or aggressively strum out a country rock riff as if she is auditioning for Blackberry Smoke. The notes of her piano rang out with majesty complementary of the weight of her lyrical subject matter.
Carter opened with one of her biggest hits, "Every Little Thing." Her acoustic rendition had enough rollicking rhythm to allow for reminiscence of her early '90s versions. "My goal was to be the most rocking country girl in the world," Carter told me when we discussed her Nashville years as a solo recording artist. She spent much of that decade working with the Heartbreakers, and other rock bands, telegraphing the eventual blend of rock and country that would soon dominate the airwaves – first with perennial hitmakers like Garth Brooks, Travis Tritt, and Brooks & Dunn, and later with the devolved species of "bro country." Carter is largely uncelebrated for her early innovation, and she claims that it did not spring to life without multiple exercises of her green thumb.
"My first four albums I tried my hand in all my favorite music," Carter said, "Then when I started my fifth album, I came to my senses, and realized that I needed to get one on the radio." She laughed and then added, "It is a business reality, but I needed to do it so I could continue to do what I love."
It was not until I Fell in Love that Carter discovered how she could "channel my rocking self into country music," but her success would not come until the record to follow, Little Love Letters. After A Little Act of Treason, released in 1995, Carter took a thirteen year hiatus from recording music. The period amounts to a crucible of trouble, full of the unholy trinity Carter identified simply as "addictions, bad relationships, and loss."
Through personal turbulence and musical transformation, Carter claims that her best medicine and creative comfort is to return to the Carter Family songs she first sang as a child – the songs that actually animate the over used, overwrought cliché, "soundtrack of life."
"When my mother died that was the bottom for me," Carter said with the factual tone of voice made possible by distance. "It was truly difficult for me to sing those songs that I always loved, because they only made me think about how much I missed my family. I missed my mom, I missed my sister, and I missed John."
In 2005, Carter starred as her mother, June Carter Cash, in the musical Wildwood Flowers, staged in Nashville. "I thought it would be really painful, and I almost didn't do it, but it ended up giving me the healing that I needed," Carter explained.
Three years later, Carter wrote and recorded the songs for Stronger, an album in which she boasts great pride, and an album that allowed her to claim ownership over her life, and find the means to chronicle her story, even the pain of substance abuse, devastating grief, and mutually destructive relationships, into a form where beauty and joy become possible. Carter found her artistic means of activating the choice Ralph Ellison described as "dying with noise" or "living with music."
The efficacy of Stronger is not measurable in units sold, but in the recovery of her spirit. "Not many people heard those songs, but they mean so much to me. It was healing for me, and I'm proud of it." she said.
Stronger demonstrates Carter at her most "prolific." She wrote the songs in "rapid succession" under "one month's time." Perhaps the catharsis of the experience, or the stimulus of ideas that had accumulated during her hiatus from recording, allowed for the quick pace of creativity. She admits that it was an aberration. Typically, she writes with deliberate focus –"carrying a song around for months until I record it," tinkering with it with the obsession of a craftsman.
Her successor to Stronger was Carter Girl, a beautiful tribute to Carter Family songs, produced by Don Was. Her lone co-write on the record is "Lonesome Valley," a reworked version of the classic gospel song to tell the story of her mother's death. Carter said that there isn't one show she plays without people approaching her in tears, sharing their own story of losing a parent, citing "Lonesome Valley" as provocation for their own emotional expression.
My wife, who lost her mother a few years ago, had precisely the same reaction. The magical gift of an artist with Carter's talent and grace is that she can take a story of specificity and give it the power of universality.
The notes on Carter's piano possessed Shakespearean gravitas, and shot through the large space of Ravinia.
Woke to the sound of my baby sister crying like the day she was born…Momma's passed on…
It is a stunning performance, rare in its artistic synthesis of vulnerability and creativity – authentic expression and invention.
Carter's show ending performance of "Change" was equally sharp in its penetration of the heart, and equally indicative of a woman who has mastered her craft.
The singer and songwriter, who began as a child on her mother's lap, largely credits John Mellencamp with her return to the stage. The two friends collaborate, in composition and performance, throughout Mellencamp's latest release, the outstanding Sad Clowns and Hillbillies. Together their voices intertwine like strands of gold wrapped around a slab of iron.
Carter is currently at work on a new record, and a memoir. "When you write songs," she explained, "Each line is like the chapter of a book." Carter's performance at Ravinia was memoir in motion – full of poetry, pathos, drama, and the development of a life made possible through musical narration.
Ralph Waldo Emerson wrote that "the greatest gift is a portion of thyself." A true example for artists in all mediums and from all backgrounds, Carter presents herself, without hesitation or guard, to her audience, giving beautiful and brutal glimpse to the depths of humanity – always cause for mourning, and always reason for hope.
David Masciotra is the author of Mellencamp: American Troubadour (University Press of Kentucky), Metallica (a 33 1/3 book from Bloomsbury Publishers), and , Barack Obama: Invisible Man (Eyewear Press).