Interview
Q&A: Amy Black Embodies the Memphis Sound on New Album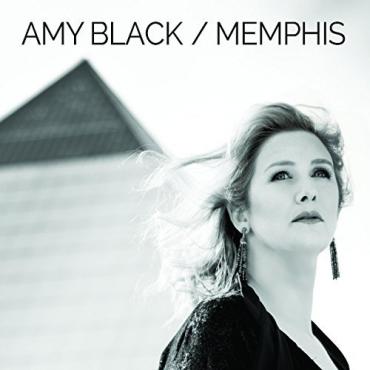 With her previous album, The Muscle Shoals Sessions, Amy Black began exploring her Southern roots which eventually led her to her true musical voice. For her new record, Memphis, out June 2nd on her own Reuben Records, Black traveled to Soulsville to a make an album steeped in bluesy grooves, brassy grit, and soulful emotion that culminated with ten songs that embody all the facets of Memphis from the danceable exuberance to the slow sexiness to Sunday morning gospel. In advance of the album's release, Black graciously too the time to talk in depth about the album from its thoughtful covers, to the project's players, and more.
​

Originally, you're from Boston and now you reside in Nashville, but you traveled to Memphis to record the new album. How did that come about and why did you want to record there?
In 2014, prior to moving to Nashville, I recorded my second studio album there at Studio A. I enjoyed that experience, but my interest, taste, and what I wanted to do artistically and musically had really been morphing. So after I recorded that one, I was heading to Muscle Shoals to record this song I wrote for my grandfather called "Alabama." We ended up nailing the song in Nashville and I didn't want to rerecord it, so I decided to do an EP of classic Muscle Shoals' music instead. I dug into the Muscle Shoals catalog and found four songs, which turned into this little EP I released for free to my fans – and that started something for me. I began doing a Muscle Shoals review show and it changed my world. I found that I was able to sing a lot of music I never thought I could sing and in doing so, I honestly found my voice.  
​
So when it came time to do this album, I knew what I wanted, which was music with more of a gut punch. I am drawn to a gritty sound with groove; I like to dance and move and feel the energy of the music, so Memphis seemed like the obvious choice for me. I love history and understanding where things come from and even though I'm a huge Mavis Staples fan and love Stax, I had never dug fully into Memphis music and so this project was incredibly eye opening. I found artists I should have known about like Ann Peebles, Ruby Johnson, and Bobby "Blue Bland" who is now my male counterpart to Mavis.

I contacted Scott Bomar, whom I met years earlier, spent a week with him in Memphis going to nightly shows, visiting studios, and meeting players - and it all came together from there. Making this album has been a great pleasure and I wouldn't have had it any other way.
In addition to Scott, there are some pretty well known and respected players on the album.
I had watched a Memphis documentary, Take Me to The River, so I had a bit of knowledge about people and things and when I came to Steve to talk about the players I knew I had to have Leroy Hodges on bass [brother Charles and Teenie were the esteemed Hi Rhythm Section]. And then it was like if we have Leroy, we have to have Howard Grimes on drums and Charles on Hammond B and piano, so it became obvious they would be the core guys for the project and then we added Joe Restivo, who just embodies Memphis, to come in and play guitar. We also brought in the Memphis Symphony on strings and Mark Franklin who is an amazing horn guy [Gregg Allman Band] to arrange the strings as well as the horns.
​
Sounds like it all came together beautifully. Did all of this play a role in why you eventually called the album Memphis?
It did. I wanted the whole experience, the project, the players, and the music to embody Memphis and I feel like that's what we got. I really couldn't call it anything other than Memphis.

Memphis contains ten tracks, seven you wrote and three covers. With such a large catalog to choose from, why did you choose those three in particular?
When I do a cover, I want to bring something to it and execute it in a way that people will go 'Wow,' and be happy with what I did rather than compare it to another version. I wanted to do a Bobby "Blue" Bland cover and ended up with "Further On Up The Road" which is a big band song that has horns and just swings. I actually thought it would be an easy song to do, but it turned out to be harder than I thought because there were nuances to it where I couldn't just power my vocals through - I had to find when I should do that or hold back, which was the hardest part. In the end, I feel great about how it turned out.

Steve brought Otis Clay's "If I Could Reach Out" and the minute I heard it I knew I was doing the song; it was that easy. The message is 100% what I believe and what I have experienced when I was in a low place - I got involved and served people who had less than I did and that was good for my spirit. That song floats along positively in words and music and just feels really good.

The third one, "I Need Your Love So Bad," is by Ruby Johnson. I liked her version and felt like I could bring something to it, so I messed with it in a different key and slowed it down making it sexier. Now I come to find out this is a much-covered song, and I probably wouldn't have done it if I knew, but I am going to stand by my choice because it is one of my favorites on the album. It's a classic blues song that I think completes the album. It's just so perfect.

It's the perfect closer.
I always love to know why artists track songs way they do, so why do you open with "It's Hard to Love an Angry Man?"
Because it's big and bold and says 'Hello I'm here.' It's kind of dark and ominous and very me in terms of what I like to do musically. It's an attention grabber and I feel like that was a good way to start the whole thing off.

It definitely grabs one's attention in a good way! The album has a mix of uplifting and darker tracks. Currently, I am loving "Let the Light In" and "Nineteen." Would you tell the story behind one of them? 
I wrote "Let the Light In" several years ago and started singing it acapella two years ago in my Muscle Shoals show. At the end of the song, I would get the audience to sing with me and no matter whether I was playing a bar or a listening room, people would sing along - and I just thought that was amazing. I will admit that I can carry quite a bit of darkness because life is hard, but I think for me that song came out of my heart as a reminder that you can let the light in even when things are dark around you. We all have that choice; that's in our power no matter what else is happening. Even though it's a bit heavy, the song resonates and moves people and  I think the version we came up with is powerful.

Now "Nineteen," I wrote when I was in Boston. The original version had more of a singer-songwriter finger picking style to it, but over the past couple years, knowing my sound was changing I started messing with it and by the time came around to record it, I knew exactly what I wanted to do. The story started with the chorus for me, coming from a place of darkness and the feeling of being too far gone. I thought of people I know who have had serious trouble where you wonder if they can I ever return to normalcy and then I started thinking about war and the draft and its impact on soldiers going from being people who were maybe planning on going to college and getting married to people who had to get on a plane and ship to the middle of nowhere for years. It's a life high-jacked. It's happened with Afghanistan and other wars, but for some reason, Vietnam and the draft piece, in particular, stood out to me. At the time, my husband was reading "The Things They Carried" by Tim O'Brien which had stories about Vietnam and the things soldiers carried with them. I read through it to see if I was on target and some of the things in the book, like how a soldier sleeps with his mom's Bible, made its way into the song.

You know, for all of the heaviness in my songs, I find joy in performing them. I'm not the person who if they aren't on stage isn't normal. I have a good life, but when I take the stage with a six to ten piece band, that is heaven on earth for me. There is no place I'm happier.

They're heavy, but in a touching, emotional way.
Closing out on a lighter note, being that you have immersed yourself in Memphis, is there anyone that you frequently listen to and recommend people should check out?
I would say Bobby "Blue" Bland. His vocals are stunning; they're amazingly powerful, but smooth and gritty when they need to be. Another one to totally listen through would be Ann Peebles. I don't know why more people don't know who she and Bobby are, that's just the way life is I guess, but I really enjoy their stuff.

For more information visit her official website
Find her on Facebook, Twitter, and Spotify
Purchase Memphis HERE
Originally appeared on The Daily Country