Interview
Q&A with The Bluegrass Situation's Amy Reitnouer About Their Bonnaroo Sunday Takeover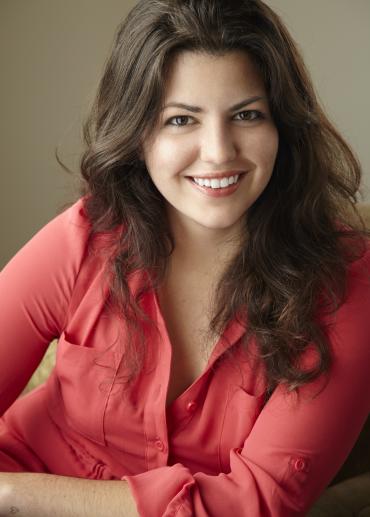 The Bonnaroo Music and Arts Festival has always been one of the most consistent among the nation's largest festivals at booking roots and Americana music, so much so that in my recent roots ranking of the major festivals, it finished a close second only to the venerable New Orleans Jazz and Heritage Festival. A big part of that has come from their partnership with Ed Helms and The Bluegrass Situation. Entering their fourth year of taking over That Tent on Bonnaroo's final day, The Bluegrass Situation is offering a lineup that includes Sam Bush, Sara Watkins, The Wood Brothers, and more. I caught up with Bluegrass Situation Executive Director Amy Reitnouer by phone to get her take on the site's partnership with Bonnaroo, some favorite moments from past festivals, and what's in store for 2016.
Can you talk to me a bit about your relationship with Bonnaroo, how it got started and how it has grown?
When we started, Bonnaroo put a tremendous amount of faith in us and really understood what the BGS brand represented. They allowed us the freedom to run with it and make it as crazy and fun and creative as we could. So the challenge to ourselves and from Bonnaroo has been to try to top it year after year. I think we've done that. Our crowd gets larger every year, the artists who come to us wanting to participate get more recognizable, and it's really become a tentpole for the BGS festival year. It's something we look forward to putting together and we've discovered the Bonnaroo audience and producers look forward to seeing what we come up with.
This year is no exception. It's typically curated by Ed (Helms) and myself, but this year we have the help of Sean and Sara Watkins and the Watkins Family Hour as the house band for the Superjam. They've been longtime supporters of us and friends of ours. They've been really involved in bringing this all together and bringing new and fresh ideas to the table and song choices I would have never considered. It's brought new energy into the process.
I was going there in a bit, but since you mentioned it I'll go ahead and ask. This is the first year for Watkins Family Hour to be involved and that's included some big names in the past like Fiona Apple and Benmont Tench of The Heartbreakers. Any secrets you're willing to give up?
I will say it's not the whole group this year. Everyone's working on different things. It's an incarnation of Watkins Family Hour. There was the record and tour last year. However, this is more pulling from what we regularly see as Watkins Family Hour at our local venue Largo. The version that's at Largo is Sean and Sara and whoever happens to be in town. And often it's Benmont Tench and Sebastian (Steinberg) and their usual band. And Fiona might stop by and do some songs. Or Grant Lee Phillips, or Amie Mann. You never knew who it was going to be. And I think that's applicable to both the Superjam and this version of Watkins Family Hour.
Before we get into this year's lineup, since you have three years under your belt now, do you have some favorite moments that really illustrate for people who have never been what the Bluegrass Superjam is about?
I could pick one from each year that stuck out. The first year we were so nervous and we were making it up by the seat of our pants. We didn't have as many guests as we have since, but we had a great lineup with Sam Bush, Del McCoury, and others. But the one big guest we did have was Dan Tyminski. And you have all those guys up there and I think people saw where it was going, but none of us had requested he do "Man of Constant Sorrow", but about three-quarters of the way in he just launches it with those famous vocals, with Del harmonizing. The audience lost their minds. There's just this rush that comes as you feel an audience connect with a song. That's what I love about the Superjam. Any moment can bring one of those magical moments.
I'll skip year two and come back to it. Last year, Rhiannon Giddens was there doing her own set and had no plans to stick around. She ran into Bela (Fleck) and Abby (Washburn) and they convinced her to stick around, unbeknownst to me. So she just decided to join in the Superjam. And she did a number, but then she was also clogging with Abby sidestage, doing this incredible traditional clogging number. You couldn't plan that if you tried, it was just the spirit of the moment. So it's amazing that you have Chris Thile and Sarah Jarosz and Bela performing on stage, but then you have this beautiful unscripted moment with Rhiannon and Abby on the side.
One of my favorite moments ever that we've done happened on the second year. It was the Superjam finale number. It has been a really good jam. The energy was flowing and we were way over time but no one care. It was Lake Street Dive, Dierks Bentley, Della Mae, Sarah Jarosz, The Avett Brothers, and The Lone Bellow with Ed. It was an amazing mix. There were about 40 people on stage. And Lake Street Dive has requested "(I've Had) the Time of My Life" from Dirty Dancing. And at first, Ed and I were laughing about it, but then he said "no, we should do this as the finale." So he took the male lead and Rachael Price took the female lead and everyone was just playing along and dancing and letting completely loose. What you don't see is that everyone, the crew, the guest, was just dancing sidestage. It was an amazing musical moment that everyone was feeling. It could have been a goofy cheesy song but it was just magic.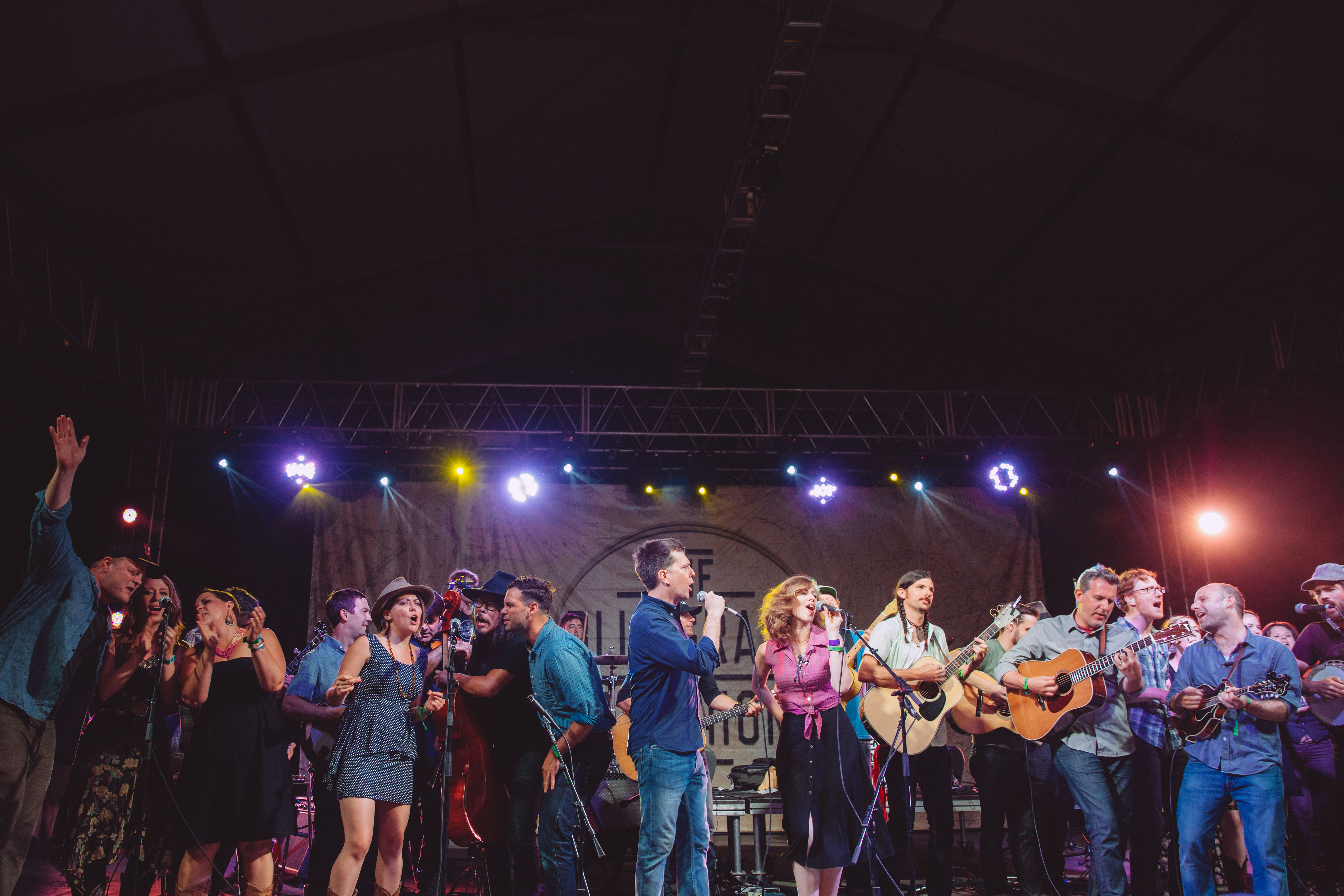 That song and another song from that same year, which is my favorite Superjam moment, Sarah Jarosz just nailing Gnarls Barkley's "Crazy", shows that you're not bound by any genre. It may say Bluegrass in the title, but you may get anything from anywhere.
Yes! Part of what BGS stands for in general is covering everything from country, bluegrass, Celtic, and old time to folk rock and indie rock and trying to connect the dots. That's what the Superjam is. It's about connecting the dots and discovering new things. Artists you'd never think about working together, covering songs you'd never expect a roots artist to cover.
You certainly have a diverse lineup this year, from youngsters like John Moreland to Sara Watkins who has done everything, to The Wood Brothers who range from folk to jazz to Steep Canyon Rangers and Sam Bush, who is always a wild card.
He's just Sam. He's the legend. And Sara's solo set, she's taken a complete departure. Her new album is not what people will expect. Genre lines are disappearing in a lot of ways. It's important to remember our roots and to remember what traditional music sounds like, but we like to move forward and work with those folks who push things forward and take chances.
Once you get to the Superjam, you've got a few secrets, but just announced, you've already got Mr. Americana himself, Buddy Miller, Lee Ann Womack, Secret Sisters. That's a stacked group.
And Amanda Shires. She's going to come straight over from performing with Jason (Isbell) and do some rehearsal with us. It's such a great lineup this year. I'm pumped. This is one of the highlights of my year every year. I can't wait to see what happens.
What do you guys have going the rest of the year?
We have our first international stage in July at the Winnepeg Folk Fest, which is one of Canada's largest folk festivals. We'll have four acts on stage during the day and then we'll culminate in an "Album Hour" which this year will be Hotel California. And that's partially to honor Glenn Frey, but also because I think the Eagles are one of those really undervalued bands. They came out of The Troubadour here in L.A. So it's our bridge between California and Canada since this is our home base. We're presenting tours now and doing shows across the country. In the fall, we'll be at AMA and IBMA and all our usual hangouts for Fall. We have a lot in the cooker!
If you'd like to see the Bluegrass Situation Superjam, it will be on Bonnaroo's final day, June 12. Bonnaroo will run from June 9-12 at Great Stage Park in Manchester, Tn. Other featured artists include Dead & Company, Jason Isbell, Pearl Jam, and Chris Stapleton. I will be on-site all weekend at Bonnaroo bringing you daily recaps and news as it happens.