Interview
Rock n Roll Heart: Lazarus Talks New Album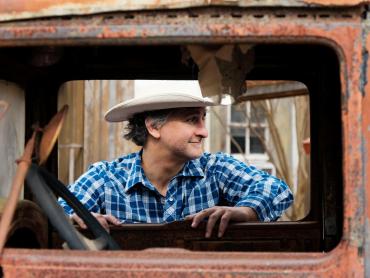 Austin via Ohio singer-songwriter and multi-instrumentalist Lazarus has been writing and playing music for over two decades. While his musical path has veered in various directions including Folk, Punk, Rock, and Country, they all converged on his debut release, Rock N Roll Heart, which embodies the Americana sound. Recorded at King Electric Studios in Austin with producer Kris Brown and guests that included, Warren Hood, Denis Ludiker, Libby Koch, and others, the album features songs like the country-tinged, "Makin' Good Time", those with a folk lean "Rise" and "Come Again in Glory", and still others, "Gonna Be Okay," with a welcome slice of New Orleans flair. In advance of a busy summer schedule, Lazarus took some time to speak about his roots, the album, and more.

Originally you called Ohio home. What spurred you to pick up and move to Austin?
About three or four years ago, Ohio was having some crazy winters. We had these arctic blasts from Canada to the point where they were telling old people not to leave the house and kids not to go to school. I had started playing music again and I couldn't take the cold anymore. I told my wife, who is a teacher, that I was going to book tours in the South all winter and I would see her on Mother's Day. She wasn't having that, so she started sending resumes out to schools in states with the same licensure for teachers. We were on a family vacation when she got a phone call from the Bastrop district which offered her a job starting August 1st. We made the decision to move while on vacation, told the kids on the drive home, and in two to three weeks found a house and moved to Austin.
​
Wow, so it was luck or fate that you landed in such a music-centric city.
I knew Austin was a musical city, but I wasn't that tuned into how it gelled with Americana, the amount of state pride people have, how proud they are of their musical heritage and how they support it. Plus, there is the Texas Music Office which is a well-run, government funded organization that's an asset to all levels of musician and venues. 

That said, I have been a member of Folk Alliance International and I have met a few people out of Texas, like Chuck Hawthorne, Libby Koch, and Ken Gaines, at their annual gathering. So when we moved, it was a soft landing into a very welcoming musical community. I spent all of 2016 touring with Libby whose last album, Just Move On was Grammy nominated, backing her on guitar, banjo, or keyboard and after I finished the tour, I made my own record - and here we are now.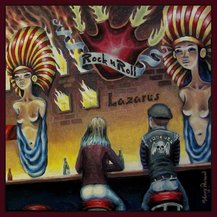 Before we talk about the album, you mentioned that you had just gotten back into music a few years before the move. Were you writing and performing a similar style of music?
I played most of the 90's out of Athens [Ohio] in a punk and rock and roll band, but I also spent time in a band called Motherload, which was an alt-country band. When we got married and she got pregnant, I knew I had to take a musical break because the only way to make a record would have been with a label and labels weren't searching the foothills of Appalachia for talent. I quit music for twelve years worked in a lumber yard, as well as other places, and raised my kids. About four years ago, through the miracle of Facebook, I connected to an ex-band mate of mine. I saw he was playing gigs, so I visited him and knew I needed to start playing again. I got the guitar out, got into the scene there in Ohio, and things happened from there.

With the exception of Bob Marley's "Small Axe," all of the songs on the album were written by you. How did the move and living in Texas influence the sound of the album, if it did? 
All of the songs were probably written within a year of the record being recorded, and all were written in Texas after the move. Before I got here, I listened to Townes and Steve Earle, but now I listen to the regional stuff as well like Michael Murphey, Adam Carroll, and Slaid Cleaves and I think that Texas sound you hear on the album definitely came from hanging with all of those people, for sure.

The album begins with "Rise". Is there a particular reason you placed that song first and can you tell the story behind it? 
"Rise" was originally going to be the title of the album when it was going to be more Folk-centered, but as the record grew my producer Kris and I felt Rock n Roll Heart was a more appropriate title.

With the way things organically happened in my life - leaving my regular full-time job to become a full-time musician - it was sort of an easy metaphor to put myself in that place. I feel like I'm born anew as a musician and that's where the song came from.

It's incredibly appropriate.
The cover art is really interesting. Is it a painting?
A friend of mine, Vince Parker, is an amazing artist. I asked him to paint the cover art for the record and as we talked about Rock n Roll Heart being the title he recalled its line about "burning the whole place down." That triggered our memory of the Union Bar in Athens, which burned down three years ago, and he suggested we use it. The bar scene is what the bar looked like inside before it burned. It's a little homage to the place I played in my old punk rock days.

Very cool.
You're headed to Ohio to play some shows, where can people catch you after that?
I'm really booking tours like crazy. I just did a little ten-day loop in Chicago. Minnesota, Tulsa, and Kansas and I'll have some shows in Texas. I'm also planning a West and East Coast tour with the goal of making new fans every night. And if I do that, I'll consider it a success.  

Texas is a huge motivator and fun place. It's easy to soak up the culture, so my next record, which I have ready, is a true alt-country record with a pre-Wilco, pre-Son Volt, and pre-solo Ryan Adams feel. I'm 43, and if I was 25 I might not do it this way, but I feel like I've won the lotto getting back into this and being a viable part of the musical community. I can wake up tomorrow and find out I'm out of the club, so while I'm in the club I want see what I can do and take advantage of the momentum. 

Sounds like a plan. Is there anything else you would like to add?
I don't know I've gotten anything too profound to say. I would tell everyone that we live in exciting times. People are all freaked out and I believe that these are good times to be alive, great times to be alive. Nobody is alive by accident right now, so if you find yourself a little hypersensitive to the current climate that's the quickening of life and we're all here to experience it. Somebody has to look at this thing as half full because these days, too many people are half empty.
 
For more information visit his official website
Find him on Facebook, Twitter, and Spotify
Purchase Rock n Roll Heart HERE
Originally appeared in The Daily Country