Interview
Ruby Boots and the Balance of Self-Preservation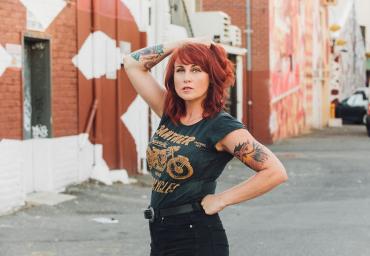 Prior to her current residency in Nashville, Ruby Boots talked to Chris Familton about writing new material, gave her opinion on the Australian country music scene and looked back at 2015.
Last year was a landmark year for Ruby Boots (a.k.a. Bex Chilcott), who played numerous headline and support shows and took a trip to Nashville in support of her debut album Solitude. Released by the Australian imprint of the iconic Lost Highway Records label, the album was a musical coming of age for Chilcott and a stepping stone to wider exposure and new markets.
"I think one of the biggest highlights was going back to America, making it to Nashville and doing a national tour," she says, "even if it was just some major cities. It felt very nourishing to me because the album was so well received. I'd been sitting on it for 16 months after it was recorded and mixed, and just having that out was a major relief. You can sometimes get lost in worrying about whether it is any good when you have to wait so long. Finally releasing it and getting a positive response from people was, I think, the biggest highlight for me. It was pretty special."
With the album out for nearly a year, and amid extensive touring, the inevitable question of when we can expect a second album starts to loom large. Chilcott has already begun the writing process and thinking about where she wants to take her new songs.
"During the recording period my brother nearly passed away from alcohol addiction," she explains, "so there's a bit of the theme of addiction and reflection coming through on newer songs. A lot of it is influenced by our make-up and our choices. [It's] pretty intense stuff, really. A lot has happened over the last few years, which has given me an outlook on other people's ways of life -- both negative and positive -- and [I've been] putting myself in their position and seeing how it feels. When you have to play songs like that, you have to give a certain amount of yourself, but you have to also shut a part of yourself off and you have to be aware there is an element of self-preservation involved. I've been thinking a lot about that lately and how that affects you on a daily basis."
We always hear a lot of healthy debate about the alt-country and commercial country scenes, and the ways in which they can -- or should -- interact and cross-pollinate. Chilcott has her own strong views on the matter.
"Often alt-country music is closer to traditional country music than modern country music is," she says. "I feel very strongly about that. If [some people] don't believe the alt stuff is fitting properly, I'm not sure how things got so skewed. Modern country music doesn't wear its influences on its sleeves and alt-country/Americana does do that.
"I think the essence of good country music is a fucking well-written song with a well written story -- one that really hits home on a real and emotional level, not just on the surface level," she adds. "Personally, I'm not super concerned about having to be part of a deep country community. I want to be part of any musical community that will have me. That's where my focus lies. The model of getting on the road and getting in front of people is what I've always believed in. It doesn't have to happen at one festival for me every year. It has to happen every weekend of every month."