Interview
Ryan Bingham: "It Can Mean The World When Someone Takes A Moment To Listen To You."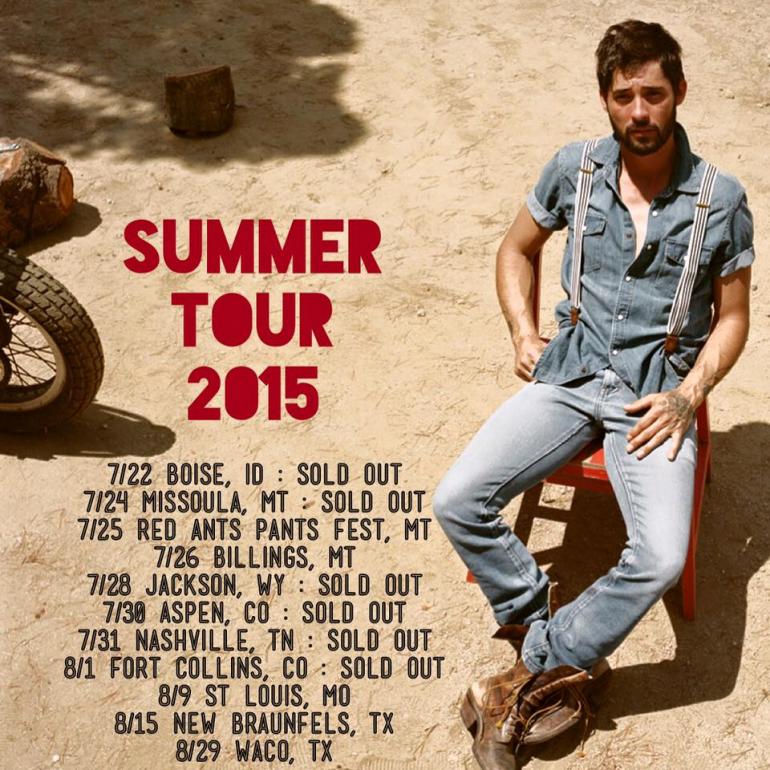 "Looks like I'll need a road case with some baby supplies," Ryan Bingham told me when I asked how he was going to cope embarking on a tour of Europe only months after his brand new baby is born.
It's a far cry from the realities of his own well documented early years. His parents struggle with drugs and drink, and the ultimate crash that his family suffered. It's been a subject he has not shied away from. His mum lost the struggle, the alcohol took her life. His dad took his own life. The remnants of all this flutter through Bingham's story.
His first guitar was a gift from his mum when he was 16. It sat in a wardrobe for a year before he started learning to play it. By that stage he was living in Laredo, Texas. He started to spend time with a man who played mariachi music, and one day Ryan grabbed that abandoned guitar and asked his friend how to play a song on it. The man taught him "La Malagueña" and the rest is history. I wondered what happened to this quiet catalyst in Mr Bingham's career. "His name was Paul," he told me. "I really didn't get to know him very well. I only saw him a couple of times before I moved. I'm grateful for the few things he showed me on guitar. But I never knew him well enough to keep in touch." His family finally fragmented and the teenage Ryan Bingham went out on his own. I asked if he still had that original guitar. "Unfortunately that guitar was broken in a fight I had with my father before I left Laredo."
With all of this in his background I asked where he's gathered the strength to get where he is right now. "I'm not sure. Most everyone I knew had a hard life where I'm from. You either get tough or die." So what he would say if he ended up in conversation with someone who is homeless or caught up in the quagmire of substance abuse. "I would probably do a lot more listening than talking. When you're in a situation like that it can mean the world when someone takes a moment to listen to you."
And he would know. He's lived in his car, he's slept on floors, he's depended on favours to survive. When I asked him about songs like "Rising Of The Ghetto" from the Tomorrowland album he told me "I feel it's natural for art to be a reflection of your environment in whatever shape or form that might be."  He's been an advocate for The Nature Conservancy ("We haven't done any specific initiatives in this past year but I still strongly support them."). Are there other issues that burn him up? "There are many.  And many influence my writing, sometimes in more obvious ways, sometimes less obvious."  
He released Fear And Saturday Night at the beginning of the year. It's an album looking to the future, with songs like "Broken Heart Tattoos" written to his unborn child, and warm sweet love songs too, like the track "Darlin". It also gives a long nod to his past with songs like "Nobody Knows My Trouble." The album has been abundantly reviewed, but I did ask him about "Nobody Knows My Trouble." The rhythm and beat of the track had struck me as much more up-tempo than the lyrics and story of the song. "I wanted the song to move and feel like it was going somewhere," he told me. "To not be stranded like there was no way out.  There is hope in there."   How much courage does it take to write and perform a song like that? "It's definitely easier to write than perform. But when you hear the stories from listeners of how they relate to a song or how it may have helped them through their own experience in some way - that's what makes it worth it to me."
He's been touring the album, and that tour continues.  He'll be in the U.S. right through to the end of August, then hitting Europe from October.  Shawn Davis, Nate Barnes and Daniel Sproul who play on the album will all be joining him on stage. Barnes and Sproul play with the exceptional rock band Rose Hill Drive, so I had to ask how he managed to nab them. "I first saw Rose Hill Drive several years ago and was blown away by the band. I met them through our tour manager and we just hit it off." Support will be in the form of rock Americana band Sons of Bill, whose star is in the ascendancy. "They're a great band" he told me simply when I asked about his choice of support, "and seem like a good bunch of people." Instruments of choice will be "Mainly guitar and harmonica. You've got to travel light in Europe."
When he's home though, he's based in Los Angeles. I wanted to get a feel for the music scene going on around him there. "The music out here is so diverse and all over the map. I'm not sure if you can call it a scene. It's so spread out that it's hard to stumble upon the same thing twice if you know the right places to get lost in." He can however make a recommendation. "There's a group of guys out here that call themselves The Americans. Some of the best songwriting I've heard years."
Strong praise indeed from an Academy and Grammy award-winning singer, song writer, troubadour, and master guitarist. I'm away to google The Americans.
Video Credit: Ryan Bingham