Interview
Ryan Bingham Sings For His Supper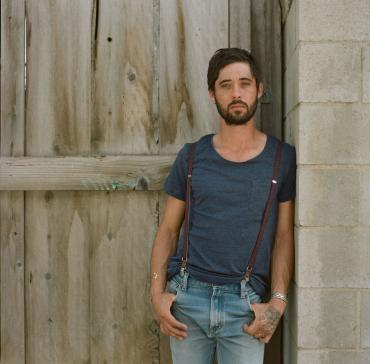 Objectivity is an awkward concept to apply to any form of writing, but it fits singer-songwriter Ryan Bingham least of all.
Similar to others, he chooses what to put in and what to omit, what feelings to doubt and what ones to trust, where to begin and where to end. But the idea of writing in third person or pretending the lyrical origins belong to another is profoundly alien to him.
His earliest songs starkly dealt with the loss of his parents. "Fear and Saturday Night," released early in 2015, shifted into much brighter lanes, exploring the newly discovered joy of having a trusted woman by his side, someone who he could call his friend and wife. His songs are the stream of his life – and he's unguardedly stepped in neck-high.
"I guess the main thing about songwriting is keeping an open mind and just getting out there," said Bingham, 34. "I could go several months without writing a song. I do try to live in the moment, and so I'm not jotting down thoughts or notes all of the time. But the songs come from getting out on the road and having adventures, experiencing different cultures. When it's over, I have the time to reflect on the places and people that I've met along the way. I will play and try new music throughout the tours, maybe record the melody, or be playing little melodies. When the tour is over, I will start letting them go with the words and go with the way they make me feel."
Though it wasn't that long ago when Bingham signed his first record deal with Lost Highway (2007's "Mescalito"), the concept sounds almost like a romantic relic now.
"I was very fortunate that when I had my first record deal, it happened at a time when I was one of the last artist development deals. It was right before file sharing and the Internet took over, and they were letting me grow organically. But, you know, it's always been about getting on the road and singing for your supper, and grinding it out in the bars. That's always where it's been for us and I don't see it going anywhere else."
If there is one thing that Bingham's upbringing has taught him it is the meaning of "grinding it out." Both of his parents were alcoholics. His old man couldn't keep a job. Born in New Mexico, his family was itinerant. He was never particularly pleased with this bouncing around arrangement.
"I didn't live in the same town for more than a year until I was in my late 20s," said Bingham. "Around then I joined the rodeo trail and started riding bulls in Laredo, riding bulls in Mexico, and I found a family and support group. I remember not even unpacking because I knew I was not going to be there for very long. You just meet whoever you can to hold on to. You go with your gut feeling and you are trying to survive. It wasn't until I lived in Laredo, West Texas, and started rodeoing, and I met a group of guys on the road, who became my crew, and who I could lean on a bit. I was 16, 17, and figured I'd do my own thing."
Bingham said that his youth predominately felt endangered.
"I had an uncle and both grandparents who were, thankfully, there for me," said Bingham. "There was a high school English teacher of mine in Stephenville, Texas, and she helped me out at a time when no one else was paying attention to me."
In songwriting, Bingham saw the chance to claim and make sense of his circumstances, an opportunity to self-empower, assess opinions, and responsibly evaluate who and what he was.
"The past is a big reason I started writing songs," said Bingham. "I think all of it is there. I had to get things off of my chest. You can express emotions and feelings through songs, and express those things you don't want to talk about in a conversation with folks. It is quite a personal thing. I got into music, and it wasn't for playing or performing, or to be in a band – it was a personal thing I used as a tool to get those things off of my chest and make sense of the world."
Complimented by his scruffy rasp, most of Bingham's songs are solemn, yet with an inner vitality that feels indomitable. Lyrically, however, he has recently pulled back on the reins of pain and resentment. Where he once saw a void of nothingness, he now sees a horizon of possibilities.
"I am very lucky to have the opportunity to play music," said Bingham "I definitely have had a lot of other jobs that weren't fun. I didn't make it too far through school and did a lot of ranch work, breaking colts, welding, carpentry, painting – you do whatever you need to do to survive in whatever town. I've spent a lot of time with the shovel."
Bingham is obviously well-equipped for a world of guitar strings and ballads. "The Weary Kind," the theme to the 2009 film "Crazy Heart," proved that. Jeff Bridges performed the tune in the movie and it snagged Bingham and co-writer T Bone Burnett the 2010 Academy Award for Best Original Song.
He has no attachment to the shiny accolade.
"I have had so much stuff taken away from me that I got to where I just didn't get attached to stuff," said Bingham.
Bingham addresses his losses in 2012's painfully revealing "Tomorrowland," which dealt with the aftermath of his parents' deaths — his mother from alcohol and his father by suicide. He was in a bad place emotionally. He had to come to grips with the past. He even went and talked to a therapist and accepted professional help.
Bingham describes his parents as "good people" who couldn't find their way out of the quagmire of drugs, alcohol and depression.
"Fear and Saturday Night" is, from time to time, chirpily tender. Marriage was the one fixed point that helped pull Bingham through the difficult times. It remains the one factor in his life that has been secure.
The songs were penned while Bingham secluded himself in an Airstream trailer in the mountains of California. He set the camper on the back of his truck, and he would disappear in the desert, or find desolate places to camp. Mule deer and coyotes roamed. He'd get up in the mornings and surf and then go back and write through the day and night. Whenever he felt stumped, he would go for hikes or wander.
Bingham's past always hovers in the background. He doesn't volunteer his thoughts without being asked for them. He speaks affectionately of the cloudy, dusty New Mexico ranches he spent his earliest years living and working on.
"I still rope a bunch," said Bingham. "My family is a ranching family in New Mexico. I love the smell of the air and the lifestyle and camaraderie. A lot of it is the interaction with the livestock and the animals. You know, the powerful relationship with horses.
"There is a certain mentality of going about your day with riding bulls. You can't just step in that arena with any kind of doubt or you are going to get hurt pretty quick. I still use those kinds of tools in music. Every night I still have to get out there and sing for my supper."
Right now Bingham is enjoying the whimsical world of wonder that defines his existence. He is the father of a five-week-old girl. He has found that as a singer-songwriter he feels he belongs. He is not insensible to the fuller range of the world. He is here and now.
"I look forward to looking out the windshield rather than the rearview mirror. That's a nice thing at the end of the day."
By Brian D'Ambrosio