Interview
Seattle Folk Duo, March To May Talks Globetrotting, Gymnastics And Their "Crazy Universe"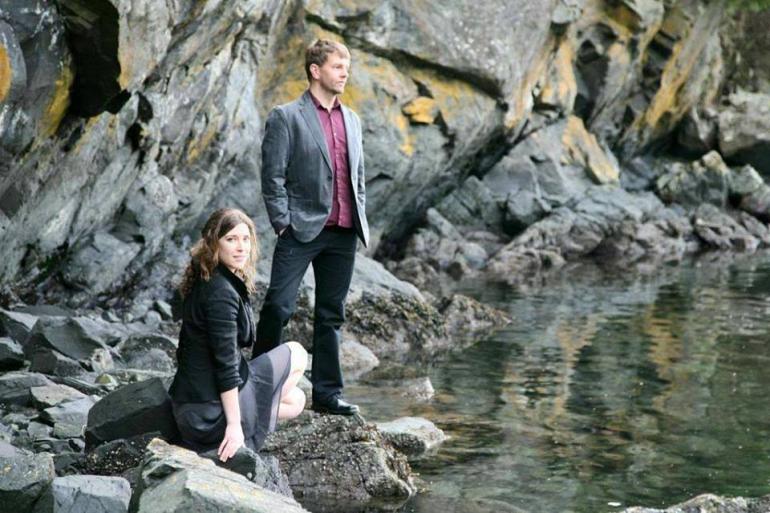 Seattle folk duo, March to May entered the national music scene in April 2015 with their critically acclaimed debut EP, "The Water's Edge."  The lead single and video, "Embers" has spent a whopping 9 weeks atop the Yallwire Most Watched Videos Chart (Yallturnative).  Darren Guyaz and Elizabeth Wesche have taken the success in stride, with much gratitude to their fans. They both took time from their busy schedule, shooting two videos and performing at venues across the Pacific Northwest, to talk about the past year, and what the music world can expect from the pair.
Tell me about your recent Washington/Oregon tour.  How was it, where did you play, and what were the highlights?
Our most recent tour was incredibly fun and successful. We made it a house concert tour and had mostly sold-out shows, with one highlight being hosted for one of the shows by the mayor of Hood River, Oregon!

What's the craziest/most interesting thing that has happened while on the road, and where did it happen?
We were gifted a stunning, handmade classical guitar by one of our fans in southern Oregon; not that much on the crazy side, but such a powerful gesture of appreciation and support.

You've both lived all over the western hemisphere; where is your favorite place that you've both lived, and how has that place influenced you in life, and in music?
Though each of us has a soft spot for Latin America, we both absolutely love Seattle and the Pacific Northwest. This place is absolutely beautiful – and the landscape and maritime culture both greatly affect our songwriting. We seem to have an ever-growing repertoire of music strongly influenced by the water surrounding us. 

Since you've both migrated quite a bit, how did the two of you manage to get together to form March to May?  Tell me about the first meeting and how that developed into what we hear today.
We met randomly through Craigslist, of all places – but to be housemates, not musicians. Beth was moving to Seattle from Washington, D.C., looking for a place to live – and voila, she moved in with Darren. Neither had any idea the other played music – until a few weeks later, they went to the Washington coast with a group of friends, and when Darren started playing his guitar around a beach bonfire, Beth started harmonizing to his vocals – and the sparks flew. 
Tell me about your debut EP, The Water's Edge.  How did the title come about, and what was the recording process like?
The title came from a lyric in Crazy Universe, and it speaks to this powerful space, this liminal space, that exists between….between day and night, right and wrong, land and water…a space that defies limitations and boundaries. We felt like it was very representational of our music. The recording process at Bear Creek Studios was one of the most impactful experiences both of us have ever had in our musical careers; with the space itself (this large old farm house and barn), with our producer, with our band-mates, with the summer storm that passed over us during the recording of Falling Down. It was magical.

You've had some major success with your video for "Embers."  Congrats!  Can we expect a follow-up video any time soon, and which song will it be for? Give me some details about it, please.
Thank you – and yes, Embers has really taken off! We actually have TWO videos in the works right now, with two very different, but wonderfully talented directors and collaborators. One is for our song Georgia (on The Water's Edge EP) and the other one for a new song, The Navigator, which will also be released as a single this fall. We can't give away too much, except that The Navigator involves a dance company, underwater videography and a historic steamship. Shhhhh.
Up to this point, what has been the highlight of your respective music careers?
We've had so many small, but incredibly meaningful highlights, in the form of behind the scenes praise and appreciation of our music – stories from fans that brought tears to their eyes or inspired them to make a big change in their lives. On the larger sense, we felt so blessed to have sold out our EP release show in April on a historic steamship here in Seattle – and to have overfunded our debut EP Kickstarter campaign with 152 backers. But we are very, very excited for what is upcoming: we just got booked to headline one of Seattle's premier venues, The Triple Door. 
Critical praise, record sales, or industry awards...which one is most important to you and why?
Hard choice, but we'd have to say critical praise. Sure, having record sales and industry awards would be wonderful – we can't deny that – but having praise of our music means a lot to us as artists, as our hearts go into it and our music is a reflection of who we are as people.

What is one career goal that you hope to accomplish in the next year?
We already feel incredibly appreciative of what we've accomplished in this past year – so our biggest goal is just to keep pushing forward and upward! Opening for large acts, playing larger venues, more tours and more unique musical experiences.

If fans could know one unusual personal thing about Darren and Beth, other than being in March to May, what would you tell them?
Beth was a competitive gymnast until she grew too tall (and then switched to playing harp) and Darren solo backpacked across SE Asia, Turkey, and South America (all of which inspired his music).