Interview
Shine On, Shinyribs: An Interview with Kevin Russell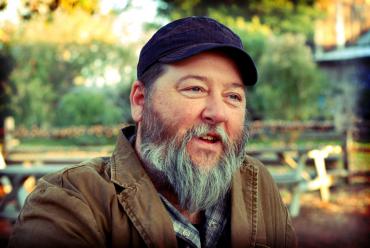 There's a lot to love about Kevin Russell and his band Shinyribs, the riotous, Southern-swamp, musical carnival headed up by this former frontman of Austin's now defunct Gourds. If tent revivals had an ass-shaking soundtrack, this would be it. It's not just the humorous, sometimes poignant, and always clever lyrics; nor is it just the joyful fusion of sounds. It's also the SHOW with a capital "S". This is what live music is meant to be - a community celebration, uplifting and entertaining, a booty-boogie sonic party. 
Russell is a performer in the best sense of the word. "I like a show," he admitted. Anyone who's experienced a Shinyribs concert knows what Russell means. The energy on stage, as well as in the audience, is palpable.
"Everyone that's playing is having fun and enjoying it," he said. "It's truly free music. It's just an emotionally wide-open kind of experience for us, and it usually is for the audience, as well. It's contagious," Russell laughed.
Whether he's strumming a ukulele, leading a conga line or artfully accompanying his singing with a campy gesture or two, Russell is the guest you wish you had at every party. He is the party. "When we get people dancing, there's nothing better," he said. "My whole goal is to make everybody in the place dance. It doesn't always happen, and if it doesn't, I'm okay with that, too. As long as people are there, they're going to like it. But I like getting them moving, even if they're just moving their butt back and forth in the chair."
It's impossible to categorize Shinyribs' sound, and Russell wouldn't want you to. At times, it's a funky amalgam of hip-swaying, toe-tapping rhythms. On occasion, it's a beautiful, heartfelt ballad. Sometimes, it's even a yodel mixed with some Latin swing. "I can't even grasp how anyone could stand to play one genre of music," Russell commented. "I would go nuts. It's like living in one room your whole life, like living in a one room house and you never go anywhere."
Russell's cleverly crafted lyrics go hand in hand with those tunes. "I've always had a love of good writing. That's very important to me," he remarked. "I like to keep it on the more original side of things."
Sometimes the music comes first in the process. "Often I'll have these tunes or I'll come up with these songs. I'll basically get the arrangement," Russell explained. "I might have some lyrical stuff going on, or maybe something that has already popped into my head just while I'm singing or playing it. But then I have to fill it in and make it into a song…There are certain songs that write themselves immediately and some songs that are never quite finished, and I never quite got it right, even though I may have recorded it," he commented. "You never know with songs. It's an adventure. That's what keeps it so interesting."
The same could be said of a live Shinyribs show. It's an adventure, and one well worth undertaking. "You can't discount being there in front of us, in person, in the room, at the moment," Russell explained. "You can't recreate that. Live music is awesome that way."
- With permisson from Red Dirt Nation