Interview
Shovels & Rope: Partners in music and life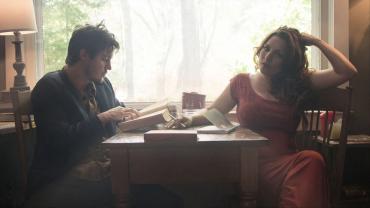 For the married folk-roots twosome of Shovels & Rope, music is not simply a thing or even an event – it is a building block of upbringing.
Indeed, Charleston, South Carolina-based Cary Ann Hearst and Michael Trent foster a viscerally dogged Americana sound, a stimulus as natural as a view of the moon, the cry of a bird, the sound of the wind in the trees.
Many of their earliest personal memories involve the participatory observation of music.
Hearst's stepdad and biological father and Trent's father all enjoyed playing and sharing music. Born in Mississippi, Hearst grew up in Nashville, and she recalls admiring John Prine and reading "Illegal Smile" lyrics scribbled by her stepdad on big yellow notepads. Born in Denver, Trent recollects enjoying the Telluride Bluegrass Festival's mutual subculture and the tactile sensation of his fingers picking up cues in the campsites.
"One of my earliest memories is of my dad taking me to Telluride (Bluegrass Festival) and we camped out and he taught me the three chords on the mandolin. As a kid, I was not interested in the festival or even the acts, I remember lots of people, and the acts were far away. At night, he would drag me around to everyone's campfires and we would jam – the jams around the campfire. I remember the campfire, with strange and funny smells. I didn't know how to play. But I knew the G-C-D (major guitar chords) and I kept up because I knew G-C-D. It was a neat thing to commune with other people through music and feel music as its own language, with no conversations but the conversation of music."
Hearst attended the College of Charleston and she met Trent after he relocated to the South Carolina port city to follow his musical pursuits. They've toured as part of several different variations, alternatively banding together then releasing solo material. In 2008, the pair released the eponymous Shovels & Rope, accruing a following with their down-to-earth rootsy access, refreshingly listenable, supported with lyrics that put across clarity without oversimplification.
Hearst and Trent married in March 2009 and last year they brought a baby into the world. The couple challengingly balances the dynamics of business, family, touring, and the need for self-autonomy.
"I think a lot of it is about providing space to one another," said Trent, exhausted after enduring the sleep-deprived night of soothing a teething toddler. "We've been doing it (playing as a duo) for five, six years of touring constantly and lots of spending time together and working together. But I feel so much of it is just knowing when you need to give the other person a break and being aware of that balance. That, as well as recognizing what the other person is good at that you are not good at, and realizing and not being afraid of it."
"You try to give the other person a break when they are tired and cranky," added Hearst.
Hearst and Trent experience an everyday existence that bursts with the motion and activity of parenthood.
"Every day is a different day," said Hearst, "and some days, all I want to do is to be a parent, and there are others, when the job requires more of your time. On any given day, you have to carve out that time. Sometimes you feel a little guilty that you are not being the best parent in the world. But in reality you are providing a living while working. You are your own supervisor and you have to get it done. At the end of the day, you have a list of things and you ask yourself, 'did I have a balanced life today?' I guess the answer all depends on how many things you get to check off the list."
Released in October 2016, "Little Seeds" cultivates the burning intensity necessary to see into the deeper reaches of the resonance. Blending wild guitars, jangling drums and sonically strong vocals, "Little Seeds" was cut at couple's home studio. The stripped-down physical environment of a few microphones and light equipment enhanced the intuitive quality of the music. The elegiac "Mourning Song," for example, is as beautifully simple and direct as its title, and songs touch on such topics as Alzheimer's disease, childhood medication, the unexpected death of a close friend, and the recent church massacre in their home town (on the track "BWYR"). (In June 2015, a white separatist is accused of gunning down nine black parishioners at the Mother Emanuel AME Church.)
 "You wake up one day, and there are all these text messages and phone calls, and you hear something that you can't possibly believe is true," recalled Hearst. "You don't think that (alleged mass killer Dylann Roof) could have prayed with people for an hour and then killed these people, and you process it, and can't believe the sinking, scared, despairing feeling. We were two thousand miles away and we wanted to run to church and to the community, and to march, hold hands, and participate in the keeping of the peace. It still pains me deeply to remember it. There wasn't a human being alive in the city that wasn't rocked by it.
"Michael wrote a poem as he was processing his feelings. It wasn't preachy – not a pedestal poem. He shared the sorrow he was feeling and he expressed in it that it was okay to all be sad together."
The mood of the "Little Seeds" washes back and forth like waves in the ocean, an effective arsenal of high-tempo and downcast. The couple's first child was born while they dug hard into the recording process, circumstances not lost on Hearst.
"I've developed a maternal sense of peace and sense of things," said Hearst. "Community. Compassion. Empathy. Now every good cop who is killed in the line of duty is my son. Every black boy who is harassed by the police is my son."
Shovels & Rope have honed the art of tailoring a performance to suit the mood of the emotional and physical environment.
"It is always exciting to play at a new place and at a new venue," said Trent. "You figure out fast whether it is going to be a show that is seated or one where you are encouraging people to sit. It may take a minute to figure out whether we are doing a loud rock show or one where the audience is sitting back and listening. Either way, the tour is pretty raucous."
"I like the shows where the crowd is standing in the front and sitting in the back, and you've got balconies hanging for folks in the back, because our crowd is diverse," said Hearst. "Some want to rock and others want to sit and listen. We like getting a vibe going back and forth between the crowd."