Interview
Talking with The Sideshow Tragedy about Their Fiery Fifth Album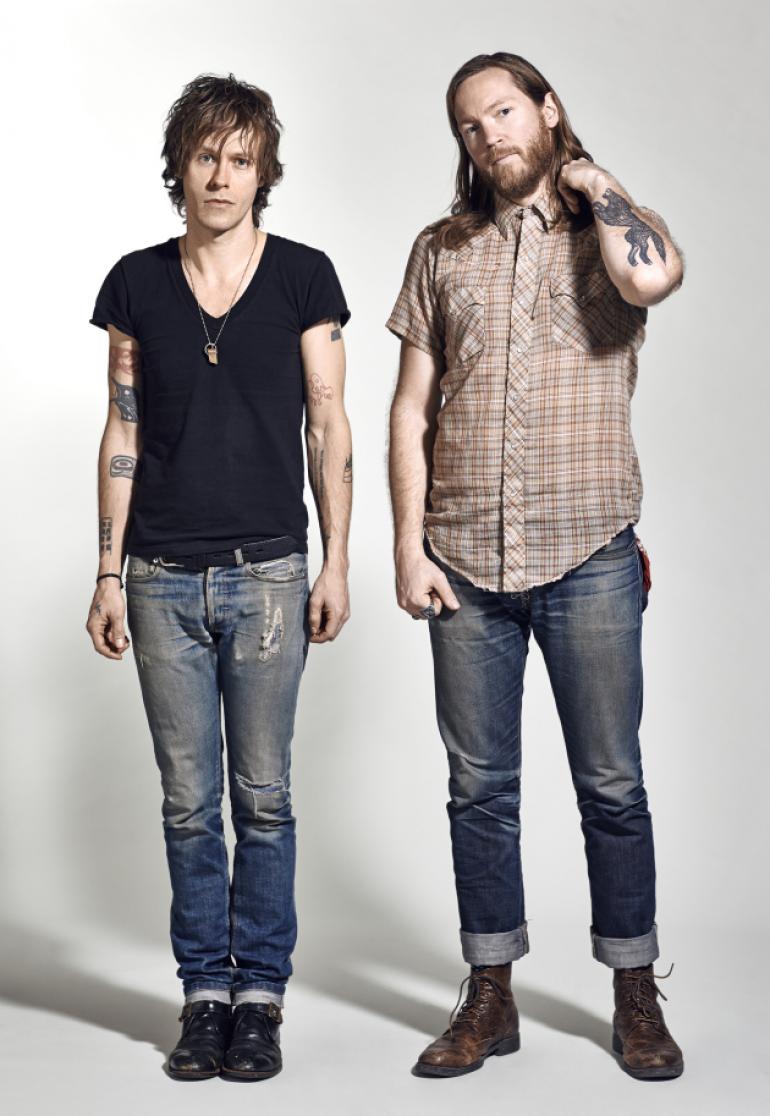 The Sideshow Tragedy's fifth album, Capital, drops May 5 in Europe. It was recorded in five days in an old house in Catskill, NY. Five must be their lucky number. 
Lucky, too, will be the fans attending their upcoming shows, including the CD release party May 9 in Austin, TX, at The Continental Club. Based in Austin, The Sideshow Tragedy consists of Nathan Singleton on vocals and guitar, and Jeremy Harrell on drums and backing vocals.  The overall sonic groove of Capital is addictive and explosive, ranging from gritty southern rock to punky blues. The live versions of these fiery tunes are sure to rile up the crowd and reverberate in their chests long after the show is over.  
The lyrics are heavy, literate, and politically fueled, evoking strong images of the lives of the 99% and the imbalanced scales of justice and wealth.  Those themes weave a common thread throughout the album.
The social scales might be tipped, but the duo is certainly a balanced force, capable of conveying their message to humanity through their potent music. Singleton meets all of the frontman qualifications: his stage presence and powerful lead vocals force the audience to pay attention. His deft navigation of the resonator guitar creates a unique, bluesy vibe. The intensity and urgency of his vocals are in yin-yang harmony with Harrell's energized joy. The latter draws the eyes to the back of the stage as his waterfall of hair cascades over his smiling face while battering his drum kit. Sometimes Harrell answers the guitar's rhythmic call, other times he'll pick up speed and volume when Singleton relaxes and lets him take charge, as shown in this scorching version of "Two Guns," the sixth track on Capital. 
I interviewed Singleton via email and received some insightful responses:
aplscruf: This is your fifth album.  How has your music evolved over the years? 
Nathan Singleton: We've tried a lot of sounds in this band, and it's a reflection of constant searching. I feel like the first three records were an artistic gestation period that led to stumbling on our current sound, which we hinted at with our fourth release, Persona, and really defined with the new record. We've listened to tons of stuff over the years, but ultimately what we've always been going for is a synthesis of blues guitar-based rock with dense, poetic lyrics that are found more often in folk and singer-songwriter music than they are in rock, with the rawness and ferocity of punk.  
The rave reviews are already streaming in for Capital.  How do you process this? 
I'm just glad people are responding to it in a positive way. When we wrote this stuff, I wasn't sure what people would make of it, and it seems like it's touched a nerve, which is great. 
How was your collaboration with Kenny Siegal (producer of Langhorne Slim among others) a different experience than your previous work?
It was really healthy for us artistically. I can go nuts with bells, whistles, and guitar overdubs in the studio if no one reigns me in. Kenny made sure we kept it simple, because at the end of the day what we do is rock, and he wanted to capture the purity of that. There are no effects on the record; everything you hear is just the way the rooms sound at his studio, Old Soul. We sought Kenny out and booked an East coast tour to get from Austin, TX, to Catskill, NY, in order to work with him, because we love the records that he's done, and the collaboration surpassed any expectations we had. It was a dream come true. Siegal knows what he's doing.
Give an example of how you and Jeremy collaborate on a song.  What inspires you to write?
It happens in different ways. For instance, we came up with the riff for "Number One," the first song written for the new album, at a soundcheck for a show in Mississippi, and then the next day we were in Nashville and I woke up super early and walked to a coffee shop and wrote the lyrics. After a few more sound checks we played an early, rudimentary version of it on stage. There's only two of us, so if Jeremy has a general feel of where the lyrics fall in the song, we can just bash it out on stage. We like doing it that way -- it keeps touring fresh and interesting, because it can get really stale if you're not pushing yourself. As far as what inspires me to write, it would have to be all the great stuff that's come before: Dylan, Leonard Cohen, Nick Cave, or writers I love like Julio Cortazar, Pierre Reverdy, Roberto Bolano. I'm in awe of people like that, and they keep me inspired and wanting to write.  
How do you want the listeners to react to your lyrics? 
I just hope the lyrics make them feel something. When I listen to songwriters I really like, sometimes a line will hit me right between the eyes -- total satori, before I've even thought about what the lyric is actually about. I live for songs like that. It's a visceral thing, not rational. [It's] like a punch to the solar plexus when you hear it, but when you try to rationalize what you heard, it's gone. It loses its power if you try to put too fine a point on it.  
What is your goal as an artist? 
I'm interested in expression, but also that my expression be worthwhile, and add something to the conversation.  
Can you tell us about your father's interest in National Resonator steel guitars and the influence he had on you?  Did you use his instruments on the record?  
My earliest memories of guitars are National Resonator guitars. They were always around when I was growing up, and it was just natural for me to pick it up. My dad listened to old blues guys who played them like Son House and Bukka White, and that definitely influenced me in a huge way. And yeah, two of his old guitars are all over this new record -- they're my main guitars, studio and live. 
Did you play SXSW? Is there a different vibe now, to SXSW?
We've done official and unofficial SXSW stuff pretty heavy in the past few years, but this year we sat it out -- mostly because we had our hands full working on getting this record ready to release. But SXSW is a giant, many-tentacled monster, and I feel like smaller bands sometimes just kind of get lost in the undertow.
What venue do you dream of playing someday that says, "Yeah, I made it." Or, how is "making it" defined? 
I don't know … Carnegie Hall? There is no finish line. I love the process, I love what I do -- writing songs, recording them, and playing them live. If that's making it, then we've made it. 
What has been the most satisfying live gig so far? 
We played in New York City a couple years ago in a tiny club, and after the show I was at the merch booth.  A guy came up and told me about the first time he saw us, and how he and his wife traveled to the city to see us play again and he bought all of our merch and gave us a generous tip. [He] basically gave me this inspiring speech, admonishing us to keep doing what we were doing and how important it was … the gig wasn't anything special, but when I'm feeling low about my career, I think about how what we do can move people in that way and it keeps me going.
What can your fans expect at your CD release party?
Loud rock music, played with a purpose. 
Capital
 is available May 5 on iTunes, CDbaby, Bandcamp in the U.S and through CRS across Europe.
Photo Credit Top: Michael Craft