Interview
Singer/songwriter Ian McFarland takes promising new talent to L.A.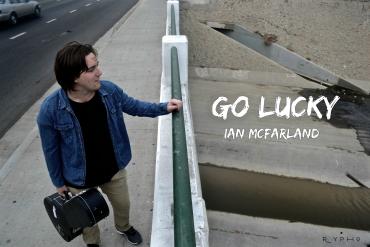 Given that Bob Dylan and Graham Nash were in parts of his family history, perhaps it's no shocker that Ian McFarland would become a singer/songwriter himself. McFarland's new five-track EP Go Lucky unveils a promising young talent with energy to burn. It's only the beginning.  McFarland now resides in Los Angeles to find his way into the music industry.
Q: What was your introduction to music? How old were you, and how did it affect you?
A: I was probably six or seven when my grandparents bought me a cheap Casio keyboard for Christmas. The Casio had programmable vamps that I would sing to as I wandered around my bedroom. Later, when I begged for it, my parents bought me a red Squier Stratocaster and a Line 6 Spider guitar amp with built-in FX. I spent the rest of middle school through high school in my bedroom writing songs or playing shows around the New England area with whatever band I was in at the time. Most of the bands didn't do anything spectacular. Occasionally, we'd get to go on the radio, get written up in a magazine, throw a party that the cops would come shut down, accidentally set the house on fire, and go on tour and sleep on floors.
Q: Did you grow up in a musical environment?
A: I grew up across the river from my uncle, who was a folk singer in the day and was Bob Dylan's roommate before he broke into the mainstream. My uncle, David Hamil, gets mentioned very little in the biographies, but he does get a shoutout on page 161 in the book Songs of the North Country. David also has amazing stories about booking Graham Nash. At the time my uncle booked him, Graham Nash was on the run from the police because he was dating an underage girl and took refuge in my uncle's cabin. Nash's brother ended up being the only one to play the show that night. I grew up hearing all about cowboy Western type stories of being a poor musician from my uncle. Another crazy one was when one of David's band mates slept with a woman who later revealed she was married. The husband pulled a gun on the rest of the band while they covered for their band member and wife who slipped out the back. I've got some crazy stories myself from touring, though luckily none of them involve being held up at gunpoint.
Q: What styles of music had the greatest impact on you creatively?
A: On the album Go Lucky I wanted to put an eclectic mix of things that inspired me. I aimed to play grunge music on "Bicycle", Green Day inspired music on "Go Lucky"; a little bit of modern indie rock on "Maps Back"; and I tried to emulate a bit of the Kooks on "Color Outside of the Lines." I also wanted to do a bit of LP's "Death Valley" on "Blue Moon." That's all based on production styles, but that's a bit of a stretch because the EP as a whole is very raw.
Q: What is the most personal track on Go Lucky and why?
A: I wrote the song "Color Outside the Lines" about a final goodbye to home and the last night I spent with my friends sleeping around a bonfire with a bottle of Jack Daniels and a Sam Adams twelve pack. It was in that moment when I decided I was going to go for it and move from the Northeast to Los Angeles. I wanted to see what would happen when I got there with no job or place to stay. So far it's been going alright. I've got a band that has a big show coming up at Paladino's, a rock venue in the Valley, on April 6th. I also wrote the EP with limited production; it never goes beyond one guitar, one voice, one bass, and one drum kit.
Q: What was the first song you ever wrote?
A: Definitely not one on this release, but I wrote a song in high school dubbed by another student "The Awesome Song." It ended up being a rather dark tune about going to a 9-to-5 and taking drugs. I'm not entirely sure why I was thinking about that in high school, but apparently I was. One thing I work on now is pacing myself writing songs. I come up with new thoughts and songs every day, but I try to just pick a few to actually focus on. With "Go Lucky" and my next release, which is already done but not yet released, I was trying to get material out and a lot of the lyrics were written as I was recording them. I think for the next EP, which I'll be recording in Los Angeles with my band, I'm going to really sit down with my new team and try and make the lyrics more concise and put together.
Q: How would you describe your music?
A: I think it's hard to pinpoint this early in my musical career. I'm sure I will be going through changes in my sound over the next few years. I'd like to explore different production styles and song writing styles to see what works best for me. My next EP is much more straight ahead rock with the gritty guitar tones and driving rhythms.
Q: What artists influenced you the most growing up?
A: I'm still growing up. Some artists that influenced me into music were Green Day and other bands similar to them. I had the opportunity to see Green Day on their American Idiot tour with My Chemical Romance when they were still touring on Three Cheers For Sweet Revenge in middle school. During high school I mostly listened to whatever my older brother played, which was a lot of early Spearhead type hip-hop. I started trying to emulate some of the more pop-punk sounding Warped Tour bands when I joined my first band, so groups like Taking Back Sunday were my go to. College was much more versatile where I listened to bands like Bill Evans, La Dispute, Del, classic rock, black metal, and everything else under the sun.
Q: How have you evolved creatively?
A: I've evolved creatively in the sense that I've gotten more specific with my artistic styling. For example, I knew that I wanted "Bicycle" to be grunge and "Maps Back" to be indie rock and atmospheric. I feel I've gotten to a point where my palate is strong enough that I can paint the sounds in whatever way I'd like.
Website: