Interview
Smooth Hound Smith On The Road That Gives and Takes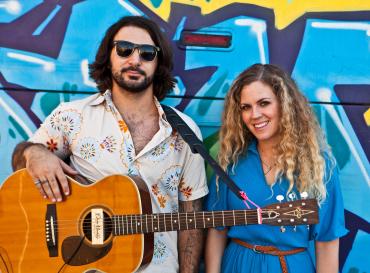 On a weeknight at Gypsy Sally's in Washington, D.C. the duo known as Smooth Hound Smith might have been in the club to provide more than just entertainment as Lindi Ortega's opening act. In addition to delivering gorgeous harmonies and drawing from an encyclopedia of roots references, guitarist Zack Smith and vocalist Caitlin Doyle could boast that they could offer something more than t-shirts and CDs at the merchandise table. Having travelled more than 90,000 miles over three years, they professed to provide couples counseling. Well, Smith said maybe not the legal kind, but the fact is they were still talking to each other.
If anyone had closed their eyes, they might have thought a full four or five piece band was playing. But Smith, sitting down playing guitar, was also keeping rhythm on a kick drum and adding harmonica on the melancholic "Young and Golden." This is a man who proves his gender can multi-task. In "The Minutes," they conjured moodiness with a stirring rhythmic underpinning. In "Forever Gone," they conjured mystical modern mountain music. On "30 Days," they overlaid harmonies over a stomp which was unbelievable as he scaled his fretboard earning accolades from the crowd. Just three songs into the show, it gave an instant thumbs up response when someone made an announcement. "We got you shots!"
By the set's end, I was thinking of some of my favorite records and wanting to play everything from old Carter Family sides, Muddy Waters to Delaney and Bonnie and Friends On Tour to the early blues songs of Peter Green's Fleetwood Mac and Buckingham Nicks, the album Lindsey Buckingham and Stevie Nicks made before they joined Fleetwood Mac. Perhaps Smith's inventive overlays in the studio and intermingling of acoustic and electric instruments remind me more and more of Buckingham who treated recording and producing like he was creating a mosaic. 
A few months later, Sweet Tennessee Honey, the album that's been in an ongoing "soft release" at shows, is now having what he calls its worldwide digital release. Make no mistake about it he is excited about the feedback for the new music which features guest appearances by vocalists Natalie Maines and Sarah Jarosz and the Wood Brothers' Jano Rix who plays electric piano and organ.
As the onetime California couple kicked-off their 2016 tour with a sold out show at the Exit Inn in their adopted hometown of Nashville, Smith looks back on developing his abilities to foot-drum as a process. In 2011, he was finding himself bored playing bass in a bluegrass band and started fooling around on the guitar.  "I was listening to a lot of blues like Mississippi John Hurt and Lightnin' Hopkins, and Slim Harpo," said the guitarist who loved sad, bluesy tunes as a kid. "But some of it was outsider music like Abner Jay who did an old-school one-man-band thing and used foot percussion.  I already had deep roots and a strong background as a percussionist, so I just wanted to push it to see what I could make with the guitar."
For Smith, the next logical step was adding a percussive element and working on what he calls "limb independence."  He started by using a kick drum and a hi-hat, but when he found the hat wasn't "punchy" enough, he eventually built a foot-operated snare drum contraption from an old milk crate. He found it made the beat more powerful.
Smith had other aspirations,  making a conscious decision to avoid strumming what he found to be really simple, chunky and abrasive chords. "I wanted it to be like an overture with all kinds of moving parts and swells and poly-rhythms, so I committed to learning and pretty much only utilizing fingerstyle guitar," he told me.  "Even today, I can't really play that well with a pick.  From there, I added the harmonica as a solo instrument, but what I had to work on most was singing."
Enter the jazz-trained Caitlin Doyle who was singing in a large eight or nine piece swing band. s satin on occasion, recalls how he always noticed her and Doyle later saying that she noticed him. But things were slow to develop for the two which eventually became the duo Smooth Hound Smith. Smith describes the name as a cross between a genus of shark that is found along the continental shelves of the subtropical eastern Pacific Ocean, and a blues man that never existed.
"I'm pretty sure we fell immediately in love with one another," he recounts, "but for some reason it took a few years of seeing each other around and casually playing gigs together for us to have a conversation with any depth. After we did, there was a series of cross-country moves and visits, and broken-hearted exes that led us to finally be together."
For Smith, it came at a personal tipping point. Approaching his late twenties, he was tiring of being a part of projects that he felt only "lukewarmly"about," or as he put it, "not really going after what I wanted."
Always too shy to sing and admittedly without any singing experience,  he describes the long struggle he had trying to find his range and learn to stay in tune. Sitting alone in his house and woodshed, he would make iPhone demos for hours. When Doyle jumped on board, suddenly everything clicked. The first song they wrote together "My Heart Is Not Broken Yet" is a tour de force with a classic soul feel built around Rix's organ and Smith's classic r & b guitar breaks. Similar to her cover of Nina Simone's "Be My Husband," Doyle's ability to belt it out is not easily lost on us.
"I had what I thought was this real slick-sounding soul-inspired chord progression, and I would play it all the time," he remembers, "but I just didn't have lyrics that fit with it. Caitlin overheard me playing it in our living room one night, and was like, 'Hey, I want that; I have something for it…'  She had some lyrics and the hook, and we sat there for a few hours and finished it together.  It's absolutely one of my favorite songs to play live.  If we play it to a noisy or inattentive room, there's always a point where the room turns, and there's this collective, palpable "holy shit" moment when they realize Caitlin can really wail, but has been holding back for the better part of the song.  I love that moment.  I get chills from it every time."
The Friends and Fans Made Along The Way
As Lindi Ortega finished her set at Gypsy Sally's, standing stage right was Caitlin Doyle who stuck around for the headliner's set. Doyle borrowed a belt earlier in the night from the singer and gave the headliner a fangirl shout-out during the encores. Pointing from the spotlight, Ortega shouted right back: "You my sister."
Ortega went out to eat one night in Nashville and saw Smooth Hound Smith perform. When it came time to go on tour, she insisted to her management company that Smooth Hound Smith open the shows.
Like Ortega, Natalie Maines of the Dixie Chicks is another fan Smooth Hound Smith has made along the way. The duo got to know Natalie in what Smith describes as a really weird and cosmic way.  Driving to a gig in Texas about two years ago, the two started chatting when Doyle mentioned that she was a huge Natalie Maines fan and she would be her dream collaboration.  Arriving at the show, he noticed he had a bunch of Twitter notifications that had popped up on his  iPhone. Much to his surprise,  Maines had tweeted to her million plus followers to check out Smooth Hound Smith. Martin marvels at how this random occurrence happened on the same day they were talking about her in her home state of Texas.  
A few weeks later, Maines turned up with a posse and sat herself up-front at a live Smooth Hound Smith show at a winery in Malibu. The couple chatted with the singer who already knew a lot of their lyrics.  As it turns out,  she had heard their first album as house music at a venue in Los Angeles. "She liked it, Shazamed it, and took note," Smith says with pride describing the gig as surreal.   When it came time to record Sweet Tennessee Honey, the duo reached out to see if she would be interested in doing something together. She was game. "We emailed her a few tracks and she recorded her vocals at a studio in California, then sent 'em back.  Her voice blends beautifully with Caitlin's, I think," says Smith of the two tracks she appears on, including the album's subtly rollicking opening track "Knockin' At My Door" and the majestic "The Boots That Got Us There."
Another fan and friend is filmmaker Mark Kimura who is in the process of shooting a feature-length about the couple. He began filming  the making of Sweet Tennessee Honey and then followed the two progressively playing bigger and better shows around town.  For Smith, the video of "Young and Golden" that Kumura pieced together is a gift. Watching it, you get a sense of the real tenderness Smith and Doyle feel for each other. While it shows them as soulmates, the song itself has a  kind of melancholy about struggles and something that doesn't work. I asked Smith where he thinks that comes from.  
"That song is one of a few that I've written that I can't really pinpoint," he admits.  "It is melancholy, and it sort of offers some glimpses into a relationship, but it was one of those songs that just spilled out with minimal editing and is sort of a collage of memories.  It's generally the song in our live set that pulls people in the most, and that most folks can connect with.  There was a guy who came up to us after a show and said, "Man, I love 'Young and Golden' so much...sometimes I just drive around for 45 minutes with it on repeat, just bawling my eyes out."
One song that he can pinpoint In "Forever Cold." Last winter two or three structure fires occurred in what seemed like the span of a month or so in their East Nashville neighborhood. One of them came so close that smoke and ash from it actually poured into the couple's living room. When they took a walk to check it out, they came up a totally charred and gutted carcass of a house.  
"We later learned that someone had passed away in the fire," Smith says picking up the story.  "It was really sad to me, even though I didn't know the person, but it inspired "Forever Cold".  I thought that instead of faulty wiring, it would be more interesting if the cause of the fire was arson by the hand of a jealous lover.  Generally speaking, though, East Nashville is a wonderful place to live, and an epicenter for creative people, and to my knowledge, deaths due to jealous lovers are few and far between around these parts."
The song's features Sarah Jarosz with whom they'd met briefly and knew was coming to town for a few days. They felt like "Forever Cold" would be the perfect song for her. Engineer Shani Gandhi approached her (or as Martin said "sweet talked her").  It all leaves Martin somewhat exasperated. "Having these guests on this record is so incredible for Caitlin and me...it still doesn't feel real sometimes.
The Road More Travelled & "The Boots That Got Us There"
Smith says he tends to do most of his songwriting at home but the road has been bountiful for ideas. He takes a lot of notes and tends to jot down ideas for song titles and develop them later. He also enjoys keeping notes of colloquial sayings that he hears and thinks are punchy and could be effective in song. "The Boots That Got Us There" is autobiographical and like "Power Line Lullaby" was born of the road. As he started drifting off to sleep one night, he wrote down the lines "
we ain't got no need for a new pair ...these are the boots that got us there
." But Smith and Doyle weren't at a hotel. They were still in their tour van parked in a Walmart lot for the night. If that comes as a surprise, He admits that a fair amount of lyrics come to him there.
Earlier that day , the couple was killing time at an antique mall somewhere in the Midwest. Doyle found a beautiful pair of cowboy boots that she really liked and that fit her well, but felt they were too expensive.  He thought about it all day. It was the concept of seeing something you like, but not grabbing it when you can. Maybe she would regret not splurging on those boots because she might never see a pair like them again. She might, he thought, talk about it for a while to come come to feel regret. Conversely, she might forget about them entirely and not really care.  
A song was born and came to sum up the lessons that can only be learned through experience and hard work and the couple's fortitude in moving ahead.   The song almost has an anthemic feel, propelled  by Smith's nuanced marching drum foundation and Emmon McLaughlin's emotionally lyrical fiddle that helps to tell the story, augmented by Noam Pkleny's banjo and Maines' harmonies.
"My father and grandfather were both legitimate hoarders for most of their lives," The songwriter reflects of the larger personal significance. "They had cool stuff, but it was still way, way too much, and I think that takes a toll on a person.  Caitlin's not that way at all, and it sounds really cheesy, but the point was to sort of define and remember your personal narrative by the people you share it with and by the experience itself, even in seemingly mundane situations--and not rely on a souvenir."
I reminded him about what he said at the show and how the miles they've traveled qualifies them to be relationship counselors. Spending all that time together, I wondered what they had learned about each other and what advice would give?
"Without going into too much detail about our personal lives, and without sounding too cliche I think the number one thing we've learned is just to be kind to one another.  If one of us is angry or irritable, it's usually because we're hungry, tired, or stressed, and we've really learned to support and take care of each other, particularly in this last year."
Before Smooth Hound Smith, the two had both worked jobs in the service industry.  Doyle was a server and managed a restaurant, and Smith worked as a door guy and held various other jobs at a bar.  Working in a bar, night in, night out, Smith realized he started really disliking people. He found the majority of them seemed entitled and rude. It felt like it was taking a toll. Touring full time and seeing America this way has completely reversed this.  
While they might have gotten stiffed on occasion by a club promoter in their early days, Smith can't help but glow when he talks about the people they've met along the way. He describes them as selfless and welcoming. "They often go out of their way to sacrifice their own comfort for ours," he points out.  "Complete strangers offering up their homes and cooking for us and really going the extra mile to make us feel welcome in their town or city--many of which are places where we don't know a soul."
But when he sings about the lies of the road, I had to wonder about that. It's written from the perspective of a band that has done it for themselves for years, booking their own shows and acting as their own tour manager.
"It's open to interpretation," he responds, "and different touring musicians have a variety of experiences on the road.  I know some who didn't go on their first tour until they had a bus, label support, a good agent routing it for them, and help from a favorable management team. Then there are others like us who did it themselves for years, being their own booker and tour manager."
Smith says that the "lies" isn't necessarily meant to be malicious thing. "Sometimes you book a gig, and it's high profile or at a renowned venue, and you build it up in your mind that it's going to be incredible, but it falls short," he reflects.  "Other times, you book a gig mid-week in a small town dive bar in a strip mall, and it turns out to be one of the best of your tour.  I think you just can't know what to expect. And things just happen….your van gets stuck in a snowbank, a gig gets cancelled, somebody steals money from you, or breaks in your van. But nothing is personal at all, really.  
"It's like jumping into the ocean," he says trying to sum it all up.  "You're putting yourself in that environment so whether you get attacked by a shark, or you catch the best wave of your life, it's kinda on you because you made the decision to be there."