Interview
So Close To It: Catch Prichard's Lonely Road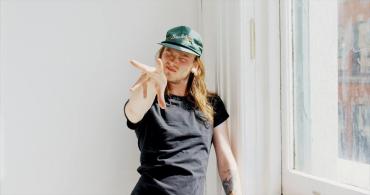 If you hear a hum around the Bay, it might be Catch Prichard.  The nascent project of singer/songwriter Sawyer Gebauer is rooted in country, Americana, and his lushly narrative lyrics. Recently named Local Artist of the Month by The Deli's SF Bay Area faction, CP now has a Daytrotter session under his belt and a handsome handful of praise for such a fresh venture.
Earlier this week, Noisey premiered Eskota, the five-song EP marking Catch Prichard's debut release.  It is not Gebauer's debut however, having recorded three previous albums while helming Brittsommar, a music collective he began in Sweden five years ago.  If you have heard Eskota, you will know Gebauer's smoldering, lead weight baritone.  You will know of the record's rich simplicity, its whirring pedal steel, and plucky dobro guitar.  You may even know of its making: Eskota being the result of a week-long recording stint in a west Texas ghost town of the same name. There, Gebauer and engineer Brad K. Dollar reclaimed an abandoned general store from an onslaught of wasps and recorded when the night came. 
Framing the record's distinct landscape is an illustrative take on motion, loss, home, and the haphazard American road trip.  It seems that what occurred around the edges of recording Eskota was somehow as integral to its sound as what led up to it.  The story of Eskota is an odyssey of sorts; an expat returning home to more questions than answers.  While he may have recorded in Texas, a displaced narrator sings the title track, musing on the various places he has been.  As Gebauer booms, "I remember, as I drove through, some town in eastern Texas/meeting you/in a New York room/and the year it struck anew," we are no closer to knowing where he is at that moment, nor where he will go.
So much of the record, and of Gebauer's previous work deals with memory – the simplicity of remembering and recounting a story.  So I went to the source when I wanted the full scoop; who better to ask than the storyteller himself?  I've been writing about Gebauer's former project for a few years now, so when he casually mentioned this Texas excursion in an email last fall, I wanted to know everything.
We met over a drink, and what resulted was a detailed account not only of the recording process in Texas, but the time surrounding.  When Gebauer finally returned to the States after years abroad, he went back to his hometown in Wisconsin, to, "say my hellos." 
"I bought a tan Ford Free Star," he continued, clutching a beer, "stripped it out, put a bed in there.  And then I drove from Madison to Clarksdale, Mississippi.  Clarksdale is Highway 41 and 69.  Sam Cooke, Son House, Robert Johnson…the home of the Delta blues…the kings and the gods of it."    
"When I rolled in, no one was around.  It's a completely small, broken-down town.  There's not really anything there…a few bars, a hair salon, a pancake house and a thrift store.  I parked in front of this thrift store; thought I'd crash there for the night and a guy comes out.  Long hair.  Canadian tux.  His name was Joey Young."
The two men got to talking, and then to drinking and smoking, and the polite Mississippian offered the traveling musician a cot in the back of his shop.  
"He says, 'why don't you come inside?"  As long as y'all don't rob me blind you can stay here for the night.'"
The next morning Gebauer continued his journey, expecting to be in Texas by nightfall, but instead had to duck into an Arkansas rest stop due to pouring rain.  
"There was only one person there and he was trying to look through my windows, and he had this weird, creepy dog.  As I was lying in the back of the van, I just thought, 'wow, here I go again.'  Just complete loneliness.  Like, 'why am I always putting myself in this situation?'"
I ask if he actively puts himself in these difficult scenarios – if he pursues the perilous for the sake of atmosphere.
"I don't go about my life feeling like I need to create an experience, but as far as recording I do like that," he counters.  "Atmosphere is very important.  So when I told Brad, 'I want to make this album, it's down in a ghost town,' he was just like (claps hands) 'fuck yeah dude.'  And that's why Brad and I work so well together.  I dedicate so much of the sound to him."
The sound is something Gebauer has been trying to accomplish for a long time.  He has cited Springsteen's The Ghost Of Tom Joad as an influence, and I can hear it in regards to the production.  The record itself is full of sweetly forlorn melodies that sound more American than anything he's done in the past. 
A favorite track is "So Close To It," a country ballad of heartbreak and loss.  "You Can Never Go Home Again" feels particularly desolate, lamenting a bittersweet return to the place you were raised, and "Hometown," the EP's hardest-hitting track, reminds me of Mark Lanegan's solo work, with spits of '90s alt rock and psych guitar.
Gebauer feels that Eskota stands apart from his former work, ant that its sound couldn't be replicated in the controlled walls of a studio. 
"With The Mary Me EP (Brittsommar's final release) it was completely done in a studio, and I can feel and hear it.  There's something that just doesn't work with me in that.  It's really well done, and they're very personal songs, but there's something very impersonal about it.  And maybe it's because it was in a studio…I mean, it was at Bob Weir's studio from The Grateful Dead!  It had the most amazing equipment you could ever think of, but…"
"But you like a struggle," I offer.  "If you don't have to kill wasps…"
"Ha!" Gebauer has a surprisingly thunderous laugh.  "You gotta fight!"
His taste for hazard got a little too real however, when he totaled his van in Montana after finishing the Eskota sessions.  He wiped out on a patch of black ice, plowing through a roadside fence.  Gebauer was left only with a scratch, while the Free Star was irreparably smashed up.  But it was nothing a garbage bag and some duct tape couldn't fix for the time being.   
The songwriter encountered innumerable characters and odd-ball situations on his month-long road trip, including befriending an ex-marine, getting cat-called by, "some good ol' boys," and stumbling upon a haunted opera house in Death Valley called the Armagosa Hotel.
"It used to be miner's lodging.  There's a morgue there, and a small opera house on the far end.  In the '60s a woman moved there from New York.  She was an artist…some kind of opera singer as well.  She bought the whole thing and painted it herself.  She said, 'Well, if the people don't come to me, then I'll make the people.'  The whole room is the crowd – friends, critics...they're all watching her.  Took about seven years to paint that room.  She's still alive, and whether anyone's there or not, whether there's zero, one, five, fifty, she'll perform.  She'll still go up and sing to an empty room."
I recommend that he record his next record there.
"Ha.  I thought about it," he chuckles.  "But, it's not so obscure."
Considering all of this creative material, I wonder if he carries the folks he meets with him in a way…if some of these places and faces will end up on his next record.  But maybe it doesn't work like that.
"Songwriting for me, [could be] a word, a sentence, or something you see in the street.  Or when you just kinda get an ear into one little conversation…that's all it can be sometimes.  And a song can build off of one word or phrase."
Eskota's closing cut "Howl" is proof of this method, given its spontaneous creation.  A creaking chair, a tapping foot and the cicada-buzzing Texas night sew this lullaby together.  The song is a testament to Gebauer's knack for utilizing the spatial elements around him.  It is the EP's most barebones track, likely due to its impromptu making. 
"'Howl' was written on the spot," Gebauer relays.  "It was just me in the room…and it just came.  And that is my favorite song off the album, 'cuz it's so simple. I felt like: 'ok I've achieved what I want to do.  Because it's a very hard thing to restrain yourself musically.  It's so easy to do too much.  Restraint is a big part of everyday life."
"With Eskota I did what I finally wanted to do for so long.  So hopefully that recurring dream will stop and I'll be able to do other things…but I feel like I had to do that first."
He pauses for a minute, takes a sip of beer, and cocks his head to the right.  "Have you ever seen Sweet And Lowdown, the Woody Allen movie?  You know the scene where he smashes his guitar?  Sometimes I feel like I want to do that.  But the reason I feel that way is because it's never going to stop."
Music, like life, is unrelenting.
Eskota 
is out on October 21st via Devise Records.     Catch Prichard will play:
10/26 @ Rockwood Music Hall in NYC.
11/2 @ Harvard & Stone in L.A.
11/10 @ Bimbos 365 Club in San Francisco
11/25 @ Hotel Utah in San Francisco