Interview
Star Power: Jade Jackson Embraces Sad Songs, Family Values and Social Distortion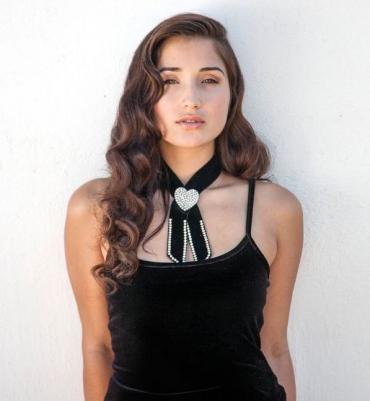 Jade Jackson, a sweet, soft-spoken singer-songwriter from a small town near the Central California coast, digs punk rock and traditional country music, possesses a voice that's both sultry and earthy, was a wallflower at her senior prom and still works in her parents' restaurant with the rest of her family. 
For the snooty patrons who probably don't tip enough and look down on — or are jealous of — a promising young artist who graduated from the California Institute of the Arts, has written more than 300 songs since the age of 13 and still busts tables to make ends meet, it's time to change your tune. 
Because this Miss Action Jackson, much like Cinderella with the glass slipper, will soon bring to the party a heart of gold, eclectic musical tastes, the wisdom of an experienced lifer and a few of her own just desserts.
She'll even be gracious enough to serve any skeptical guests their huge piece of humble pie to eat alongside a side order of crow. 
Jackson's musical concoction comes in the form of Gilded, her groundbreaking major-label album debut that will be released May 19 and — after an event she calls "the most serendipitous experience of my life" — was produced by Mike Ness, a poetic spokesman of punk rock as the frontman for Social Distortion. 
"I always had huge dreams," Jackson said over the phone from Orange, Calif., on May 2. "I never really expected anything to happen but I definitely envisioned myself kind of going through what I'm going through now and prayed about it and hoped for it." 
It's been a long time coming, and after getting that "serendipitous" phone call from Ness in 2014 that he wanted to work with her, Jackson admitted she was expecting the day of her first major release to happen three years sooner than now. So, of course, she's overjoyed that the wait for a very important date is almost over.
Whether singing about doomed relationships through another character (with lyrics such as "there are no guarantees in love" and "my motorcycle only seats one" possibly serving as mission statements) or recounting the shining moments of her youth as a burgeoning musician, Jackson sounds fresh enough to maintain high expectations but wise and mature enough to understand what it takes to realize them. 
Instead of settling down in a relationship and raising a family like many of her friends, a focused Jackson said, "I've recently been trying to practice telling myself, 'No, this is what I want to do. Just because it's not considered normal doesn't mean it's not right.' "
Filled with enthusiasm and wonderment, she's still able to reach down to the depths of despair while delivering get-down-to-the-nitty-gritty material that can't be pigeonholed, even if Rolling Stone Country gave her a shout-out in February as one of "10 New Country Artists You Need to Know." 
Asked which song from Gilded best represents her story so far, Jackson paused briefly before saying, "That's just a hard question because they all mean different things from different parts of my life. And I don't know if one part of my life is more significant than the other part. But I guess the song that was the campaign of the album. It was one of the original songs that got Mike wanting to work with me when he heard it — 'Finish Line.' 
"It was kind of one of the first times in my life where — instead of crumbling under like somebody hurt my feelings … instead of just like feeling extremely upset and just wallowing in that — I just picked up my guitar and sort of wrote my first empowering song. I feel like that was the really true-to-me song. I didn't have to put myself in somebody else's shoes. I just was feeling what I was feeling and wrote it." 
Besides the wealth of information found in her songs, though, Jackson has an intriguing backstory to tell. 
A teenage dream
Jackson, who turned 25 on Feb. 10, has lived for this release day since 2005 — the year she became a teenager, moved with her family from one small house in San Luis Obispo County to another 30 miles away and saw a concert for the first time without her parents. 
Thanks to her father Jeff Jackson, an accomplished chef and restaurant owner, Jade developed an early taste for Hank Williams, the Smiths and Social Distortion when listening to music was the primary means of entertainment in a home in Santa Margarita that didn't allow television or computers. 
This isn't a game of "Which artist isn't like the other," though. They all had qualities that became a common interest this father and daughter could share while playing favorites. 
"His biggest love — and this can go for any artist — is that he just loved sad songs," Jade said. "My dad was always playing those sadder songs. They tended to make him happier. They tended to make me happier, which is kind of a weird, backward thing. … It naturally just made its way into my heart and then later on when I was a teenager and wanting to express myself through music, it was just there." 
So when Social Distortion, led by Ness, the tattooed singer-songwriter-guitarist, played the nearby Cal Poly Rec Center on March 17, 2005, there was one bashful but especially excited girl in the crowd. 
"I remember standing in the audience, and looking up at Mike and how he kind of captivated the audience," Jackson said. "And how he had this presence onstage. Honestly, that's what ignited the fire in me to want to be a touring musician. I was watching him and feeling the movement, the energy from the crowd. And being so painfully shy as a kid and just wanting to be up on that stage."
Not long afterward, working for her parents at The Range restaurant they still own, uprooted from her friends at their previous residence in Los Osos, Calif., to live a house without air conditioning in an area where it was 118 degrees in the summertime, an upset teenager full of adolescent angst and anger decided to use her imagination to write songs and find an outlet for her pent-up feelings. 
"I went home and picked up the guitar," said a self-taught Jackson, who also plays harmonica and learned piano from first through sixth grades until piano lessons ended with the move. "It was kind of out of boredom. Like, 'What else are you gonna do?' The most entertaining, exciting part of my day was when the train rolled through town and I would run and go wave at the people. … I couldn't believe I was in this small town. And I honestly … at the time, I was like, 'This is horrible!' But now I appreciate it and I see how it helped shape me as an artist and pushed me in the direction of where it was going to lead me to where I am now." 
Along the way, Jackson, who admired a diverse group of female artists ranging from Mazzy Star's Hope Sandoval and Tex and the Horseheads' Texacala Jones to Lucinda Williams and Emmylou Harris — recalls several significant signposts — mostly good, some not so much — that helped get her where she is today. 
Homeschooled during the day as a teenager, Jackson played as many as four local solo gigs a week, her constant companions an acoustic guitar, a container full of original song lyrics and pure ambition. 
Every Sunday, she would sit on a couch, spread the lyrics to her songs on the floor and perform at The Porch Cafe right across the street from The Range on El Camino Real, for meager earnings that came out of a tip jar. Around the time Jackson was 14 or 15, though, a woman left a folded dollar bill with a few little words that were worth more than any money could buy. 
"She had written in blue Sharpie — and I still have it on my wall today — Jade Jackson is a star," said Jackson, admitting she had not discussed this cherished memory for a long time. "I'd never thought about myself as that. I was extremely awkward as a child. I think I found songwriting and music as a way to have a voice because I was so painfully shy in all other circumstances. So to have her say that was like, 'Whoa, really? You think so? OK.' It just really gave me the confidence I needed."
No friends, no problem
Before going to college, Jackson, still tunnel visioning toward her career as a musician, enrolled at San Luis Obispo High School as a senior to "see what it's like to be a normal kid." She felt anything but normal, working full time at the restaurant, a couple of miles off Highway 101 after taking Exit 211, that has received nice reviews from the Los Angeles Times and thoroughly satisfied customers on TripAdvisor.com. 
"I never really made any friends," she said with a laugh to perhaps disguise the anguish. "I missed the high school experience you hear about in movies and stuff." 
She did attend her senior prom "but I was kind of standing in the corner. … You know, it's OK," Jackson added. "I never really was like … I was aware that I had things that other kids didn't have. I had a really good relationship with my family and I had a job and was learning how to save my own money. I was always grateful for what I had." 
Her unforgettable moments during those high school years — when she funded and self-produced two albums, "so they weren't spectacular or anything," she modestly mocks — included opening for the Charlie Daniels Band before a few thousand people on April 26, 2009, at Pozo Saloon, about 17 miles east of The Range on Highway 58 past Santa Margarita Lake. 
"I got to play my first big show," said Jackson, who was 17 at the time. "The local papers wrote about it. Even though I wasn't popular in school, still people came up and said like, 'Hey, I saw you in the paper.' … (That appearance) changed my life."
The ol' college try
That was nothing compared to 2014, her junior year at CalArts in Santa Clarita. Jackson, in the Herb Alpert School of Music on her way to earning a bachelor's degree in fine arts, came home during a break that year and played at another local cafe — the Kreuzberg Coffee Company in San Luis Obispo. 
In the audience that night were Christine Ness, the wife of Mike Ness, and her son. Christine and Jackson's mother Lindsay were friends when they attended Morro Bay High School just a quarter-mile from the Pacific Ocean. 
"(Christine), I believe, has those (early CDs) and always believed in me and tried to get Mike to listen to my music but, you know, he's so busy, and I'm sure a lot of people want him to listen to their music," Jackson said. "So he actually never heard me. …"
Until that moment of serendipity addressed earlier. Shown by Mrs. Ness some phone video footage of Jackson jamming — "just having fun" — while playing her own original songs at the Kreuzberg, Mr. Ness decided he wanted to work with the singer who saw her first Social Distortion show nine years earlier. 
"So, when I first met with Mike, I didn't even know he wanted to produce me," Jackson said. "We kind of just got to know each other and played some songs. … His manager (Shane Trulin of Relentless Artist Management) is now my manager. … (Ness) introduced me to (people at) his label (Epitaph) that he's really friends with. Their sister label Anti- ended up calling back about three weeks later and wanted to sign me." 
Just like that, Jackson was making a record with Social Distortion and Ness was taking a protege under his wing, giving her the musical break she never really expected. But a Central California coast girl can always dream, right? 
Introducing Team Jackson
The story is far from over, though. The time between Jackson's "most amazing experience" — recording the first half of the album with Social Distortion, which Ness planned to fund — and actually signing a record deal took a couple of years, forcing an evolving Jackson to start from scratch with a new lineup and some different songs. Those tracks with Social Distortion are stored away and her hope is that "we'll do something with them at some point."
After she convinced Ness to allow her own band members to play on the album instead of auditioning session musicians from Los Angeles, Jackson proceeded at Groove Productions Studio in Santa Ana, Calif., on acoustic guitar and vocals, with workmanlike efforts from: 
• Andrew Redel (guitar, piano, mandolin): Jackson knew him from the church worship service she attended every Sunday, where he would seemingly play a different instrument every week. "I'm like, 'God, this guy is the most incredible musician.' I always kind of had him in my mind but I never thought he'd actually want to play with me," she said.
• Tyler Miller (drums): A former student at Cal Poly with Redel, they went to the same theory class. Redel introduced Jackson to Miller, and the drummer and singer cowrote "Better Off," the last of 11 songs on Gilded. 
• Jake Vukovich (bass): He met Jackson in middle school, when they connected over a Rolling Stones pin she was wearing on her backpack. They cowrote "Back When," a glowing piece of nostalgic warmth that evokes simpler days when "time doesn't whistle or rattle the tracks."
The album also includes valuable contributions from guest artists Sara Watkins (fiddle on five tracks) and Greg Leisz (pedal steel on "Finish Line"). 
Regarding Watkins, "I knew I loved her work but I didn't ever think that she would be able to play on my album," Jackson said. When Ness informed her and the band at a morning meal that the former Nickel Creek wunderkind had agreed to participate, "We literally almost choked on our breakfast," she added. "I almost started crying because, you know, she's Sara Watkins. I was just tripping out. I still don't feel like it's real." 
Leisz, hired originally by Ness for the Social Distortion sessions, was "the nicest guy in the whole world," Jackson said. "Hopefully, if this record has success, and we get back into the studio, I'll be able to have them back because they were just amazing." 
After opening for Social Distortion earlier this year, Jackson will be back with Ness, her cowriter on "Troubled End," and his band this summer with her own album to promote. "That was the best day ever," she said upon hearing about the reunion tour that begins July 22 in Salt Lake City, heads east and south, then concludes in California in September. 
As plucky as Kathleen Edwards in her prime, Jackson boldly reveals a courageous and cool collection of 11 tunes led by her rapid-fire rant on "Good Time Gone" and the autobiographically bittersweet tone of "Finish Line" (see the video below for shots of Santa Margarita, The Range and its extended family). 
While she thanks numerous people by name in the liner notes along with the "Santa Margarita residents for never calling the cops" during rehearsals, a grateful Jackson puts the Nesses at the top of her list not only for their support but also the kindness and hospitality they've shown her. 
In fact, on this early day in May, she was staying at their home outside Los Angeles while doing promotion and press for the album. 
"Everything that he says has helped me," Jackson said of the project's 55-year-old god-fatherly figure of respect. "And it's helped my music. I just feel really lucky." 
Pressed to provide the best from Ness in terms of advice, Jackson said he told her: "Just to keep going. It might take three years, it might take 10 years but he believes in my music and believes if I continue to work hard and keep going that I'll be able to do it for a living." 
The sensitive songstress' place in the future might seem light years from her second home on The Range, the restaurant where she continues to work with other members of this Jackson 5 that also includes her mom Lindsay, older brother Cheyne (a cook) and younger (by 4 1/2 years) sister Audrey, who cooks and waitresses when she's not studying painting at CalArts. 
"She's my all-time best friend," Jackson said of little sis. "If I get any success with my music, my ultimate dream — and it's been this way since I started playing — is to go into business with her and open up an eating disorder awareness clinic." 
Before she hits the big time and puts the restaurant on the back-burner, a grounded Jackson is prepared to deal with the occasional customer who prefers to dish out insults rather than compliments. 
"They go, 'Oh, wow, you went to that fancy art school and now you're just working back at the restaurant.' And I kind of just have to like take it," a composed Jackson said. "That hurts but you've got to pay your dues. You gotta do what you gotta do. You want it so bad, I'll do anything." 
For a young woman with a healthy appetite for life and a musical menu filled with enticing possibilities, Jackson and her delicious debut album should leave even a moody foodie with the most discerning taste craving for seconds. 
Bon appetit, y'all.
This article first appeared in The Huffington Post. Michael Bialas is a journalist and photographer who enjoys writing about entertainment and sports for a number of online publications, including No Depression and The Huffington Post. Follow him on Twitter: @mjbialas
Publicity photos courtesy of the artist.
Jade Jackson's video for "Finish Line":