Column
Steve Forbert: On The Road Again, With A New Record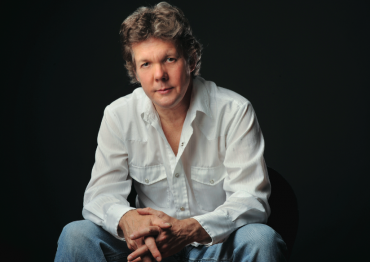 "I find a lot of things are disappearing," said Steve Forbert, not sadly, just philosophically, as he drove across north Georgia last week.  He spoke to me on the phone as he passed Best Westerns and red-dirt hills, rivers and kudzu vines and towns and fields on his way to another evening of his 2016 tour in support of his new record, Compromised (Rock Ridge 2015).
Things that are not disappearing in the slightest are Forbert's dedication to his live shows and his faithful audiences, his careful eloquence in talking about his vocation, and his desire to make good music with good people.  His sixteenth studio album "was scheduled to be a Cape Cod record – but it ended up something else," he says.  Initially, Forbert had headed to the Cape to rejoin forces with friends there. "I took a real liking to Joey Spampinato and Kami Lyle.  They were on my Alive on Arrival tour (in 2013), and then the Jackrabbit Slim tour a year later.  I decided to record a new record with them, and they live on Cape Cod."   Spampinato, best known as a founding member of NRBQ, and his wife, Lyle, who's a trumpeter, singer-songwriter, and the founder of a series of music and storytelling evenings, have also played recently at the City Winery and other venues with Forbert.  When I complimented him on the "horn section," Forbert chuckled.  "It's just Kami Lyle overdubbing on trumpet.  Like the horns on 'Evergreen Boy' were just a trumpet and an alto sax, but even simpler -- just a trumpet creating the illusion of a horn section playing away."  He laughs, "I could have recorded these songs solo, or with a conga player.  But it's nice to go in there with a group – it was really fun."
The Cape appealed, but the legendary John Simon was already on board for Compromised, and he lives in Woodstock, New York.  Simon produced, among many classic albums, records for The Band, Janis Joplin, Simon & Garfunkel, and Leonard Cohen – and Jackrabbit Slim (1979), with its hit single "Romeo's Tune."  Simon, who is now 74, asked Forbert and the Cape Cod-based band he'd assembled to come to Woodstock instead, and they did.  "We recorded at Nevessa Studio, in Saugerties, New York, near Woodstock. John and I went over the material carefully for a couple of days in advance, and after our planned four recording sessions he and his wife had to leave for their usual wintering in Florida.  I wound up finishing the record back on Cape Cod."
There, Forbert made what he terms "the discovery of this record, for me – a bass player who has toured with Sarah McLachlan, among others, and also an engineer and producer – Jon Evans."  Evans, who has also played with Tori Amos, Ben Folds, and Boz Scaggs, provided what Forbert called the "good temperament" for the completion of Compromised.  "I'd love to work with him again," says Forbert in a tone that implies this might, indeed, soon come to pass.
The tracks on Compromised are chiefly Forbert's original compositions -- and if you've ever listened to a single song he's ever written, you know what he can do with a line, a rhyming couplet, a simile, conveying a sentiment or sensation.  There are covers, though, too.  Why "Send In The Clowns," of all the songs Forbert has covered, or might have chosen to cover?  This is, recall, a man who's done a whole record of Jimmie Rodgers (at the Compromised launch at City Winery NYC in November, he did the best performance I could even imagine of "My Blue Eyed Jane").  "Well, it's a quality song, and I had something I wanted to do with it.  I thought, why not an up-tempo version that leans into the sarcastic nature of Sondheim's lyrics?  I ran it by Joey, and he liked the idea."
A sarcastic nature is certainly something Forbert, though genial and gentlemanly as can be most of the time, appreciates as a songwriter.  One of the standout tracks on Compromised is "Welcome The Rolling Stones," which might have been a love song, but the kids in question are on a first date...at Altamont, in 1969.  Remembering that fatal evening, Forbert says, "I am fascinated by the crosshairs the Rolling Stones got themselves into.  One of the Maysles brothers' camera crew amazingly caught the actual stabbing of the gun-wielding Meredith Hunter on film for 'Gimme Shelter' (1969; released 1970)."  What were the chances of that having happened?  And, beforehand, the Stones themselves had risen to a cultural, indeed phenomenological level, hard to fathom in today's eyes.  Forbert was a teenager in '69.  "The personalities of Keith and Mick are so intriguing, and the music is so good.  Their songs and sound articulated a huge, very elemental space in the  Western world psyche, primarily because of Keith's core anger and Mick's keen awareness of  his times.  Unfortunately, Mick announced their free San Francisco concert on TV in New York, and the problems began.  A reasonable concert in Golden Gate Park turned into what has become the mythological 'end of the 1960s.'  I wanted to write it differently, about some kids who thought they might have a romantic date -- a wonderful evening together at an open air, free show -- right up close to their heroes."
Sure, Forbert's seen the Stones himself:  "I saw them in 1972 in Tuscaloosa, and in 1978 in Manhattan at the Palladium when Peter Tosh opened.  And I've seen a few of the big tours since then – but '69 (which I couldn't attend) looks to have been the best.  Truman Capote should have tried to write about that one! It would surely have fired his imagination a lot more than the more organized showbiz trek of 1972."
Another song on Compromised has some Stones notes, too -- I couldn't help hearing a little sympathy for the "Devil (Here She Comes Now)." Forbert speaks freely about his own songwriting process.  "A song comes from the subconscious.  I can't say enough about that.  You start thinking, 'You can't write this song, Mitch Ryder already had 'Devil With a Blue Dress On.'  But no, you say to yourself, leave me alone, I wanna write it."  The woman who shapes Forbert's song -- along with the "strawberry blonde" of "A Big Comeuppance," joins the ranks of women who've done a songwriter wrong -- never-thinning ranks, and, in these cases, in situations smart and interesting, if also a bit painful, to contemplate.
Can songwriting be taught?  Will there be a Steve Forbert Summer Songwriting Camp?  No.  "Songwriting can't be taught. It isn't just a craft.  The ordinary person can't learn quality songwriting in a class or two. If people are in it for a challenge, or a hobby, that's fine.  As a vocation, it's pretty much destroyed, yet lots of  schools these days  are offering songwriting courses.  It's like, wake up and smell the coffee.  I honestly believe that pop music is a reflection of the culture, of who the hell we are … and Kris Kristofferson, Jack Elliott, Gram Parsons, persons of that experience, storytellers, are not of interest these days."  The writing of songs by consortiums of people working together on massively overproduced tracks for, say, Beyoncé; or the sampled mixes like "Anaconda," with its – essentially – two lines lifted from Sir Mix-A-Lot's 1992 "Baby Got Back" -- all this is so very, very far from Forbert's art. 
His art these days includes the visual, too.  "It's kind of absurd, in 2005 I gave in, acquiesced, got a cell phone, and discovered that I wanted to take pictures with it.  I went kinda crazy – it was like I was a 12-year-old.  I took pictures of things that interested me, like, well, hubcaps, gumball machines, padlocks, fire plugs.  Things that were commonplace and colorful, with a certain vision to it."  Forbert has had photography shows in Nashville and in Asbury Park, and wouldn't say no to another in the future.  "I have actually moved on to a real Samsung camera.  In Cuba, about six months ago, I took over 250 photos, and will narrow it down to 20 or 25, and ask myself, 'is it a real, strong show?'"  He's had conversations with Henry Diltz about photography. "Henry, too, has photographed fire plugs all over the place.  He and I have the same personality disorder."
One albatross, however golden, that has been hung around the neck of singer-songwriters from Springsteen to Jackie Greene is "the new Dylan."  With his harmonica rack and acoustic guitar, skipping reels of rhyme and storytelling force, Forbert was hit by this one early on.  He doesn't seem to mind.  Dylan may be a major individual talent, but he himself is within a tradition, too.  "Bob came along and, as has happened with him, he's owned a lot of things – he just has.  He had that guitar and harmonica; he wrote his own liner notes.  He did that creative, curious cover for Bringing It All Back Home.  But he wasn't the first person to try a harmonica on a rack.  Jimmy Reed wasn't the first, Slim Harpo wasn't the first, Woody Guthrie wasn't the first … "  And, heavens willing, there won't ever be a last:  one person, standing alone on a stage with a guitar, with only a harmonica for company, has become one of the most iconic images not just of Bob Dylan, but of the variable music called "Americana" today.
Forbert loves being out there on that stage by himself.  He likes getting from gig to gig on his own, too.  Modern times are full of sound and fury, and information saturation, and all those unholy unquiet things.  "I have to watch my intake of detail," says Forbert.  Of his time alone in a car, he reflects, "It's as free as you can get.  It gives me a chance to try to think.  We're all so seriously overloaded these days" – he veers into the lyrics of a sometime country musician from Canada – "like a bird on the wire, like a drunk in a midnight choir, I have tried in my way to be free."  (Don't ever try to swap quotations from good songs with Forbert -- I swear to you, he knows them all.  Maybe it's what he listens to as he drives.  We got into a back-and-forth of Dylan song titles and lines, at one point, and he cleaned my clock, smoked my eyelids, and punched my cigarette.)  And, if you've been to a number of Forbert's shows, he probably knows you.  Other musicians have asked him how in the world it is that he knows so many fans not only by face but by name.  Forbert is modest about this.  "I've been asked often, how do you remember people?  I don't know, but I just do."  In November, at City Winery, he greeted people by name.  And he didn't just do songs from his new album, of course.  He listened to requests, and happily played his "New York songs" like the one my friend Bernett asked for, "Grand Central Station" -- listed by the Village Voice as one of the 60 best songs ever written about the city.  Someone who must have been at his first Forbert gig called out "Romeo's Tune."  Everyone, including Forbert, laughed.  He shook his head in mock dismay, but he was grinning.  "Of course I'm gonna play that," he assured the guy.  "But I need to wait 'til closer to the end."  At the end, Forbert came straight off the stage bathed in sweat, and sat at the front of the venue in the cold, with the doors opening and closing onto Varick Street.  The crush of beaming people around him kept him warm.  
This past weekend, at the Light Of Day Festival in Asbury Park, Forbert sang a lovely set in which he paid tribute to David Bowie with an acoustic "Rebel Rebel," and bid all thanks and adieu with "Romeo's Tune."   Listen up.  Everyone in the room is singing along.
Compromised is a gift to those longtime fans -- the faces in the crowd Forbert knows.  "I run around with one or two guitars, and sing.  I'm not playing big places.  I don't have minders.  I play for the people who want to come out, and see what I'm up to.  I've never been comfortable with a set show – I like to get around that, and do what I love. Spontaneity is important to me.  Sure, I'd like to make more money, and reach more people.  But my new record is for the people who have been with me all this time."  Forbert is "not averse" to anyone who listens to his music, and finds their own meanings in it, "but I really don't think in these terms.  What is it to think for the larger human race? I like my audience, and I think of them.  I'm not gonna write a song for the whole human race."  He pauses.  Just as in his songwriting he is a master of phrasing, Forbert is, in conversation, a master of the Pinterian pause.  "Maybe I should."
He hits me with another good pause when I ask him how he chose the title for Compromised.  "The song 'Compromise' seemed like a good, exemplary way to start the record, and so I called the album COMPROMISED."  Forbert laughs.  "Maybe I should have called it 'Welcome The Rolling Stones.'"  Pause.  "With 'Rolling Stones' in really big letters."  The album's cover, featuring Forbert and the constant companion he affecionately calls "Gibs," his 1949 Gibson, was photographed by Rowland Scherman.  Forbert describes the photo in words that sum up his live shows, and what it is his fans have long loved about him, and always will:  "Just me up there with my guitar, singing my heart out, a little the worse for wear and tear, yes, but still having a great time."