Interview
From Strings to Roots: Rosin bridges classical and Americana music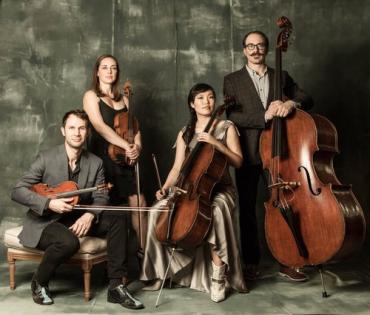 When I was first introduced to Rosin a month or so ago, I was skeptical about how a string ensemble might combine classical strings with Americana. After listening to their eponymous debut album (which they released in January 2017), all doubt subsided. Each track offers something different and compelling. Whether it's a mandolin providing a sweet melodic line that the violin picks up, or there's a driving bass that creates a wonderful tension beneath a soothing melody, or beautiful chord progressions that move you like a love song, you hear a unique story embedded somewhere within the instrumental voices. Being won over by this group's body of work, I had the pleasure of talking with the Rosin co-founders Annie Bartlett (violinist) and Jake Armerding, who is also the quartet's principle composer, about how they came together and what the music creation process was like. Their story is quite interesting, and I highly recommend taking a listen to the two sample tracks below. You'll want to hear to hear the full album!
With few (if any) Americana bands out there being made up of only string players, how would you sum up your overall sound in one phrase?
Jake Armerding: Classical music for people who don't like classical music.
Being a band of four experienced string players with classical training, how did you all decide to come together as Rosin to create not-so-traditional string music? Was your intent to stay in the "classical" realm but appeal to a younger/different audience?
Annie Bartlett: ROSIN emerged from a fledgling music series founded in 2011, the Sheffield Sessions, which I co-founded with my husband, Sam, and Jake. We wanted to create a shared music experience and strengthen our local community. Live music is a great way to bring people together, and each show highlights a local non-profit and the door proceeds are matched and given to that non-profit.  As the series evolved to include more cross-genre shows, Jake and I brought in Mina and Zack to be part of the house band. The more the we played together and experimented, the more apparent it became that there was something unique to our sound. In 2014, ROSIN decided to take the plunge and write and record a full-length album of instrumental music.
As we talked about the album in the early stages, we knew we wanted to write instrumental music that connected with people in an immediate and visceral way. We didn't have a specific target audience in mind. Since the album release, we've found that we are equally well-received when we shake up a traditionally classical venue like Carnegie Hall and when we bring an entire show of acoustic instrumental music to venues like Club Passim. As Jake likes to say, we know what the rules are. We just like breaking them. We're here to create art, and our one purpose is to move people. We throw aside convention for convention's sake and relentlessly pursue the music that makes us shout, grin, laugh or cry.  Everything else is just details.
What is the composition process like for your band? Is it mainly Jake creating the pieces or a more collaborative process? And what/who are your biggest influences?
JA: It's highly dependent on the song.  I always create the basic idea; when it's a more lyrical song, everyone contributes, but when it's a highly composed piece, I'll bring all the ideas to the table and we'll see what floats.  But either way, I try to hold it lightly.  The sound of the group is not my compositional voice, it's the sound of four excellent musicians interpreting an idea I had.
A good analogy might be writing a play with certain actors in mind, then seeing those actors take your words and have their way with them.  Some things you anticipated hearing, and some not … but if you trust your collaborators and manage to resist being a backseat driver, it tends to come out really great.
My biggest influences as a composer are the Suzuki violin lessons I took as a kid — lots of Bach — and Bela Fleck, who stands alone for me in terms of melodicism.
What is a typical Rosin show like?  And what are some of the notable venues you've played?
JA: We were so honored to get the chance to release our album at Weill Hall in Carnegie Hall this past January.  That was a rush, to say the least.  My favorite part was hearing the room just pick my voice up and distribute it around the hall, and I don't have a very loud voice.  It was amazing.
Our show is a two-hour crash course in how we see ourselves:  A band of wolves dressed in formal attire.  It's sort of like that stage of the party where the ties are getting loosened.  There's a lot of technical skill being thrown around, but we really want an audience to feel what we're doing, and it's not cool and collected — it's sweaty and disorienting and scraping and growling, and also, we think, quite beautiful at times.  Along with our original repertoire, we've found a handful of cover songs that really seem to fit the group.  One is "Eleanor Rigby," which we feel more or less obligated to do, because how many groups have the requisite instruments to attempt that?
Now that your debut album is out, what are the next steps for Rosin?
AB: We don't like to let the grass grow. We're hatching up plans for collaborations with some of our favorite local artists and are already thinking about writing tracks for the next album. We were very excited that 100% of the ticket proceeds from our NYC show in January at Weill Recital Hall at Carnegie Hall benefited the New York Women's Foundation.
Based on our success in New York, we are lining up gigs for the next few months and are throwing ourselves behind a few fundraising events for local charities that support women, minorities and social injustice. 
Here are a couple sample tracks from their debut self-titled album:
For more info on ROSIN:  Rosin.band