Interview
Surf's Still Up: The Malibooz & All of Their Traditions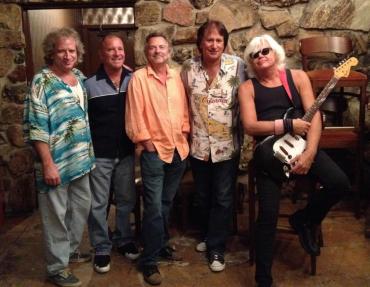 While temperatures plunged below zero and much of the country felt like it was in a polar vortex, John Zambetti did what he always does this time of year. He carried on Christmas in Malibu as the leader of the Malibooz, the surf band he formed over fifty years ago as a high school student in New York City.
Zambetti always has something special for the holidays. This year it's not just a television show, it's what he calls a "Christmas Spectacular,"  hosted inside his own Malibu Music Room. It's the locale and moniker for what has become a recurring program on local Malibu cable television.  And for this episode (now available on You Tube for all of his out of town friends), you could say it was a Malibooz kind of Christmas.
There's John sitting alongside his high school pal Walt Egan singing "Seashells and Coral." It's one of the many originals Zambetti has penned for the season. It's always interesting when people meet at an early age and carry on a lifelong friendship. Zambetti and Egan both went to Loyola High School and continued to play together at Georgetown University during the Washington, D.C. music scene of the early Seventies. Zambetti dated Emmylou Harris for a while when she was an aspiring folk singer. It was Harris who harmonized with Gram Parsons on "Hearts On Fire" the sweeping ballad that Egan co-wrote with Tom Guidera that is the second track on Parsons' seminal album Grievous Angel.  After college, both Zambetti and Egan headed west where Zambetti became a doctor but guested on all of the albums Egan made as a solo artist with Columbia, and later Backstreet Records To this day, you can often turn on the radio (or hear a movie soundtrack) and still hear Egan harmonizing with Stevie Nicks on his single "Magnet and Steel."
Perhaps the most interesting thing about the Christmas show is the influx of young talent that comes in the Malibu Music Room. There's his son Johnny Zambetti and member of the band the Palms. Over the years, the younger Zambetti has brought over many of his friends to jam, including Connor Vance who appears on the show having just returned from touring China with his band the Dustbowl Express.
Zambetti has been part of Our Lady of Malibu Choir for 25 years. He first saw Vance play as a youngster. Vance's father is a bluegrass player and his son began on mandolin and fiddle.
"He's one of the few musicians I've heard that can successfully play classical violin and bluegrass fiddle," Zambetti beams of the multi-instrumentalist and recent graduate of the UCLA Herb Alpert School of Music. "Connor is an entity unto himself, a real prodigy.  If you listen closely when he performs "What Child Is This" on our Christmas show, you'll hear him slip effortlessly between both genres."
Connor Vance and Zambetti's son Johnny are two beneficiaries of the Malibu music scene. Many of the musicians of Zambetti's era have children who live and play in the community. Johnny, now fronting the Palms, was in the band White Starr which had Roy Orbison's son Alex Orbison Cisco Adler (son of producer Lou Adler) and Duane Betts (son of Dickie Betts). The Goldsmith Brothers of Dawes are sons of former Tower of Power lead singer Lenny Goldsmith. Sky Blue (who Johnny also played with) is the grandson of Berry Gordy and part of the band LMFAO. And then there's Blake Mills, the former lead guitarist of Dawes, who has worked with Eric Clapton and Keith Richards and produced multiple albums for artists including Fionna Apple, Conor Oberst, Billy Gibbons, John Legend and Alabama Shakes.
The elder Zambetti points to the Malibu Inn at Casa Escobar for providing local bands the opportunity to develop their material, drawing a parallel to what was happening at the Cavern Club in the early Sixties. "In most LA venues you are either a bar band playing covers or you have to pay to 'pay to play' and sell a certain amount of tickets before making any money."
When the Zambettis play dueling guitars on the Ventures "Sleigh Ride," the elder Zambetti remembers Christmas in 1963 when he got the album and immediately sat down to study it and learn to play every song, By the time the Malibooz played at the World's Fair a year later, he was a bit of an expert on surf music. He broke down the differences between the surf sound and the English sound to an interviewer at RCA Central. The recording is preserved on the band's Malibooz Rule album before the raucous "Goin' To Malibu" guitar romp that follows. 
Where once Zambetti once looked up to his surf band heroes, he admits it's somewhat surreal that he's ended up playing with most of them. On the Malibooz' most recent album Queen's English, he composed original British-Invasion style songs and had a dozen icons of the era make guest appearances. They included Spencer Davis, Tony Hicks of The Hollies, and Andrew Loog Oldham, the former manager of the Rolling Stones. A big moment for Zambetti was pairing John Farrar and Noki Edwards of the Shadows with their American counterpart Noki Edwards of the Ventures. Zambetti points to his song "Venture Into The Shadows" as the first time that members of both groups appeared in the same track.
Despite membership in the Surf Club at Loyola High, Zambetti and Egan never got great at surfing. Bass player Dennis "Ace" Lopez was much better with the familial advantage of a beach house in Point Pleasant, New Jersey.  By the time they ventured to Georgetown University, the name "The Malibooz" had become somewhat passé and the group was called Sageworth and Drums.
In the year after graduation, Zambetti was playing with a band called Wine-Dark-Sea. One night, Emmylou Harris opened his show at Tammany Hall in D.C. The two hit it off and dated for a while. "During that stint, I sat in on a couple of tunes with her, but I was never in her band," Zambetti recalls. "Obviously, I thought she was really nice and she was super funny. We had a lot of fun. She was always a driven performer and really took her career seriously. At that time, she was more of a folk singer. Really, my recollection is that Walter introduced her to country music."
"Emmy was doing a pop folk set when I first saw her at the Cellar Door," Egan says picking up the story, recalling a great music scene with names of the likes of Bill Danoff, Roy Buchannan, Nils Lofgren and Roberta Flack. "She was easy to like. When Chris Hillman approached her about Gram she didn't know who he was. I was a big fan at that point so I played her Sweetheart of the Rodeo and Gilded Palace of Sin."
Egan recounts that when Parsons came to meet her, the duo had their first rehearsal. "It was in my kitchen with me as the only witness."
"It was quite a thrill for me," he adds. "He had a natural charm and charisma. It was the thrill of my life at that point that they recorded 'Hearts On Fire.'"
Egan would achieve national acclaim on his own when his gorgeous ballad "Magnet and Steel" went to the top five. The song that closed the album Not Shy was "Hot Summer Nights," later made famous by Night with the great, late Nicky Hopkins on piano. Egan wrote it as an ode to the Malibooz and later re-wrote it, adding more autobiographical details and intensity on the Malibooz Rule album.
"Well," he responds when I ask him about the ferocity of the song, "I was ferocious because it was my first band and truly that experience was the source of the feeling behind 'Hot Summer Nights. There is something special that forms between the members of a cohesive band. Of course, it is very much about my college band Sageworth as well."
There's a picture of Egan back in the day alongside the Beach Boys' Brian Wilson and Fleetwood Mac's Lindsey Buckingham. The shot of the three kindred spirits remains a favorite for Egan who revered the Beach Boys and saw Buckingham like he was a brother from another coast. It was shot at a release party for Fleetwood Mac's Tusk album. Buckingham produced Egan's first two albums and brought in Nicks to harmonize. Egan also got to sing harmonizes with Jan and Dean's Dean Torrence on the song "She's So Tough." Both Buckingham and Torrenace sang on Malibooz Rule. Zambetti brought things back full circle when he got Torrence to sing with the Malibooz again on the Christmas song "Santa Drives a Superstock Dodge."
Egan admits he is always thrilled when he hears "Magnet and Steel" and that some of his other "forgotten" songs like "Yes I Guess I Am" and "Make It Alone" best evoke the period of the time. "They conjure up a pinch of the excitement of being young and having your dreams unfold before your eyes," Egan, who now writes and paints in Nashville, says. "I love returning to LA as I do a few times a year. My daughter lives there now so it is doubly fun to do shows and hang with my girl." (Perhaps some of the young country stars in Nashville would do well to listen to Egan's rich catalogue for potential cover songs that their parents likely played.)
Through all the decades, the one constant in the Malibooz is the enduring friendship of Egan and Zambetti.
Zambetti cites Egan's sense of humor as one of the reasons for the ongoing relationship. The two, he said, had a kind of Lennon-McCartney writing relationship, spending hours in Zambetti's basement playing each other new tunes they'd written. The next time they met, there might be little bits of inspiration from each other in their new songs. Zambetti notes that they've only officially written a couple of tunes together.
"I would say we were lucky enough to meet at a time when each of us was in the process of finding out who we were and were going to be," Egan says of the relationship, now in its sixth decade. "High school is a pretty important time for building foundations. And of course, we shared a burning passion for the amazing music that was the sound track to those years. This is the abiding reason we've maintained a closeness through the years."
The Malibooz has always been Zambetti's band, according to Egan who adds that it continues to be fun. The two are the original and longest running members. Drummer Trip Beam is the most recent addition, with Scott Monahan and Dave Chamberlain having clocked in over forty years--somewhat remindful of the comment Ron Wood made that after forty years in the Rolling Stones, he was still "the new guy." 
Malibooz Yule
Zambetti and Egan have been writing songs for the follow-up to Queens English. Zambetti has already made a New Year's resolution of finishing the record next year. In the meantime, Zambetti is tending to Christmas traditions.
In the Malibooz video of "Santa Man," you can see images of the Malibooz band members over the years hamming it up for the cameras in Paradise Cove, a section of Malibu familiar to many as the site of the Rockford Files television show and a scene in the film Lethal Weapon.
And then there's the Malibu Christmas Woodie Parade, an event Zambetti started over a decade ago. If he's not quite the Mayor of Malibu, he is an ambassador for the town and has produced a television special Celebrations: A Malibu Christmas. He is a card carrying member of the National Woodie Club, named after the owners of vintage autos with wood paneling. Zambetti, who owns a 1941 Ford Woodie, recalled seeing a boat parade in Newport Beach and thought to himself, "Why not a Woodie Parade?" He contacted some of his buddies and is proud to say they had thirty-five decorated Woodies displayed this year.
But perhaps Zambetti topped himself when he quietly announced on Facebook that the Malibooz had recorded with another band of great Christmas tradition—the Beatles. You can now hear the Malibooz overlaying vintage Beach Boys-like harmonies and vocals tracked alongside the Fab Four's "Christmas Time Is Here Again." 
"Always wished The Beatles had finished this tune," Zambetti wrote of the inspiration, " so we added a middle 8. Then, like Santa Claus, we went to town." 
And, so, this is Christmas. Happy Krimble.