Interview
Talkin' about the Universal Truths of the Divine Minton Sparks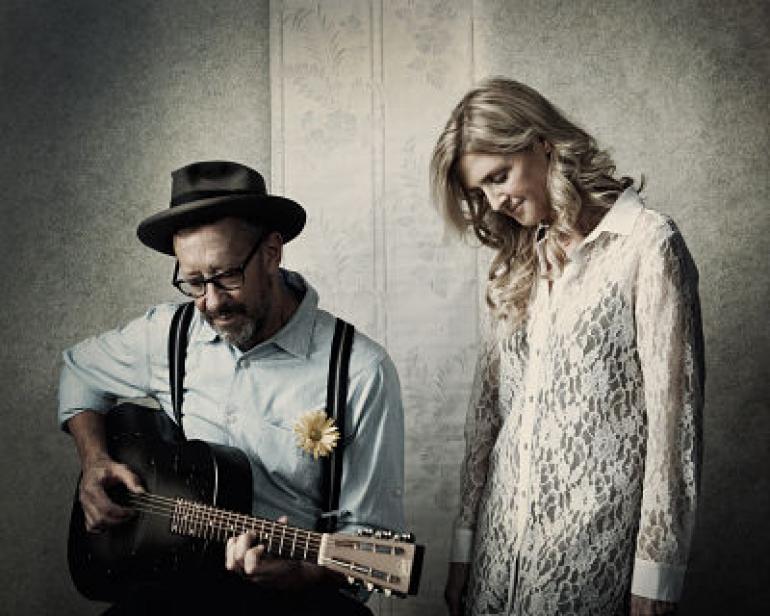 "I think people who enjoy being challenged by a story, wherever they live, will respond to my performances. I played in Ireland at a songwriting festival a couple of winters ago, and the Irish response to the stories was unparalleled. Narrative is so basic. It's how we 'sew' ourselves into one another's hearts."
There are renowned musical spokespersons of American generations past and present, who most of us agree upon -- Bob Dylan, Kurt Cobain, Ani DiFranco, Bruce Springsteen, Mos Def, Johnny Cash and Canadians Neil Young, Leonard Cohen, and Joni Mitchell -- to cite a select, revered few. Granted, these esteemed artists have enriched our lives over the years by sharing their astute observations of our human condition. We see ourselves in them.    
I hereby submit yet another representative of our American making: Minton Sparks -- a spellbinding singer, songwriter, poet, author, fine artist, educator, and performance artist of our aforementioned demographic whose reflections on the people who make up the funky fabric of our society are far more cinematic, revealing, and, in many instances, downright hysterical than any of the above referenced iconic bards.  You'll likely see several of yourselves and the people you know, or may even be related to by blood, in the-ever evolving canon of the divine Ms. Sparks.
Minton materializes onstage and on record as a middle-aged, gossip-driven, small-town Southern bellwether with emotional baggage aplenty. Yet, her stinging libretto, delivered with a sly, wicked drawl, cuts deep into our national -– and personal -- psyche. Sparks' signature budget dress, pocketbook dangling from the crook of her elbow, and worn high-heels, are all too familiar to us. She is our spinster aunt, our wary next door neighbor, our mysterious co-worker, the tittle-tattling county clerk, and that individual we encounter in social situations that we'd rather forget ... and then some. From her presence at the American Songbook Series in Lincoln Center, to tours throughout these United States and Europe, to her appearances on NPR and the BBC, Sparks minces no words on any continent she traverses.  
"Speaking truth to power is always exciting to me," she says. "I got to be part of a United Nations Delegation on Coal Mining a couple of years back. The storytellers involved were putting a human face on the folks who were having their ancestral land mined by coal companies. I'm a Divinity School drop-out and a former Psych teacher and social worker … I think all that history is woven throughout my work."
Sparks' latest release, Gold Digger, is a remarkable, revelatory song-cycle with kooky character portraits set to a decidedly Americana backdrop. It spans blues, folk, country, power-pop, and jazz.  This music on this album alone is a veritable aural history of America. The fist-pumping track "I Am From" includes a few familiar motifs known to classic heavy metal MTV-heads punctuated with a riff that would stir MC Hammer.  A torrid tale of "forbidden" lesbian love called "Black and Blue Tattoo" percolates with a rhythm and blues undertow as Sparks icily croons 'Tara tattooed Amy's name on her shoulder blade … it was a prayer on the wing to t-t-testify to the love they made." The title track, which has been captured for eternity in video, is a heartland roots-rock tour de force in which Sparks flickers: "See her dark tan / those double-d implants / the sharp tip of her high-heels / it's a drill bit! Her poppa put Penthouse parameters around what's pretty / early and often. Splay legged women, laid back laughing / lipstick thick enough to paint the town..."
Sparks's collaborators on her fifth album -- and first full-band collection -- include her long-time guitar foil John Jackson (Bob Dylan, Lucinda Williams, Shelby Lynne), with whom she performs live as a duo, and guitarist/producer Joe McMahan. "Joe is a funky, bluesy, soulful guitarist. One day we were talking about what a band would sound like – as at the time Don Was was interested in producing a record with me and we needed some demos."
The other key cats on what Sparks affectionately terms "Side A" (composed with Jackson) and "Side B" (composed with McMahan, except for "Arkansas," which was written with John Hadley) include John Prine's brilliant bassist David Jacques, virtuoso fiddler Shad Cobb, drummer Bryan Owings, and bassist/engineer Brian Harrison – who passed away before the album was released. "It was mind blowing to be in the studio with those guys," she says.
As the nation debates our justice system, yet another fine track includes the dirge "Tennessee Prison for Women" wherein Sparks spews amid the gospel wails of her incarcerated colleagues:
Jailbirds catcalled like desperate men
Shake it lady
She is summoned by her number, not her name
201373 Cell Block B
we're crammed in a cubicle without a window
I'm stranglin' a tooth-whittled pencil
tremblin' as I point to the page
form the 'b' sound in bird
b-b-b bird
he belt-beat my oldest young in half
b-b-blind
so I pistol whipped him from behind
black comb, black pocket,
hip pistol, unlock it…
"I've performed at the Tennessee Prison for Women on occasion and taught writing workshops there," Sparks says. "One of the central themes in my work is reframing various prisons we find ourselves inside – and the redemptive nature of retelling both how we find ourselves behind and/or inside bars and conversely how we free ourselves. I love the redemptive nature of a good story! In fact, I founded the Nashville Writing and Performance Institute, a monthly workshop called 'Create Your Story,' just so I could be connected to others. I'm passionate about providing a space for people to work with their own stories for artistic pursuit, whether that may be writing a song, a poem, story, or a one woman show."
Minton Sparks Gold Digger is out now on Mountain Sparks Music : www.MintonSparks.Com