Column
Talking with Rick Bragg about 'Jerry Lee Lewis: His Own Story'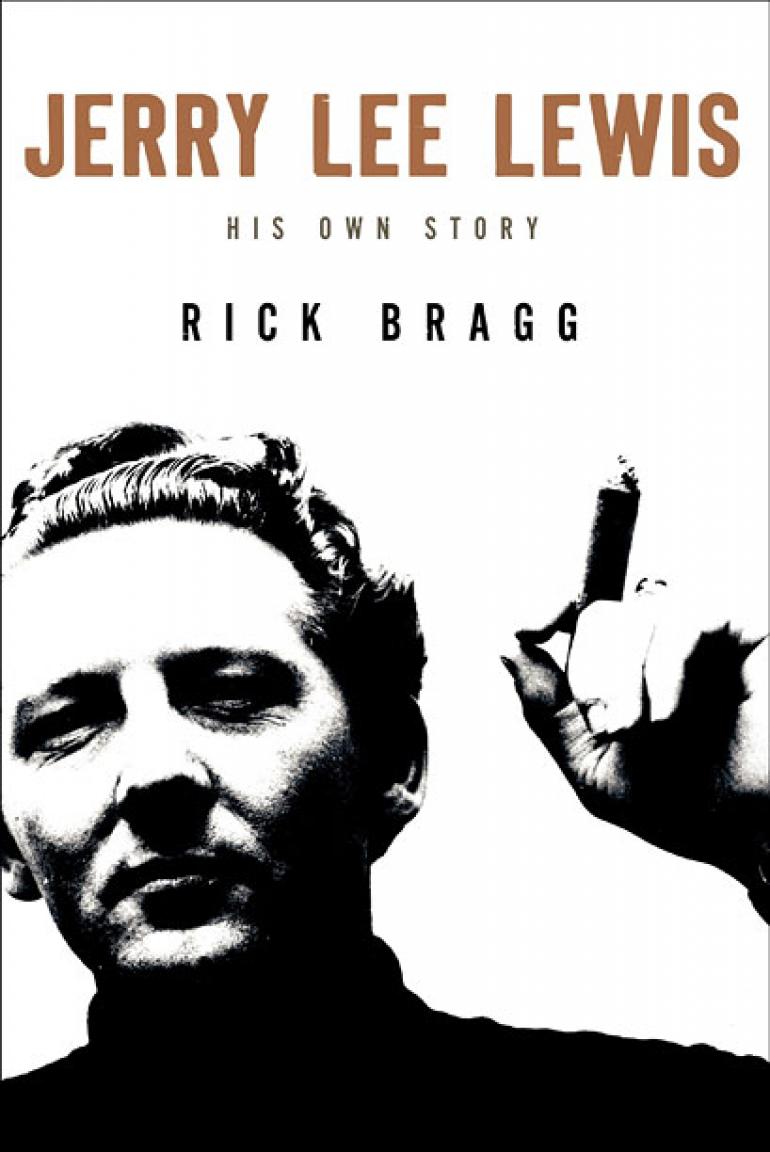 Back when he was five years old, Jerry Lee Lewis' parents bought him a rickety old piano – he still has it in his house today – and he started picking out tunes on the ivories, letting the music guide him, letting it get inside him. Soon enough, all he wanted to do was play, and he took to sneaking into to juke joints on the other side of the tracks from his family's farm in Louisiana, soaking up the blues and boogie, watching the notes from the piano coil themselves around the men and women on the dance floor, catching them in a feverish grip that never let them go. Soon enough, Lewis led the Saturday night/Sunday morning crowd on their merry dance through the dance halls, bars, juke joints, and state fairs across America, leaving in his wake a string hit records, rock and roll rivalries, near-death experiences, broken marriages, and a brash confidence in his own power to shake the blues off people with his magical rock and roll potion.
Over a period of two years, maverick Southern author Rick Bragg sat down with Jerry Lee Lewis and let the Killer walk "day after day through the past and come back, sometimes bloody, with the stories" in Jerry Lee Lewis: His Own Story (Harper).
"He did not want to do a first-person book," Bragg told me in a recent interview, "and I had no interest in trying to pretend to be him. Instead, this is one man talking of a remarkable life and another man writing it down and shaping it into a life story so rich that, if I had not been there, I would have wondered if it was real."
The ugliness, the good times and bad times, the burning desire to set the world afire with his music and blaze a smoking trail with his piano chops – all of that fills the pages of this mesmerizing tale. Lewis has come to a place in this book where he's able to share his regrets and his pain, wincing often over the scars they've left behind, and pondering – though never backing away from the glory of – his legacy. As Bragg writes, "For Jerry Lee fame was a thing that sometimes flogged him and sometimes let him be; he was capable, in the dark times, of losing all sight of the good in his music, of believing it was evil, until suddenly things would be just clear and he'd see it all so much better. The thing about rock and roll, he said, was that it made people crazy bad, but it more often made them happy, made them forget life for a while."
I caught up with Bragg by phone at his home in Alabama for a chat with him about his book.
Henry Carrigan: Tell me the story of the book and why you decided to write it now.
Rick Bragg: I wish I had a more romantic story to answer that question, like how Jerry Lee and I went out to a bar and he asked me to write it. [Laughs] Stumble is probably as good a word as any to describe how it happened, though. I was minding my own business, and my agent called me up and asked me if I had any interest in writing a book about and with Jerry Lee Lewis. I should've run from it. [Laughs] But then I got to thinking, how could this not be fun? So, I went down to Nesbit and kind of auditioned for Jerry Lee. We sat and talked, and he took a good look at me and wasn't disappointed with me.
And the rest is history?
Well, we had a kind of traditional beginning where I would ask him a question, and he would talk, but after we got started there wasn't anything traditional about it. I'd come in every day; he'd lay in his bed, and I sat in a rocking chair beside him, and he just talked, and he told me about his life. He took me through the history of rock and roll. You know, we talked about the barbed wire and broken glass, things that cut him to his heart. There were days when re-telling these stories hurt him so much that he would physically turn away from me. We tried to end every time we were together with a laugh, though.
You grew pretty close to him then?
Man, during the course of all this, my mama had a heart attack back in Alabama and had to have a stent put in. I went back to be with her during this time. One day the phone rang, and it's the Killer on the line; Jerry Lee was calling to see how she was doing. That told me something about the real Jerry Lee Lewis.
Tell me about the origin of the name "Killer."
I assumed it had something to do with his stage presence or that he was a fighter. Well, it sort of had something to do with a fight he had. Jerry Lee he got in a fight with one of his grammar school teachers. He refused to go back to class, and he was sitting in the principal's office with another boy, Cecil Harrelson, who became Lewis' lifelong friend and manager, was also sitting there. When Jerry Lee was leaving the office Harrelson called out to him, "See you later, Killer," and the name stuck.
What kind of relationship did Elvis and Jerry Lee Lewis have?
They were like two roosters sizing each other up. If Elvis got a Cadillac, Jerry Lee had to get him one. Jerry Lee always knew he was better than Elvis, and he never wanted Elvis to say to him, "here's my crown you can have it." Jerry Lee always said, "I'm gonna take it."* There was one time, though, that always bothered Lewis. One night Elvis had wanted Jerry Lee to come out to Graceland, but Jerry Lee told him that he'd get there when he could. Eventually, Jerry Lee left a bar where he'd been drinking champagne, drove out to Graceland, carrying a bottle of champagne and a pistol, and crashed into the front gate of Graceland. Jerry Lee tried to throw the champagne bottle out the window before the police came, but he forgot to roll down the window. The gun was still sitting on the dash when the police arrived and asked Elvis if he wanted to press charges, and he did. It always upset Jerry Lee that Elvis would do that to him. These were two God-fearing country boys raised in the Assembly of God church playing rock and roll.
Lewis knew rock and roll made people happy, yet he often still regretted playing it because it was evil.
Look; your talent comes from God, Jerry Lee would tell me. He could lift the blues off people and how could that have anything to do with Satan, he kept asking himself. He's been the pied piper for this music. Jerry Lee told me that rock and roll has walked hand in hand with great sin over the years. He hopes he's done more good than harm; he prays before every meal, and he doesn't abide blasphemy. "We'll just have to see,"* he says.
Did you learn things about Jerry Lee Lewis that you wish you hadn't learned?
Well, we went into this knowing we'd have to talk about everything, including the parade of deaths in his life. He said to me, "I have such sin at my back that it would kill me to turn around."* I had to ask him to turn around every day. What I hadn't known was the depth of this hell, that was sometimes of his own making.
When people read the book, what will they be surprised to learn about Jerry Lee Lewis?
I was surprised at how candid he was, but candid in a different way than in the past, when we was simply blunt and profane. Now, he's more reflective and thoughtful, and there's a sensitivity in that.
What do you hope readers take away from this book?
I hope they'll see how complicated he is; he's never quite been understood. He lived his life with all the dull parts taken out. You can never underestimate the way that Jerry Lee Lewis understands his place in the universe.
What's next for you?
I'm gonna find me a tree and sit there and think about fishing. I'm not gonna go fishing – that'd be too much work – but I'm gonna think about it. [Laughs]
* These aren't direct quotes from Lewis; Bragg is just telling the story and adding his own dialogue in his conversation with me.