Interview
Terrance Simien & the Zydeco Experience - Keepin' On through Sadness and Siberia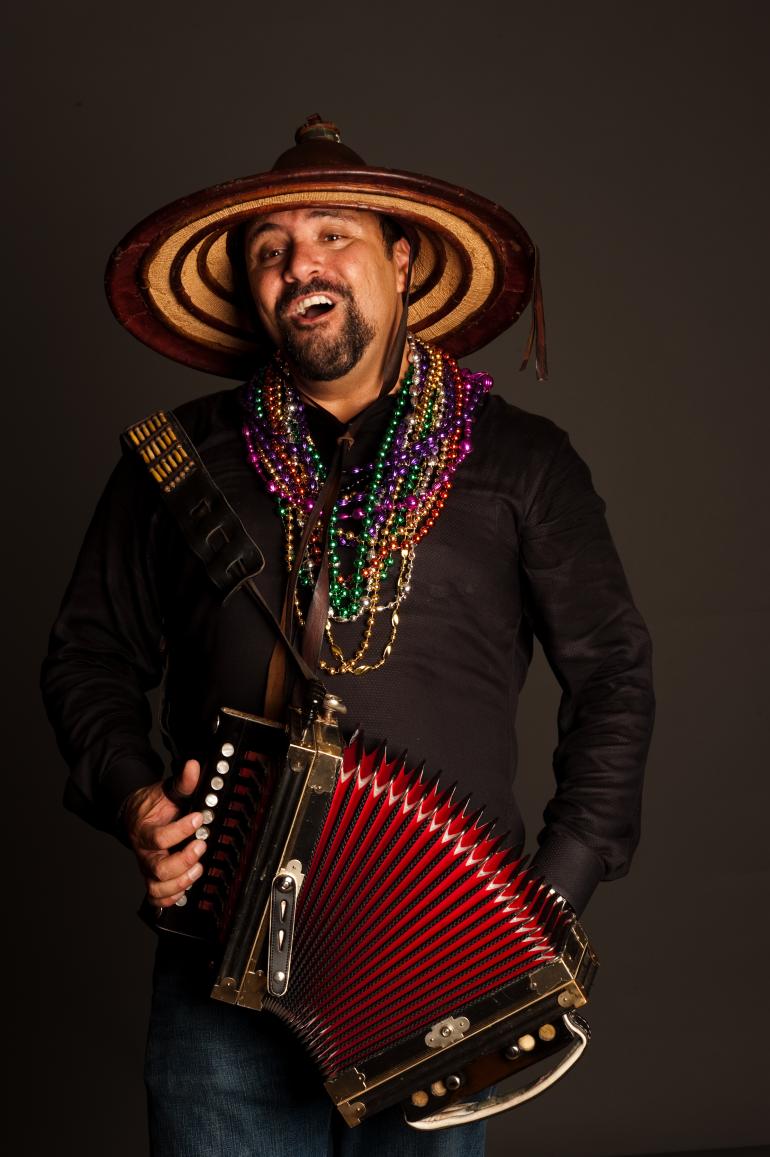 Terrance Simien and The Zydeco Experience is touring the US in support of their Grammy-winning latest album Dockside Sessions, with concerts scheduled this week in Santa Fe May and Albuquerque. In advance of that, I recently spoke by phone with Simien from his home in Lafayette, Louisiana.
Bill Nevins: I know that you have gone through the recent passing of your rub board player and close friend Ralph Fontenot.  How are you doing?
Terrance Simien: Well, you know, it's a little bit of the show must go on, and really a lot of honoring the person who passed. Ralph was in the band for right around 30 years, and he always made it clear that if something were to happen to him, let the music play, just keep on rolling! You know what I'm sayin'? That was his attitude and that's pretty much how I feel as well. You know, I've had relatives who have passed away while we were on the road, unfortunately, and we couldn't cancel the dates and make it home for the funerals. That's one of the downsides of this career we chose. Out of respect to Ralph, we honor him each night with a song. I'll probably do that as long as I keep playing. He meant so much to the fans and to everyone who knew him. I was sad but proud to sing Bob Dylan's "Forever Young" at his memorial service. Not a dry eye, you know. You realize that the music is something bigger than the band itself. You come out and hear the music, and it's like rebooting your computer, it sets you right again.
It's like you're part of a huge family. You guys are going to Russia and the far parts of Siberia.
Yes, we are going out to connect with the music, as far as we can. Everywhere we go with this music, people just love it and just enjoy the people around [them], and dance. The more we can be an example of that -- peace and love and enjoying one another -- the better. It's not about politics and war.
At your shows here last year, I didn't see anybody not dance who could get up!
I appreciate the fact that I can go and travel and people are there to appreciate something we've been working on for the past 30 years. It's a feeling that, you know, I wouldn't even have allowed myself to dream that feeling before I came to feel it for real. I just so appreciate it. I am the luckiest man in the world. I love my job, man! I get more outta the music than anybody else.
How has Louisiana recovered from the storms of ten years ago?
Well, Lafayette was not hit that bad by the storms and we became the hub for people who left New Orleans and needed a place to be, but New Orleans now, some places like the Ninth Ward have just never come back but some places have come back even better, you know, with better schools and housing. Some of those housing projects that should have been torn down long before the storm got pulled down and replaced. But the people are so proud of their history and their culture, and they went and were well taken care of wherever they went, but they had to come back. It's home. The music scene is back the way it was, it's all good, just hope we don't get another storm this year!
You've been in The Big Easy and other movies and you created the category for Cajun and Creole music in the Grammys.
Yes, my wife Cynthia and I advocated for the category of Cajun and Zydeco Album of the Year Grammy and we won the first one, and it lasted four years but now the categories have been changed again. Now we sit in a category called Best Musical Roots, with zydeco and cajun and New Orleans street band music, and it's kind of a catch all category but we won our last Grammy in that one too!
Are you happy with your latest album?
Yeah, everything worked out good. I always listen back to it and start changing my mind and a record never quite settles it for the music, but we keep working on the songs.
Hope you'll get some good New Mexico chile when you're here.
Yes, we'll be going down I-25 and stopping at The Owl Cafe and getting some of the best hamburgers in the world, with that good green chile on them!