Interview
A Thousand Miles on the Road: An Interview with Jonah Tolchin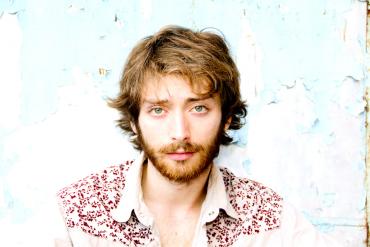 Jonah Tolchin is the type of artist who embodies a soul and spirit to which many aspire. Some try to fake it, few ever truly achieve it. His last release, Clover Lane, was met with much acclaim, and the songwriter has been hitting the road hard, writing feverishly, and making some big life leaps in the year and a half or so that's lapsed, leading up to his sophomore effort, Thousand Mile Night, due sometime this year. If we get anything remotely close to the "heart and emotion baked into his music like southern red clay in the heat of a high summer sun" that I described his last album to be, then we are all in for a treat.
I had the pleasure of catching up with Jonah to talk about the transition and changes between Clover Lane and Thousand Mile Night, touring, writing, and life outside of a hectic touring schedule. It is always a pleasure to catch up with old friends and hear beautiful stories and music from them. Check it.
Red Line Roots:  A lot has changed in your life since recording and releasing Clover Lane. You got married and as I understand it, you and Blue have a little piece of land you are living on, a bit "off the grid." How have those changes in your life influenced how you went about collecting stories and songs for this latest record?
Jonah Tolchin:  The songs for the new record were mostly written before we started living on our land. Those land songs will be coming up on the next record. 
The songs for Thousand Mile Night were mostly informed by experiences of touring heavily. It's not an easy lifestyle for a couple -- or individual -- no matter how you slice it up. When two people are in love, they want to spend time together; yet the road is always calling to me. It's the nature of the beast of being a musician these days. These songs come from the joy, pain, and everything-in-between that emerge[s] from this way of life.
So how does this record differ from Clover Lane and what can we expect? You definitely have tinges of the blues across the breadth of your music catalogue, and you delve into that genre even most frequently. But I have seen you rock the hell out of a full electric outfit as well as get swampy on an acoustic solo. Which way does this record lean, or does it go somewhere completely different?
Clover Lane was recorded with a large cast of musicians. This record is bare-bones, and more simplistic. Very minimal overdubs. I have grown so much as a songwriter since working on Clover Lane. I have grown again, since the recording of this album too. Yet, there is something timeless in nature to me about many of these songs. I want to make it clear that I don't take credit for that. Stylistically, this record covers a lot of ground. I'll leave it to the listener to decide exactly what all that means.
Speaking about the land and simplifying life -- the Mrs. and I are actually in the process of doing the same -- how has that been for you guys? On a more personal note, what have been the rewards and challenges of it?
We are in the process of getting our herbal business at Dragon Tree Farm -- spearheaded by my wife Blue -- off the ground. It's a lot of hard work, but we are loving every moment of it. Living closely with the earth, and trying to not be a part of the problem that is destroying the health of our planet, and everything on it, helps me to sleep better at night.
I'm very excited to continue building our life in a sustainable way. Soon, anyone will be welcome to come visit and experience this place. It is not just for us, but for everybody.
You and I run in the same circle of friends and musical compadres, and a recent release of the Sawyer Sessions you shot has your longtime pal and collaborator Danny Roaman on guitar, and Ollie Rhys Williams of Smith&Weeden on bass. Do you find that you pull a great deal of comfort knowing that, when you head off on the road -- either solo or with a group of folks -- you have this community to always come back to? A group to rely on musically and personally?
Absolutely. There is a real New England family of musicians, artists, and supporters, that is unparalleled anywhere else in the US, from my personal experience. It makes this life a lot easier, knowing that there are people surrounding you who want to see it happen. They want your success and happiness. There is almost no competitiveness going on, except for the healthy kind of wanting to learn, and grow to keep up with all of the amazing artists in the community.
What will the line up of the band look like for the upcoming tour?
I will be doing solo, duo, and full-band shows. I hope to continue playing with my long-time friend and comrade Danny Roaman. We've been playing together for nearly a decade, and have a musical and personal relationship that I treasure dearly. I also hope to play a lot with the great Michael Bosco on the drums. Ollie Williams and I have just started playing together, and I would love to keep that going. He's a great bass player, and harmony singer. I also hope that he puts out a solo record someday soon!
Matt Murphy -- great upright player -- and I hope to do some shows together, as well.
So, what is next for Jonah Tolchin?
I've got a real fire in my belly to get back out on the road, put this new record out, and make it all happen. I've also been producing records, and hope to work with some more artists in the community and beyond in 2016.
My first record as a producer, Bound to Meet the Devil for Julie Rhodes, is coming out this month [February], which I'm stoked about. I also just produced a record in Nashville for one of the greatest songwriters I've ever heard, Bill Scorzari. I look forward for the world to hear it! 
Gonna keep on truckin', writing songs, producing, farming, meditating, and praying for a world of harmony and happiness. Over and out.