Interview
The Unfortunate Demise Of Marlowe Billings - Dan Stuart on his final ever album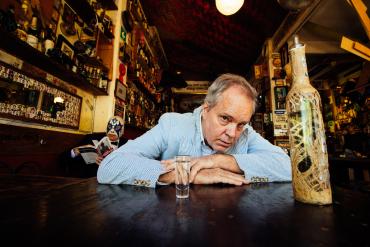 Former Green on Red singer & songwriter, Dan Stuart could hardly be homed in on the mainstream Americana radar and he probably couldn't care less if the truth be known. The alternative side of the street to where the crowds roam has always seemed the place he resides the happiest.
Stuart's album discography has frequently fused together music that sits wonderfully between The Rolling Stones & Neil Young, not to mention musical detours working with Italian cinematic maestros, Sacri Cuori and Mexican Surf Rockers Twin Tones, both featuring on Stuart's previous Billings albums respectively.
In July this year, Stuart released the final installment of his alter-ego Marlowe Billings trilogy which is quite simply a glittering diamond of musical achievement that arguably sits up there with his finest work with Green On Red.
The release proved even more poignant as Stuart also announced his retirement from making full albums in any shape or form again. If this is sadly the case, then "The Unfortunate Demise Of Marlowe Billings" is without question  an exceptional musical high point to exit proceedings with....
1) Was it planned from the outset that the escapades of Marlowe Billings would be a trilogy of albums? Are you creatively satisfied now they've been completed?.
Not really, I live day to day so planning ahead like that is impossible. I've got one more Marlowe novel to write which takes place between the first two books... but yeah, no more Marlowe albums.
2) Danny Amis, a founding member of the Los Straitjackets is all over this final installment, co-writing several songs, playing various instruments and ultimately producing the album. How did his input come about?.
I dog sat the late great Seymour quite a bit and built up a favor bank. It's the way everything is done now, since the business doesn't really exist anymore. Danny goes way back, Minneapolis with The Overtones, then The Raybeats in NYC, Nashville Network for many years on the production side, Los Straitjackets. I would say that like Antonio Gramentieri he really is a composer who just happens to be a fine musician too. He got a lot of co-writes on this one because he did a lot of arranging, sort of a lost art nowadays.
3) You've been around the block with your musical career and being nailed down to a recording studio is something I guess you've been used to when recording albums. Do you find it irritating or do you embrace the process?.
I haven't camped out at a studio for quite a while, you kind of need a budget to do that. We cut this one mostly on Wednesdays in Mexico City for a month or two. It's no secret that Danny has multiple myeloma so we timed it for the day after he takes a steroid that helps boost his chemo but also kinda makes you hyper... if you're amped up a little might as well be working. He would pick me up in El Centro Histórico and we would drive up to Gabriel Lopez's place, a little modest house in a working class barrio that he turned into a studio. I feel very lucky that I got to record there for two different records, that I was invited into the world of Gabriel, Truko, Julian, Israel, Dario who are the foundations of both Twin Tones and Sonido Gallo Negro. At the same time I was calling in favors both in San Francisco and Italy. Tom Heyman did some beautiful work in the former and Antonio called in a few favors of his own to get what we needed, along with playing some of his best shit ever. But really the whole record started on Long Island where I cut the very first song with JD Foster in about an hour, full circle going back to Can O' Worms. 
4) Personally, I think the songs are assembled in a marvelous running order on this album, was much time spent on this or did you just drop lucky?.
I asked Danny to do the sequence and only changed some minor things. We did think about the difference of the vinyl with 10 songs where the old rules apply versus the CD that has 6 more songs. But let's face it, no one will listen to the latter in order, streaming or otherwise. 
5) Did you cut other tracks that didn't make the album that maybe we'll get to hear at a later date?
No, I cleared out the attic for this one, didn't want any orphans left behind. I can see recording more music in the future but not LP's... the format is finished in my mind. People read novels and watch movies like they always have, from beginning to end, but not albums unless it's vinyl. I mean why bother? 
6) The artwork for the album is great. Were the photographs taken in the bar beneath where you live?
No, another bar a few blocks away called Hostería La Bota owned by three Basque chilango brothers whom I consider family. They certainly treated me that way. They have an incredible collection of Mexican kitsch and also a press that publishes novels, essays, poetry. Their kindness saved me on many a dark and lonely night. The photographer is David Barajas and the graphic designer Javier Rosas Herrera, both very talented people.
7) How do you enjoy the less hectic touring these days? I'm guessing it's a little less wild than your days with Green on Red. Do you miss the chaos of your youth?
Whatever didn't kill you should have... that said we had it much easier in the days of rock n roll versus today's austere and humorless Americana. I miss playing with rhythm sections, I had to learn to do the folkie thing because that's where the gigs are, but when I walk into a place and it's set up like a church recital or AA meeting I just feel nauseous. I would love to open for young bands who dig punk and 80's rock, sticky floor venues, bathrooms without toilet seats. Everything is so sanitized now, so safe, so predictable.
8) Yeah, for sure, I've been to local gigs and at times it feels akin to waiting for root canal work at the Dentist. Where do you think it all went wrong?
The social contract between the generations has been broken for quite a while. Boomers won't get out of the way, and they want their clubs and venues to be places where they can be comfortable seeing ancients like themselves. So really it's become dinner theater, which no real rocker or punk would ever had step foot in. Then you got the whole house concert thing, what could be safer than that? 
9) You played the UK's most well known music festival in 2016, namely Glastonbury. Was it a chaotic day from what you remember? The Festival got slammed from many quarters the following year for having Ed Sheeran headline the festival with his acoustic guitar and a drum looping station. Sign of the times or simply a bad year for Rock & Roll?
That was with Twin Tones, we opened the festival around noon right as the news spread about the Brexit vote. People were in shock. I've played Glastonbury a few times, but that morning I'll never forget. I don't give a flying fuck about Ed Sheeran, but at the same time I wish him all the luck in the world. Like relatives, we don't choose our era, the patron determines the muse and right now the big boss man is platform capitalism. Music now is as disposable and interchangeable as a Bic lighter.
10) To follow on from the video for "Here Comes My Boy" are you planning on any making further ones to compliment other tracks from the album? "Last Century Blues" "Tucson" "Un Paseo Por El Ayer" "March 5th 1961" "A Killer Now" could all be sure fire contenders in my opinion.
Well since I still owe Gerardo Landa for the last one it's not likely, I'm completeley underwater. Also to do anything even remotely interesting anymore is a challenge, everything is cliche, pure conceit. We tried to make the kids of CDMX the focus of "Here Comes My Boy" but people would say to me "why are you hardly in it?" Gerardo did a beautiful job regardless, we had a lot of fun shooting that.
11) I agree. He did a great job. One thing that hasn't changed since the infancy of MTV is the popularity of the music video and with Youtube a dominating force on the internet, the choices available now are endless. Do you spend much time browsing Youtube yourself and watching music videos by other artists?
Youtube is great for going down rabbit holes, I'll get interested in a song and check out all the different covers. Like Tom Rush's No Regrets, or Barry Gibb's To Love Somebody, I love doing that.
12) The guitar playing of Tom Heyman and Danny Amis shine on this album, are you a secret guitar maestro yourself who simply hides out in acoustic guitar strumming territory to avoid the Guitar Magazine cronies coming along to your door for interviews on your sweep picking technique and guitar rig setup?
I generally dislike musicians and their crapola. Heyman is a sublime songwriter and Amis a fine composer, that's what informs their playing, the sense of context. I'm interested in what someone has to say, how they say it musically. My guitar playing, now or in my Gretsch fueled electric past, is just a means to an end. I'm better than you think and worse than you could ever imagine. Technically good guitar players are a dime a dozen and pretty worthless. The worse ones are the collectors that keep instruments out of circulation... something very selfish about that. Give that classic Silvertone on your wall to a neighbor kid, see what he/she can do with it plugged into an old Magnatone, don't make them play the new cheap crap. Someone should start a musical instrument lending library...
13) Would you be looking out for something particular in the lending library? Anything you'd like to play but haven't yet came across?
Fortunately I still have my beat up Martin, that's all I need. I would like one more Gretsch in my life before I go, but that's not gonna happen.
14) You mention on the sleeve notes of the new album that your son, Bobo has given you the reason to keep playing. If not for him, would your guitar have been packed away in its case some time ago then?
Bobo has always loved music and is a very good drummer, he got the musical genes from his Andalucian grandfather who could play anything. It's been interesting watching him develop artistically, finding his path. It sure ain't easy for the kids, just getting gigs where he goes to college is very tough, the Maxwells of the world have been replaced by the dinner clubs of City Winery et al. He's always been interested in what I've done in the past so I guess I wanted to show him I could still do it and that he could too with a bit of luck. At the same time he knows you got to have lots of arrows in your quiver nowadays and you don't have to necessarily choose between one life or the other. We didn't have that, it was punk rock or bust. He's a double major with one degree in science and the other in music, smart lad. 
15) Have you ever had a quiet moment and thought "Thank god I started out in music when I did"? when you gaze around at new bands in the era of the internet where music can be swiped for nothing at the click of a button along with many other changes that have hit the musical world. Or do you believe it's always been hard to make a living in music and its simply different obstacles that effect younger and new bands in this modern tech world?
I got into playing music because that's what was available at the time. I've never felt like I really belonged, but nowadays I'm more philosophical about it all. For some reason I got to be involved in quite a few records, and I certainly didn't hustle myself like so many others. For me it just kinda happened in a subversive way that never made much financial sense and still doesn't. My agent Chris Metzler basically works pro bono and Richard England at Cadiz Music pretty much the same. Why do they do it? I really don't know, they must think it's worth doing on some kind of artistic or personal level. It's true in the old days record companies threw money at GOR and we would just step on our dicks and grin, sabotaging ourselves time and again. Maybe I still do that, this interview for example...
16) It seems many recording artists these days are more likely to be found down a gym and eating a healthy diet than living the blurry drugged up lifestyle of times gone by. Sure, great for their personal health and modern day marketing but do you think musical creativity and its quality has suffered as a result?
Well they certainly like to get high in the hip hop world and seem to be much more culturally relevant than any new Wilco record. But I would never say you have to be fucked up to do great art, hell just look at Jonathan Richman. I think it's more about where you think you fit in, or more importantly where you don't. I stayed away from drugs and alcohol for a decade but it didn't make me any happier. Still I'm glad I had that respite and might do it again, who knows? Maybe what's more important is what you bring to the table life experience wise: actors, painters, musicians, if all you've ever done is be in school you ain't gonna have much to say. That said you don't have to stick a needle in your arm or sling rocks from a corner to get street cred, and learning the rules in an academic setting can be a very good thing, especially if you want to break those rules later. I really have little use for a painter who never learned to draw, or an indie rocker comparing his lame noodling to Sun Ra or something. C'mon, get real. 
17) You're about to head over to Europe to promote the album, did you make a lot of friends over there from your days with Green On Red? I get the feeling you really enjoy being in Italy especially?
I love Italy but not the current political climate, fascism is everywhere. Most of my friends in Europe now are more recent, don't forget I dropped out of the music biz for a decade and a half. People die, wander off, change their lives. My memory is unreliable, like a 16 mm film with a lot of frames missing.
18) The Marlowe Billings trilogy of albums has been great and this final one has really slammed the ace cards on the deck. I've been listening to it as much as "Scapegoats" and "Here Come The Snakes" when I first came across those classic Green On Red albums. Could anything tempt you to resurrect Marlowe Billings? Do you see yourself spending more time writing books than music in the future?
I would love to write more books and articles with deadlines and all that but I missed that boat decades ago. I've pitched some feature writing to different magazines and websites, but I just don't have the clippings and it's all drying up anyway, at least the ones that pay. I'm happy I've managed to write a couple of books, but really at age 57 it's a pretty pathetic output. I do feel more like a writer than a musician, always have, but a life without regret is impossible.
19) Finally, I have a question relating to the marvelous Green On Red track, "Hectors Out" taken from the aforementioned "Scapegoats" album. Was the Hector guy a fictional character as with Marlowe Billings?
Hector is only too real and I think currently incarcerated. Al Kooper did a nice job on that song, I always thought the middle section was like Dorothy in the tornado, being swept away to another world... he put in the flying monkees too.
The Unfortunate Demise of Marlowe Billings is available now on Cadiz Music & through Amazon.
*Interview by Dave Griffiths (www.gasfoodlodging.co.uk)
Dan Stuart begins a European Tour at the end of this month.
Tuesday, October 30th, 2018
Le Mura
Rome
Italy 
with Tom Heyman
Wednesday, October 31st, 2018
Sala Estense
Ferrara
Italy 
with Tom Heyman
Thursday, November 1st, 2018
Raindogs House
Savona
Italy 
with Tom Heyman
Friday, November 2nd, 2018
All'UnaeTrentacinqueCirca Cantú
Italy 
with Tom Heyman
Sunday, November 4th, 2018
Red River
Heilbronn
Germany 
with Tom Heyman
Tuesday, November 6th, 2018
Loppen
Copenhagen
Denmark 
with Tom Heyman
Wednesday, November 7th, 2018
Roots
Halmstad
Sweden 
with Tom Heyman
Thursday, November 8th, 2018
Twang
Stockholm
Sweden 
with Tom Heyman
Friday, November 9th, 2018
Grünerløkka Brygghus
Oslo
Norway 
with Tom Heyman
Saturday, November 10th, 2018
Moskus
Trondheim
Norway 
with Tom Heyman
Monday, November 12th, 2018
Folk å Rock
Malmö
Sweden 
with Tom Heyman
Tuesday, November 13th, 2018
Atlas
Aarhus
Denmark 
with Tom Heyman
Wednesday, November 14th, 2018
Music Star
Norderstedt
Germany 
with Tom Heyman
Thursday, November 15th, 2018
Vinothek Weingut Schäffer Neustadt an der Weinstraße
Germany 
with Tom Heyman
Friday, November 16th, 2018
Huis Verloren
Hoorn
Netherlands
with Tom Heyman
Monday, November 19th, 2018
El Lokal
Zurich
Switzerland 
with Tom Heyman
Wednesday, November 21st, 2018
The Running Horse
Nottingham
England 
with Tom Heyman
Thursday, November 22nd, 2018
The Greystones
Sheffield
England 
with Tom Heyman
Friday, November 23rd, 2018
Live Theatre
Newcastle
England 
with Tom Heyman
Saturday, November 24th, 2018
Northern Guitars
Leeds
England 
with Tom Heyman
Sunday, November 25th, 2018
Hug & Pint
Glasgow
Scotland 
with Tom Heyman
Monday, November 26th, 2018
String Theory
Hawick Borders
England
with Tom Heyman
Wednesday, November 28th, 2018
The Islington
London
England 
with Sid Griffin and Tom Heyman
Thursday, November 29th, 2018
The Hen & Chicken
Bristol
England 
with Sid Griffin and Tom Heyman
Friday, November 30th, 2018
Ent. Shed
Bedford
England 
with Sid Griffin and Tom Heyman
Saturday, December 1st, 2018
Swiss Cottage Twyford
Winchester
England 
with Tom Heyman
Sunday, December 2nd, 2018
The Prince Albert
Brighton
England 
with Tom Heyman


​