Interview
Valerie June Interview: Songs And Skeletons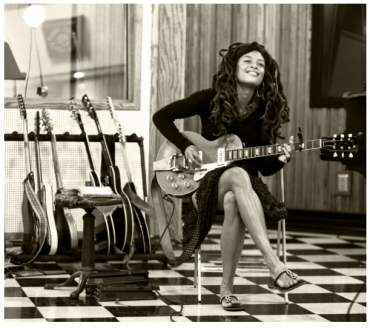 Valerie June's new album, The Order of Time, will be released March 10, 2017. It is totally stunning. It is understated and confident, pairing June's incredible vocals and sharp lyrics with instrumentation that is on the surface fairly simple, but reveals its subtle layers with repeated listening. I saw Valerie open for Sturgill Simpson the last time she was in Boston, and I highly, highly encourage you to get to The Wilbur on February 7 to catch her with a full band. It will be something special. Valerie was kind enough to take a few minutes to chat with us about her new record, where her songs come from, and how she collaborates with other musicians to bring the songs into the world.
RLR: You have said that some of the songs on The Order of Time are ten years old or more. How does it feel to bring them out and let them breathe?
VJ: It's like a really hot day, and then there's an April shower, and it cools you off and you want to dance in the shower. And people look at you like you're crazy. It's like that. [Laughs]
RLR: I read an interview in which you said you grew up in a singing family–that you might start a verse in one room and your brother or sister comes chiming in from another room, and then mom is jumping in on backing vocals. How much do you think that experience has influenced the lyrics you tend to end up writing, or the kinds of songs that come to you?
I really think that however a person writes is usually based on whatever they started with. I started with my voice, so I hear lots of voices, and different kinds of voices – the ways composers hear symphonies.
RLR: One of my favorite things about your lyrics that they are evocative but also very spare – how do you know when writing a song that you've got enough there or when you've got too much?
VJ: I write it all down, but not all of it makes the cut on the songs. I record all the voices I hear, and then the producer says, "No, that's too much," and it's good to have external eye on the songs. When I wrote with Dan [Auerbach], he said, "Let's try to say the most in the least amount." You learn these lessons from working with different people.
When I receive the song, sometimes there's seven minutes of lyrics. But a song like, "Man Done Wrong" started more like a trance. I started playing "Man Done Wrong" on the banjo, and I played this riff for days. One day I was playing it and heard this chant, and starting chanting that, and then the lyrics came.
RLR: I've heard you say that before—that you "receive" a song. What does that mean to you?
VJ: I'll be watering plants, or buying groceries, running errands, and I hear this beautiful voice and I start singing it too, having a little party in my head. It's coming to me from god knows where, and I'll record it on my phone, and sing the melody again and again and again and again and again.
I have books of skeletons of songs and sometimes the whole song doesn't come to me. "Tennessee Time," I didn't get the whole song, but Dan had the other side. It's pretty cool that there are other people in this world who have the other side of your songs. So I write them all down.
RLR: I'd love to talk about how your songs evolve. I think about "Two Hearts," which has this lightly strummed guitar right at the end, but in terms of instrumentation, it really features the B3 from Pete Remm–how do your songs start, and then change, once you shared them with others?
VJ: They have the colors, and I draw the picture. And I'll say, "This one's fuchsia," or "This one's green." I write kind of like a drawing on the guitar or the banjo, and then Matt Marinelli is the translator, because he speaks musical language. So I can say to him, "This is fuchsia and dreamy and kind of sparkles," and then he says to Pete, "Can you do such-and-such on the first stanza?" He's a wizard when it comes to sound and understanding what I'm going for in a song. And he looks like a wizard too.
RLR: In 2009, you were on the show $5 Cover, and that eventually translated into the break to work with Dan Auerbach on Pushing Against a Stone. What has been most surprising to you, or something you've learned along the way, over the past six or seven years?
VJ: Just the title, The Order of Time, sums it up. There's a beautiful order to time, it has it's hand in everything, and there is a rhythm. You plant the seeds, give it time, and nurture it, and water it and the right people come into your life. It's a fun thing to learn, because people say things like "It's the journey, not the destination," or "Leap and the limb will appear," but until you've applied it, it's not real.
So this is bigger than just playing music to me, it's about bringing these songs that exist in the unconscious world, and bringing them into the physical one.
Valerie June will bring her songs to the physical world at The Wilbur in February. It's part of a huge, sprawling, national tour. Get there, folks, and get this album; it'll keep you good company.
by Ken Templeton