Interview
Well-Rounded, Sweet-Sounding: An Interview with Mandolin Orange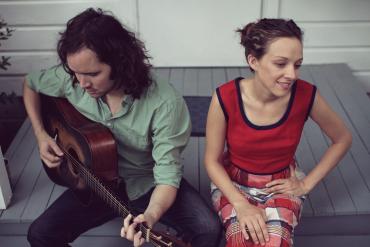 Last year Mandolin Orange's Such Jubilee wound up being the record I spun most from that year. Literally, the next most-spun record in my collection on received about 75 percent of the airtime I spent listening to the interweaving string arrangements and perfect harmonies of Emily Frantz and Andrew Marlin. There is something brilliant and magic in the way their voices come together and create this gorgeous sound. Both Frantz and Marlin also happen to be incredible accomplished musicians on multiple instruments, like really good … so that helps too.
The duo will be passing through Cambridge, Massachusetts, in just a week's time with a full touring outfit at the Sinclair with Joe Pug. I could list a million reasons you should go to that show if you're in the area, but the talk I had with Frantza nd Marlin is much more interesting.
Red Line Roos: At the end of 2015, Such Jubilee was a clear winner of the record that I spun most over the course of the year. There is a certain magic to that record. Were you guys happy with how it was received?
Emily Frantz: That is so nice to hear. We were definitely happy with how it was received. It was a little nerve-wracking putting something out after This Side of Jordan, because people really took to that one. A lot of people came to know us through TSOJ, so some part of us wondered how Such Jubilee would be received. But we were really proud of how it came out, so ultimately we were able to let go of that insecurity.
Emily only leads one song throughout the ten tracks. Was this a purposeful choice on your part, or was it just how the cards fell?
EF: That was just how the cards fell. I like to sing a few songs but really prefer to sing harmony. When the songs are newborn, we'll try some of them with me singing lead, but it doesn't always feel natural since Andrew writes them. Some of them just need to be sung by him, and that felt like the case for most of the Such Jubilee songs. But we're working on a new batch, and I have a handful of numbers to sing lead on.
Opening up on that theme, how do you guys typically go about writing? I know it differs greatly across bands and especially duos. Do you take the "sit down and write together" approach, or is it more of a "I'll bring this to you, you write some harmony and instrument parts and see where we end up" kind of a deal?
EF: Andrew does all of the actual songwriting. He comes up with the melodies and lyrics. Sometimes chord structures morph here and there as we arrange a song, but it's usual fairly established. We work on riffs and instrumental parts, harmonies, and arrangements together, and I am usually hearing the song throughout the writing process. That helps me come up with different harmony parts and melodies in my head, usually subconsciously, so that by the time we're playing it together, it's very familiar feeling.
As a mandolin player and strong supporter of the A-style, I have to ask: Andrew, did the scroll envy finally get to you? That new Sullivan is mighty purty!
Andrew Marlin: Ha! I have jokingly said so, but in actuality, it was the tone of the thing. I had the pleasure of playing Caleb Klauder's Sullivan and it completely changed what I was looking for in an instrument. After that, I began my quest for a Sullivan in hopes of finding an A, but ended up stumbling upon this F style. It's the kind of instrument that is teeming with so much potential that, as a player, you almost feel like you are holding it back. As far as the scroll goes, it has now become a part of life for me.
Something I notice about you guys is that you always tend to have beautiful poster or art work that accompanies your tours, records, and announcements. Do one or both of you have an artistic eye or hand, as it relates to visual arts?
EF: Neither of us is particularly prone to creating visual art, but we really like putting effort into merch. It's fun for us to have ever-changing, high quality stuff, and it's fun to get to know designers and other artists that way. I'm so entertained by the awesome posters people have created for us over the years and I think it can be a really special way to remember a show or a given tour. It makes things feel more fun and celebratory to us, and we hope it does the same for people coming to the shows ... It seems like it does.
Boston has a particularly strong folk and traditional roots music community around venues like Club Passim and Lizard Lounge. WUMB is a strong supporter of the genre, from well-known legends to the humble open mic-er. You guys have come through a few times at a host of different venues and seem to grow with each tour here. Have you gotten to experience much of the community around here, as you've grown as an act?
EF: We really love coming to Boston. We have a close friend from North Carolina who's an awesome fiddle player, Bobby Britt, who goes to Berklee. We've gotten to meet a lot of great Boston players and music students through him. There are so many great players in Boston and lots of positive music energy — people are motivated to play with one another and be as good as they can be, which isn't the case everywhere.
We got to play at the Lizard Lounge a couple of times and at the Sinclair for the Such Jubilee release tour back in May and have had nothing but stellar experiences at those venues. Back before we ever started touring, we were visiting a friend in Boston and played the open mic at Club Passim. It's fun to think about that, now that we get to come back to the area and play real shows.
On the same note, how was coming up in the music community in and around North Carolina?
EF: We love the North Carolina music scene too. It feels pretty diverse in terms of the kinds of music people are playing, and everyone is really supportive of each other and excited for each other's success. It's nice to have that kind of community of peers, especially in a smaller town. I think that's somewhat rare, and it is a big part of our decision to stay in Chapel Hill.
We have a lot of friends who play bluegrass, who we can pick with when we come home. But we also have a lot of friends who tour and record, and call the triangle area home base. So that makes us feel more connected with folks from home, even though we're not there much, because we're not the only ones who are gone all the time.
What does 2016 hold for you guys, aside from relentlessly touring the world and spreading your music?
EF: Pretty much that! We have a lot of new songs ready to record, and we're really excited about how they are feeling. We'll get into the studio at some point between tours.
We're also doing some touring this year as a quartet, including the Sinclair show. We've never felt as comfortable with an expanded live show crew as we do with this one, so we're looking forward to taking that out on the road.