Interview
From 'Whatever' to 'Mental Illness,' Aimee Mann Manages to Wise Up Against the Machine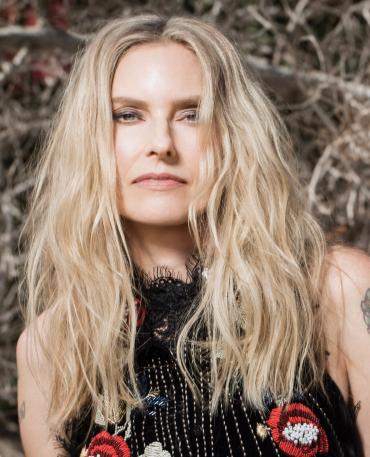 Among singer-songwriters who transformed from leading lady of a pop-new wave act on a major label to developing a substantially successful solo career mostly on her own terms, Aimee Mann is a rare American pioneer. 
As crazy as it sounds, the heady mouthpiece of an independent music movement also is one of the few remaining survivors from that era who still stands by her profoundly deep thoughts and sad truths no matter how many records she sells. 
The tender voice behind 'Til Tuesday's "Voices Carry" in the 1980s is going strong nearly 30 years after the group disbanded. When major label grief as a band member transferred to more hassles as a single act, she decided the DIY method was the best — and last — option left. 
On March 31, Mann released her latest solo record — Mental Illness — on her own SuperEgo label. Having recorded so many albums since Whatever started it all in 1993, she has lost count, even if it is her first solo project in five years. 
"It's the eighth or ninth (solo studio album)," Mann said over the phone on March 24 from Los Angeles. "I'm not sure. I got to add them up.'
If you include her exquisite holiday collection One More Drifter in the Snow from 2006, Mental Illness is indeed No. 9 in an illustrious series of provocative, beautifully written albums with lovely, charming melodies and soothing vocals that often belie the contents of the songs' biting subject matter. Or, for that matter, a record title that can be construed in different ways. 
Singer-songwriter Aimee Mann released
 Mental Illness, 
her ninth full-length studio album, on March 31.
Heavy Mental Machine
Compared to writing what she has called Mental Illness' sad, depressing songs, Mann said with a laugh that explaining the album title actually has proved to be more difficult. 
"It's that intersection of 'Well, it's accurate, it's more or less accurate that a lot of the songs do touch on mental illness, but it's also meant to be funny in that way that sometimes a very accurate thing can be funny," Mann explained in a wry tone that's become as much a trademark as her melancholy material. 
While certainly no Debbie Downer, as her past holiday variety shows with guests such as Paul F. Tompkins and Morgan Murphy attest, Mann owns up to the moody behavior she projects, but supplies a coda for public consumption. 
Her songs, she admits, are "sad and wistful and full of conflict and they're definitely not happy. They probably have more humor in them than is necessarily noticeable by everyone.
"Sometimes it's just me who thinks certain things are funny but … it's hard to know how people really see you. I would say I'm not as depressing as Elliott Smith and … I always found his stuff uplifting on some level because it was so honest."
Mann aims to be just as authentic, whether she's writing from experience or conveying the sadness of a friend or acquaintance. Her soft rock sound sometimes has enough sharp verbal edges to make your heart bleed. 
She calls "Stuck in the Past," about not making a choice in time, the saddest song on the album, while "Lies of Summer" deals with a sociopath and what happens with the realization that "somebody's a pathological liar." 
The saddest song she's ever written, Mann offers — "It's Not," the finale on 2002's Lost in Space — was created while experiencing exhaustion in the studio. "And it was this kind of feeling like, 'Boy, I can't go on,' " she added. "Not even being depressed, just like I physically can't keep going." 
Yet somehow she's survived. Having the ability to find humor amid the sorrow is a universal lesson many of us can apply to avoid hitting rock bottom. 
Bittersweet Magnolia
Remember, this is the artist whose painful pleas provided more than just the soundtrack to Paul Thomas Anderson's emotional roller coaster of a film Magnolia, which Roger Ebert called "a kind of operatic ecstasy." 
The magnificent three-hour movie, in which we're reminded, "We may be through with the past, but the past is never through with us," has Mann's delicate touch all over it, beginning with her extended cover of "One" as the miserable cast of misfits is introduced. 
Later, in a pivotal and memorable scene when most of the main characters are careening into physical or psychological oblivion, actors including John C. Reilly, Philip Seymour Hoffman, Jason Robards, Julianne Moore and Tom Cruise sing along to "Wise Up," Mann's devastatingly delivered piece of advice. Then she plaintively sets up the final scene before a dramatic electric guitar propels "Save Me" from the film's hopeful conclusion into the end credits. 
Through her husband Michael Penn's strong friendship with Anderson, Mann and the director found each other's simultaneous projects right for a Magnolia collaboration. 
"I was working on a record and writing songs and because we were friends, I was playing him songs and he was working on writing Magnolia and it just all kind of intersected in that way where certain songs he was hearing, he thought, 'Oh, this would fit well in this scene or this would make sense as a scene.' So it was very casual," Mann said. 
When Anderson first presented his idea of using the inventive delivery of "Wise Up" to one of America's most insightful songwriters, Mann said she wondered, "How can this possibly work?" 
Her reaction to seeing it on film was remarkably different, though. "Oh my God," Mann exclaimed. "That was amazing. I thought it was the most interesting and effective, evocative scene I've ever seen in a movie."
"Save Me," which begins playing as two of the main characters seem to reconcile their lot in life with each other after an epic examination of human fragility, was just as powerful, and Mann earned an Academy Award nomination for best original song in 2000. 
"I think that song is about feeling like someone else can solve your problems," Mann said. "That there's somebody out there who can figure it all out for you. … At the same time, the narrator sort of knows on some level that's impossible. But just having the hope that there's some answer that exists and that somebody else might have an answer."
Though "Save Me" and three other nominees, including "Blame Canada" from South Park: Bigger, Longer & Uncut, lost to Phil Collins' "You'll Be In My Heart" from the animated Tarzan, Mann never had her heart set on Oscar glory. 
"It was obvious to me that it wasn't something that I was gonna win," she said. "Somebody who's better known just had a better chance." 
Yet it did provide a career boost. "Being able to say, 'Oh, this song is nominated for an Oscar makes people take you seriously in a way that maybe they didn't before," Mann said. "I think there's a lot of singer-songwriters that are out there. I think it sort of … it's like shining a spotlight on you and saying like, 'Look over here.' It picked me out of a crowd. And I think that was really helpful, just to help people refocus and maybe take time to listen more than they would have before." 
That didn't necessarily make Mann happy — at least when it came to writing songs. But her current emotional state or mood doesn't dictate what she puts on paper — the music does. And "if I'm playing around with a piece of music that's sad," the chords "sort of suggest lines … and the lines suggest melody," explained Mann, who starts by writing impressions or ideas longhand on a clipboard with a big stack of paper before moving to the computer to develop a song. 
The Beat Goes On
That process has continued to work as a solo artist for 24 years, and though the music industry has undergone major upheaval, she's maintained an even keel over that period with manager Michael Hausman, the same man who's been beating the drums for her since he was with 'Til Tuesday. 
Their problems began when Epic Records wouldn't release 'Til Tuesday from their contract, leading Hausman to start managing other bands while they were in limbo for three years. 
"I think he's a smart guy and he knows what he's doing and we've been friends forever," Mann said of Hausman. "He's good at problem-solving. Like any manager, he has to really roll with the punches in this business." 
Mann does, too, and was reminded of our first interview in 1994 for a story that led The Denver Post's Lively Arts section under the headline "Women Rock the World." 
Seventeen years before Mann and Sarah McLachlan costarred in a Portlandia episode titled "Aimee," the two were featured in the article. McLachlan was basking in the glow of Fumbling Towards Ecstasy, which went on to sell 3 million units in the U.S. and 5 million more in her Canadian homeland, while Mann, still trying to get her solo career off the ground, was upfront about dealing with the same contractual issues she had with 'Til Tuesday.
Looking back now, Mann believes she was disgruntled by a hit-making machine mentality that made it "very difficult to kind of keep your head in the game" and was "completely at odds with the idea of being a songwriter." All she needed was "a little bit of encouragement," and "as soon as I could get out of the major label system, I got out." 
If she's considered a pioneer or trailblazer, Mann acts like it's almost by default. Trying to sell your product online was in its infancy stage in the '90s, so she got a distribution deal and looked for other singer-songwriters who might be interested in joining her. 
"You know there were very few people who wanted to leave the major label system," she said. "I think it just maybe felt too risky." 
So Mann went her own way, and continued to form strong bonds with gifted collaborators such as Penn (remember Acoustic Vaudeville and their "Two of Us" Beatles cover?), producer Jon Brion, Ted Leo (her partner in the duo project called the Both) and bass player Paul Bryan, who produced Mental Illness and her three albums before that. 
If the four men share a common trait, Mann said, "They're all really good musicians. (Brion) was a great producer. We wrote songs together that had a really nice melodic sense. I feel like I learned a lot about music from him. Michael's a great songwriter and he's also a producer (who's now scoring films and TV )." 
Bryan, who arranged the elegant strings on the album, is "really good at listening to what you want and figuring out a way to deliver it," Mann said. "He's also a guy with an incredible work ethic, so he's a very good influence," though she joked that it's too bad he plays bass because it means less time for her on an instrument that's been a mainstay since before she and Hausman co-founded 'Til Tuesday. 
During Mann's tour that begins April 20 in Washington D.C., she will play acoustic guitar backed by Bryan on bass, keyboardist Jamie Edwards (who played piano on the album) and Matt Mayhall, the Both's touring drummer. Expect the album's enchanting lead single "Goose Snow Cone," which she performed earlier this week on The Late Show With Stephen Colbert (see below), to be a set-list favorite. 
Mann called Leo a "brilliant" musician who's "idiosyncratically interesting as a musician," having been self-taught like Brion whereas she and Bryan attended Berklee College of Music. 
"So it's interesting working with people who have figured out things on their own versus people who learn stuff in school," she said. "And it's kind of good to get those perspectives." 
Despite all the industry changes and pop's increasing popularity that Mann believes is "like confection, it's candy," she and Hausman still "are just trying to figure it out a day at a time, like, 'What can we
do?' "
Yet the sad songs keep coming, and the career objective remains the same, too.
"You don't like to predict the future and say, 'I'm gonna be doing this forever,' but the goal for me is just to keep making records in some form because that's what I like to do," she said. "I like writing songs and making records. That's my favorite thing." 
Leave it to Aimee Mann to leave us with a happy thought.
GOING CRAZY WITH AIMEE MANN
In keeping with the Mental Illness theme, Mann, who visited "Crazytown" on 2012's Charmer, agreed to answer a few "crazy" questions:
What's the craziest song you've written?
"There's this song called 'Superball' (that includes a fuzz-bombing electric guitar) on I'm With Stupid. It's kind of an odd little, off-the-wall number for me." 
Opening lyrics
I'm a superball / 
You can bounce me once and I ricochet /
Around the room /
I'm a superball /
If I pick up speed get out of my way
Craziest song you've ever covered?
"I'd say a They Might Be Giants song called 'Anna Ng.' And we tried to cover a Gary Numan song, 'Are "Friends" Electric?' which is such a great song but it has this spoken part that I could never deliver. We rehearsed it but we never actually played it." 
Craziest decade of your life?
"Probably my 20s. I think everybody's crazy in their 20s. When you're in your 20s, you don't know what you're doing. You flail around a lot. You're trying out a lot of different things. You probably drink too much as a general rule." 
Craziest thing you've done on a dare?
"Oh gosh. I'm not much of a dare taker. I'm pretty uncrazy in that way. … For me, the craziest thing I've ever done is driving three blocks without putting my seatbelt on. That's as crazy as it gets over here." 
Craziest guilty pleasure?
"Probably when I used to box. That was fairly crazy because I actually did sparring and was really into it but I think I've aged out of boxing as a sport."
Crazier idea: singers acting or actors singing?
"I feel like there are a lot of actors who can sing but they sing in sort of an actor-y way that's really embarrassing. (Any examples?) No, I would not want to insult anyone to their actual face. I think Gwyneth Paltrow has a really good voice. And I think Emma Stone has a really good voice. So I think that, in general, the actors singing probably beat out the singers acting."
What's the one thing that really drives you crazy?
"I think when I want to just sit quietly and people keep chatting impulsively and … can't leave any thought left unexpressed, that drives me crazy." 
This article first appeared in The Huffington Post. Publicity photos by Sheryl Nields. See Aimee Mann perform "Goose Snow Cone" on The Late Show With Stephen Colbert.