Interview
Whitney Rose Finds Triumph in Texas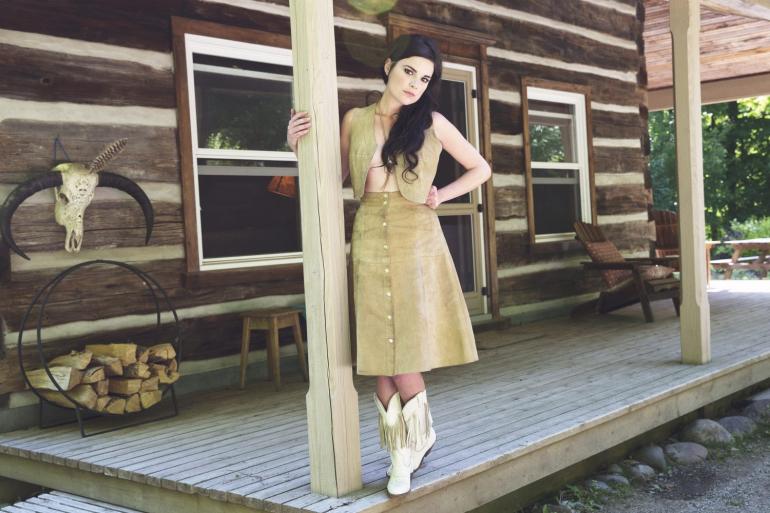 It's no small mark of distinction when you can enlist the Mavericks to participate in your sophomore set. But it's even more impressive when the sound you produce yourself sounds so confident and assured even the first time out. That proved to be the case with Canadian ex-pat, now an Austin resident, Whitney Rose. Two album on -- and with a third effort in the works -- she's not only found a common bond with her producer, the Mavericks' Raul Malo, but also managed to establish a sound so vintage it could be easily mistaken for a crop of seasoned standards written by Hank Williams, Kitty Wells or any other classic country crooner. 
Rose's new EP, South Texas Suite, marks a continuum in her trajectory as well as a reflective pause. A self-described love letter to her adopted state of Texas, it boasts four new Rose originals and two appropriate covers, all of which find her asserting her affection and enthusiasm for the place she's so happy to call home. Now on the verge of her longest tour to date -- one that will take her across the U.S. and to Europe as well -- she graciously agreed to speak with No Depression about her past, present and future.
Lee Zimmerman: With your second album and current EP, you seem to have formed a great working relationship with Raul Malo of the Mavericks. How did that come about?

Whitney Rose: Shortly after I released my debut album, I got a really great booking agent, and he put me on a gig in Toronto to open the show for the Mavericks. I had always been a fan of the band but I had never seen them live. I was completely blown away. There aren't many bands that can hold a candle to what they do. I was very smitten with the band and thankfully they liked me too, because they invited me on a couple of tours. By the second tour, I had gathered up enough material to make a record, so if I asked Raul if he would be interested in producing it. It was pretty straight forward how it came about, but I'm so grateful I was put on that bill with them. Not only have I learned so much in musical terms, but they've also become some of my best friends in the world.
So on your next regular album, will you be working with them again?
Actually, I've already recorded it. I was in Studio A in Nashville last week with Raul and Niko Bolas for five days. I'm going back to Nashville to do a little tidying up, and then the record will be completely done. We're hoping to have it out by the fall.
What was the idea? Was the EP a way to bridge the gap between albums?
I was anxious to put some music out. When I signed to Six Shooter Records in Canada, we were looking at their release schedule and it became evident that it was probably going to be fall of 2017 before they could put out a new album. Around the same time I was completely falling in love with Austin and its music scene, and so I really wanted to do something in Austin specifically using Austin musicians. I had these Texas inspired songs, so it became really obvious what to do. I'm really proud of it and really glad that we did it.
It's your love letter to Texas?
It sounds kind of cheesy, but that's really what it is.
With only six songs, how did you narrow down the list and come up with the final line up?
I did have a number of other songs done. When I put together a record, I always like to include a cover. I love covering other artists. Very soon after moving to Austin, I met the artists whose songs I cover on the record. One of the first shows I went to see in Austin after moving here in late 2015 was with Brennan Leigh, and she did this song called "Analog" that I absolutely loved. She hadn't recorded it yet, so I asked her if I could cover it. We became friends, and I'm delighted she let me do it. I basically share all the sentiments that she brings up in the song and I love the message in the song itself. I wanted to do it because it hadn't been recorded and it's such a great song. The song "Bluebonnets for my Baby" by Terri Joyce is of course, about the state flower of Texas, so it's very much in my wheelhouse. The simplicity of it really struck me, The song itself just jumped out at me. I fall in love easily I guess. Again, it was just such a great song and I wanted more people to hear it. And since all the songs on the EP are about the state of Texas, it just felt appropriate to have it on there.
When you cover someone else's songs, is it ever intimidating? Do you think about the writer's reaction to your version and hope that they feel you've done it justice?
Absolutely. It's scary. When you write a song, it's like giving birth to a baby. You're creating this thing, and of course it's scary to take someone else's baby and say, "I think the baby should be raised like this!" But it's also really exciting about giving new life to someone else's work. 
You've been highly lauded with all kinds of praise for those first two albums. Does that set the bar higher? Do you now think that you have to reach the same level you did before in order to keep the critics happy?
Not even a little bit. I only have only one goal, and that's to hopefully keep getting better. I like to be constantly learning and creating. Maybe I should be. nervous It's probably healthy. But I just want to keep moving forward and improving. That's what I keep in mind. 
If you were to think about outside opinion, it would probably hinder you.
Yes. Absolutely. (laughs)
So how would you describe your trajectory, from the first album up through the one you just completed? 
I'm actually very happy with my trajectory. Obviously I'm not a super star by any stretch of the imagination, but while it's been a very slow move forward, I do feel like I am moving forward all the same, and I'm very grateful for that. Even the fact I'm getting to make my third album assures me that I'm doing something right. Being in the music industry and having experienced a few music scenes, it's very hard to keep putting out new music. I know incredible musicians who have great sings, but they don't have the means to put out records. I'm very grateful for the position I'm in. I'm also very grateful that it has been a slow trajectory, because it gives me so much opportunity to learn, and to learn at my own pace with some great people beside me. It gives me more of an opportunity to build a solid foundation, where if I had a really successful song off my first album, I wouldn't have any touring experience. But now I have a lot of of touring experience. I'm getting ready to start a 3 1/2 month long tour in America and Europe, and I don't know if I would have been equipped to handle that a few years ago. But now I feel very prepared. You have to be grateful for what you have, right?
Exactly, and you've done quite well. Did you grow up in a musical family?
My mother and my grandparents were very much country folk, and they actually ran a bar when I was little. There was country music playing in there constantly. And sometimes they would take the party home after the bar closed. So there would always be a guitar going around. There was a lot of Hank Williams and Johnny Cash. They were huge fans. So I learned that stuff even before I was really conscious of it. 
Where did you grow up?
Prince Edward Island. It's a tiny little island off of the east coast of Canada. It's a beautiful, beautiful spot. There are a couple of towns, but even the capitol is located in a small town. It's pretty gorgeous, a lot of farmland and some beautiful beaches. There are a lot of celtic influences, but for whatever reasons, that's not what my grandparents were drawn to.
When did you make the decision to become a professional musician?
I kind of always knew I wanted to be a performer when I was little. I did a lot of theater, and when I went to high school, we moved around a lot, I lived in a lot of different places and tried my hand at a number of different things. But music was always around. I played guitar, but it had never really crossed my mind to play my own songs. I was very content to play other people's songs. So I taught myself three chords and just started writing. I have no regrets, but I do kind of wish that I had started earlier, if for no other reason than to be better at playing guitar. I had a pretty late start.
So how did you land your first recording contract?
I was living on a farm in the middle of nowhere, and I was in a relationship that ended kind of badly. So I packed up everything and moved to Toronto. One of the first places I went to was this bar called the Cameron House. It had just come under new management and they had just started a record label. They hadn't put out a record yet, but they were talking to artists. I ended up playing there and it became like a second home to me. It's a really beautiful close knit community. Cameron House has put out a bunch of records, including my debut and Heartbreaker of the Year. We're still really good friends, and I'm really grateful for everything the label did for me. And there was a natural connection when I signed with Six Shooter records last year. Six Shooter is so supportive and amazing and really committed to what they do. They're really good people. I'm really proud to be with them.
Why do you think it is that so many wonderful Canadian artists don't get the kind of credit and recognition in the States like they do back home?
I think it's all about where you focus your touring and where you focus your marketing. When I put out Heartbreaker, that's  what prompted my move. Now, after moving here, I'm so happy with how much touring I can do in the States and how much support I get when I do. It's just about where you focus.
Was it scary making the move to Austin?
Not really. I had moved around so much in my life. It just felt like the natural next step. It felt right from the beginning. Originally it was supposed to be a two month residency at the Continental Club, but after the first couple of weeks there, I had just as much of an audience that had taken me years to build up in Canada. It told me that this was the place I was supposed to be. It should have been scary, but it really wasn't scary wasn't at all. Plus, my manager is also my partner, so that made it a lot easier. We made a lot of friends very quickly. Steve, the owner of the Continental Club has been very helpful to me as well. He put me in touch with a lot of musicians. We rolled in Austin at 2 in the morning after having never been in Texas before, went to bed, and the next morning I met my new band. We rehearsed and then that evening we played our first show at the Continental Club. Fortunately, it all worked out.