Interview
Willie Watson: Gearing Up for "Folk Singer Vol. 2"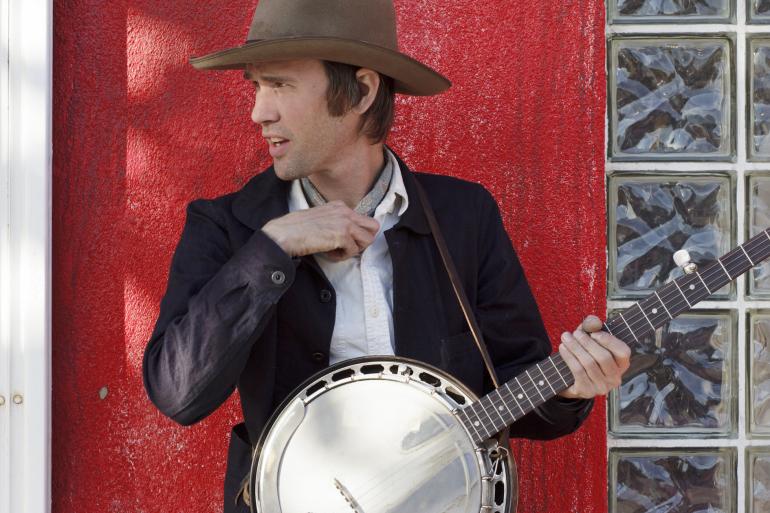 Willie Watson is a purveyor of old and traditional American folk songs. His debut 2014 solo album Folk Singer Vol.1  is a solid confirmation of that. The singer, songwriter, master guitar and banjo player, and former founding member of Old Crow Medicine Show is coming to Ireland, and in advance of his Open House Festival gig he answered a few questions by email to help us catch up with what is happening with him.
First of all, he assured me there will be a Vol. 2. But will it contain any new material? "If by new material you mean songs that I've written," he said, "the answer is no. Volume two will be a continuation of Volume one, and consist of old songs."
Vol. 1 was produced by Dave Rawlings, who reckons, "Willie is the only one of his generation who can make me forget these songs were ever sung before." Watson takes this compliment in stride when I asked him about it; he's obviously well used to working with Rawlings by now. "I guess it doesn't make me feel any different than I already did," he said. "I really respect Dave and I'm glad he likes what I do."
To be honest though, unlike Mr. Rawlings, there are plenty of songs on the album that I hadn't heard before. That gives the album an extra aspect to it: education. It brings these beauties to people like me, who don't know them already. I wondered whether that would ever have been an element in Watson's decision to make the record in the first place. "I think finding the obscure songs has a quote-unquote cool factor," he explains, "and I suppose that it gives people the impression that I am deeply tapped into the source. But from my perspective, I like to find the songs that have a little something extra. Maybe a cool twist on a vocal line that hasn't been heard before, or [that] gets your attention, in a unique way."
The 10 tracks on Folk Singer Vol. 1 offer us Watson's take on songs by artists such as Utah Phillips, Woody Guthrie, and Lead Belly. On "Rock, Salt and Nails", you can hear that cool twist -- the smooth vibrato, a provoking rise in volume at times, and at other times he lulls us with a quieter sadness.
Other favourites include "Midnight Special" and "Mother Earth", with the lyrics:
I don't care how great you are
I don't care what you're worth
when it all ends you got to go back to Mother Earth.
With songs like that, it seemed to me that there's a good bit of social meaning in Folk Singer Vol. 1 , and I wanted to get Watson's take on that. "Well, I suppose that every song in any genre is always addressing social issues, in one form or another," he said, "whether it's a love song, a work song, or a mule song. They're all written by humans and address some kind of human experience. But as far as addressing things like political issues, that's not important to me at all."
Watson left the band of brothers that is Old Crow Medicine Show in 2012. He was an integral part of their engine, and he has described the years since his departure as "scary" and a "learning curve". I wondered how things had settled now that his solo album has been out for more than a year, and he told me, "Sometimes I feel like I'm in the right place, but other times I feel like an imitator. ... I think as an artist, it's natural for me to have doubts about what I do and for it to never be good enough."
With his arrival in Ireland in the next couple of weeks, I was curious to hear what sort of reception his solo work has received in Europe. "Well I haven't been anywhere in Europe outside of the UK and Ireland as a solo artist," he said, "so I don't know what they think in France & Germany and Spain -- other than a few FB posts here and there. But in England and Ireland and Scotland, I think it's been well-received. But you know, those folks have always had an affinity for American roots music and American country music … The Irish are really good listeners."
Is it tough being away from home?
"Being on the road can be exhausting," he said. "And sometimes when I'm going for a month at a time, I feel a bit disconnected from my daughter, and have to catch up. ... [Becoming a father] changes everything. It gives me something to care about other than myself. ... I definitely sing more kids' songs, and sometimes that can find its way into my show."
I was keen to hear what he thinks of his local music scene in California. "Honestly, I don't really like a lot of it," he said, "so I haven't paid attention for a really long time. The music scene in general is oversaturated."
As for what he's reading, Walden, Life in the Woods is his book of choice at the minute. It's a book about living simply in natural surroundings, written by transcendentalist Henry David Thoreau. Mr. Watson however also told me that he is presently listening to "The pop stations on Sirius XM, and the hip-hop stations too." So my picture of him living in a cabin by a lake is somewhat altered, with all that radio playing in the background.
What about Dave Rawlings Machine? Is there anything lined up for his return to the U.S. after the tour? "I would imagine that we will go on the road again, but no plans right now." For the time being it seems he has "nothing other than Folk Singer Vol. 2" on the agenda.
Video Credits: LiveandBreathing, Audiotreetv