Interview
The Wood Brothers: Paradise Lost and Found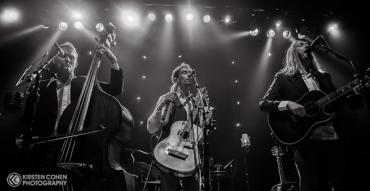 There's nothing better than a strong, subconscious theme within a body of music – a thread that is as ambiguous as life itself; one that sparks curiosity, causing inquiries to appropriately land on several inexact answers. And it's no easy task translating such ideas where lyrical imagery meets musical relevance. The Wood Brothers are champions in providing cohesiveness and empirical relativism within a tangible art form. Their current album Paradise is full of wonders, and I had the pleasure of speaking with Chris and Oliver Wood on the stoop of 3rd & Lindsley on a sunny December day in Nashville.
It was barely a few minutes into the conversation when a man approached the three of us. His clothes were maybe only slightly more raggedy than mine; although, he did point to the backside of his pant to show the detached jean pocket flapping in the wind, exposing his underwear – the equivalent to a most literal sign of "anything helps." Oliver offered him paper money and explained how we were recording. The man apologized, but there was no need for worry. Not even a breath later, and a woman appeared – all smiles, she asked the brothers if they were familiar with Nashville. "Well, kinda," Oliver said with an unassuming inflection. The unspoken irony of the moment delighted me so. A few more passersby would engage us, and by the end of the interview we were all broke and scrounging for change ourselves.
The title Paradise is overlaid on the album's cover art, set to the juxtaposition of an image with a donkey being lured by a carrot on a stick. Though this classic image contains a blanketed meaning, it's the uncertainty of what paradise is and is not that begins to unravel the thread tying together each song in the collection.
Initially, for me, the carrot impressed a certain idea of punishment versus reward. But the implications of desire and longing quickly became clear. "Chris came up with this great hook, 'I can't live without desire,' " Oliver said as we began to open up on the topic. "You kinda already have what you want, but you don't quite really have what you want… always, as this perpetual cycle."
We agreed early on in the conversation that desire begets passion begets art. In its grandest version, art is the expression of humanistic creativity. At its base – albeit pedestrian, art equals life in the moments we take a breath. As we work towards betterment for ourselves and those around us, longing and desire shape the practice of our play. But even if, perhaps, the carrot symbolizes the motivating factors for acquiring happiness, the sad truth exists that it's seemingly just out of reach. And historically, that unattainable attribute leaves desire shadowed as a problematic root rather than an enlivened source of aspiration – a nagging taunt rather than a playful tease.
As if paradise is always there and never here, Chris added, "If you do happen get it [that one thing], then something else appears, farther away. Maybe desire is just part of the deal being alive in the universe." The origination of longing and desire (not mentioning the great lengths to which they reach) is where both the light and the dark can be found – a ruminating theme within The Wood Brothers' writing career. And with no specific title track, each song explores varying personifications of the "carrot" and perceived paradise.
A favorite example is "Never And Always" – a collaboration with Derek Trucks and Susan Tedeschi, who lends her full-bodied blues voice to harmonize: "Salvation just out of reach / Guess that's the way it might ought to be." The song goes on about needing that driving force (anyone's claim to what it may be) in order to avoid a wayward path leading us no place close to a so-called "home."
Chris and Oliver both agreed that "Snake Eyes" contains most of the meanings synonymous with the album's overarching theme. The immediate image I gathered was shooting craps and the gambles of life. The brothers collectively said, "Yeah, sure, but maybe, too, it's about fear, and anything ominous." We may take solace in the idea of choice, but it's the risk of chance on which we bet. And the passion-rooted inclinations we have open easily to vulnerability, where doubt and fear shroud desire –  leaving you damned if you do, damned if you don't. "You have to be fearless to try things," Chris said. "You're going to fail. Persistence is the only way to survive your failure. But what else is there to do? Not do what you love? No, you have to learn how to be honest and vulnerable… and still be able to sleep at night."

"Two Places" summarizes the challenges of a family life filled with touring; one that teeters on the edge of "living a beautiful dream while chasing another," and between yearning for home when the road gets long, only to find a song-filled head while surrounded by family. Beyond that, though, lies impermanence. The song is partly about the loss of their mother (who instilled into the boys her poetic sensibility for the unknown) and this curious look at wanting to behold the after-life, but by way of forsaking mortality.
They've honed their writing to a level of vagueness where open-ended metaphorical accessibility resonates well when applied to the American landscape. Yet, with most obscurities and analytics aside, "American Heartache" ends: "I only feel bad when I can't have it all."
It was their independent musical paths – not bloodline, necessarily – that professionally brought the brothers together when Oliver randomly sat in with Chris during a Medeski Martin & Wood set; instinctually, they began collaborating thereafter. "Over the years, we've learned how to collaborate, because, first, you have to learn how to share your ideas," Oliver said. Speaking on the efficacy of a writing partnership, Chris observed, "Subtle suggestions can keep you from tangents; ideas that just aren't going to work." The intimate connections we create with our ideas cause a level of preciousness that makes detachment difficult. 
Recording now for nearly ten years under their familial moniker, Paradise marks a list of firsts for The Wood Brothers. Namely, the album stands as a fully self-produced piece. "What's really neat about this album is how we wrote songs in all these different ways where Chris had a full song or I had a full song and we helped each other edit," Oliver said. When asked about self-doubt as it pertains to their art, Oliver again noted their roles as each other's editors, and said, "Everybody has it; I guarantee you, no one is immune to that. It can be paralyzing because everything is based on decisions when you're creating."
Having received a steady stream of reassurance during the making of their last album The Muse – produced by Buddy Miller, Oliver continued, "Buddy is a great confidence builder, if nothing else. He just makes you feel like you're nailing it. And we had to do that for each other on this record. I had plenty of self-doubt during that time." Oliver then became animated to express the fluctuation between confidence and hesitancy. With a fist in the air, he said, "Yeah, we're doing it!" And then to imply nervousness, he began fake-biting his nails to sheepishly ask, "Wait, are we doing it?"
On past albums, due to physical distance, the brothers worked in a piecemeal amalgamation manner to connect ideas. The decision to relocate to Nashville – with Oliver moving from Atlanta and Chris coming from Woodstock – provided for proximal nuances otherwise lost in technological translation. "We started collaborating when the ideas were in their rawest, most unfinished form," Chris said. "We were able to start songs from the ground up, sitting in a room together." The seeds for some of the songs were discovered through this improvisational aspect. During the process of creation, when the source of such is emotional, are the moments where the art is experienced (rather than conceptualized) and expressed without rigidity. This approach allowed for, what Chris called, "Beautiful accidents." 
Adding to it all is Jano Rix – the third and honorary "brother" – whose name also receives song credits on Paradise. Rix rounds out the trio as a percussionist, playing the zany suitar – an acoustic guitar converted into a percussive instrument where, instead of strumming, you beat on it. The instrument is endearingly referred to as "shitar" by the group. 
The unofficial stamp of familiarity which embosses The Wood Brothers' sound may be best described as innovation that finds length through grounded roots. It makes sense for an artist to continue working within their developed realm of language, because the evolution of their work is more like a continual redesign rather than an altogether reinvention. "There are only so many paths within American music," Oliver said of their lineage. We always seem to go back to the more fundamental things… what we came up listening to as kids. And, of course, we have our primary influences, like, 'What would Ray Charles do?' "
The high-necked capo flutter of a finger picked guitar opens "Heartbreak Lullaby" – sonically reminiscent of "Postcards From Hell" and "Keep Me Around." When asked about the decision making process of repeated musical similarities, Oliver said, "It's a balance. We try to do something a little different each time, and not repeat ourselves exactly." Oliver mentioned how Chris turned him on to African folk guitar, and through emulation you can hear this underpinned inspiration.
"I think it depends on the song," Chris said of their provisions. "Sometimes you use music to write a song – a vehicle to write the lyrics. In some cases, the music is preciously connected to the song itself." He then paid mention to Wilco's well-known Yankee Foxtrot Hotel and the accompanying documentary as a source of inspiration for deconstructing arrangements. "Writing a song is one thing, but then to create the sonic pallet for the actual recording… you can do whatever you want." A case in point is "Raindrop," where the brothers gleaned an instrumental part from a previous song in order to complete the newer track's ending – this way, they had a solid demo on which to apply alterations.
Although modern formulaic writing styles are ever present, the brothers enjoy riding the rails to where there are (err… were) no rules. Noting a recent studio session with Buddy Miller, Steve Earle, and Shawn Colvin, Chris highlighted the building blocks of current writing trends. "When I learned the forms, the songs felt like they were built with bricks: verse, verse, chorus, verse, bridge, and so on. But when you trace the music back, and you don't even have to go that far… The Everly Brothers, for example, didn't have forms like that. So it's nice when you can hear some of the things that have influenced these current formulas, but before they were ever formulas."
"A lot of field recordings are like that – there are no rules," Oliver pointed.
"Plus, it's harder to find your own voice when you're being influenced by something current. But if you take a few steps to find the influences of your influences, and then soak that up, allowing it to go through your modern filter… chances are you'll come up with something more unique than what's on the radio now," Chris finished.
With all things considered, it seems presumable that their trajectory will continue to evolve as is evident by their generationally morphed catalogue to date. The main hope, though, is that the physical demands of performing (a real worry for most professional musicians) don't interfere with the potential longevity of their careers, because they both admit to having a wellspring of ideas.
But at the end of the line, and no matter the dissection, connectedness is the undeniable theme. As Chris came to say, "Art allows people to understand their humanness. And the more we do this, the more we realize its purpose." The realization that we're not alone in our experiences is one commonality we can all share.
"Sometimes this can feel like a weird job to have," Oliver said. "Sometimes it feels indulgent… being under the lights and all. But that only lasts so long. And if that's all there was, it would be awful. Every once in a while, though, we're reminded that this is important work. People will come up and say, 'Hey, that album really got me through a tough time,' or, 'I lost my mom, too…' That's when it feels worthwhile."

In some effort to round up all the unknowns, a loose, and slightly laughable motto emerged: try not to try whilst trying. But with truth, it's easy to mock an idea because of its simplistic complexity – and surface contradiction. The underlying notion is to give up, and perhaps that, too, causes uncomfortableness due to our expectations based in desire. And it's not about apathy. In fact, it's about the quality of your sincerity when paying attention to the things that call on you; the things that happen when you're truly hands-free. 
After all, our ability to cope may be at the core of humanity. "It all leads to surrender and acceptance… if you want to be able to deal," Chris said. "You have to surrender to the unknown, and your lack of control – it's with intention, but you're not attached to the outcome."
And in a sense, as Chris reflected, "Maybe we've already found paradise. We just don't know it. And we have to live with this in hopes of that."