Interview
A World of Joy: Listening to Ruthie Foster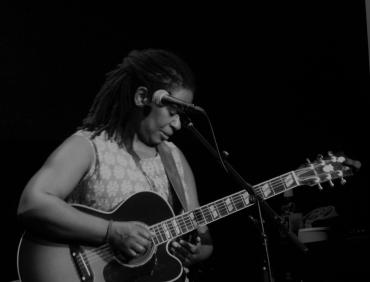 Aristotle explained that all religion is drama, and that all drama is the evocation of pity and terror through means of pity and terror. If the Athenian philosopher was alive to witness the jubilant mastery of musical possession that is a Ruthie Foster live performance, he would have made an amendment to his theory: joy and ecstasy in the service of hope. Foster does not present the cheap and superficial hope of desire for personal reward, but the spiritual hope of justice, happiness, and in her own words, the belief that "love heals and love lives, and time will reveal a brand new day."
When I sat down with Ruthie Foster three hours before she stormed the stage at City Winery in Chicago on September 14, we began a conversation with the identification of the genesis of her eclectic musicality.
"A lot of it is gospel, because I grew up in central Texas, and I grew up in a gospel family, and that's something that never goes away," she explained, "The blues and soul comes from my dad, because he listened to the blues all the time – artists like Lighting Hopkins – and he also listened to soul. He loved Ike and Tina Turner, and went to see them play when they were on the Chitlin Circuit. Eventually, I found a way to blend it all together to create my own style, and some of that came through learning how to play guitar with James Taylor and Beatles song books."
Ruthie Foster studied commercial music – piano and vocal composition – at McClennan Community College in Waco, Texas – where she claims, through formal instruction, that she learned how to play every '80s pop song a critic could possibly name, along with Italian opera. After graduation, she enlisted in the Navy, while seeking a reprieve from music. The temporary hiatus likely resembled the rumblings of a dormant volcano preparing to erupt for the first time in decades. He ungovernable passion – soon turning into an internal force of nature – followed her even as she attempted to retreat.
Working on a helicopter squadron in San Diego, with Uncle Sam as her supervisor, she requested the night shift with "guys who would listen to rock 'n' roll all night long." "They schooled me on rock," she remembered, "and I schooled them on the blues."
Soon she became the singer and piano player in an eight piece Navy funk band, operating out of Charlestown, South Carolina. "Wherever our Admiral went, we went," and they played throughout the Southern United States, and the Caribbean.
Ruthie Foster, as she makes abundantly clear on her records, including the newest release, Joy Comes Back, and in her dynamic live performances, sings with enough strength and spirit to shake the foundation of Earth, and her songs provide an injection of joy into even the darkest and bleakest corner.
Her background demonstrates dexterity. She could likely sing anything, but the gospel is her first love, and her expression of gratitude and admiration for her two most important and impactful influences – her mother and grandmother. As she announces in her own song, "Singing the Blues," blues is her other lover – "I've been in an out of soul / Even rock 'n' roll / But a little Bobby "Blue" Bland never, ever gets old / I keep singing the blues…"
The blues was always in Foster's heart, but the navigation of her own spiritual geography came only within the last fifteen years. "Blues and gospel are hand in hand for me. They are the same to me, because it is about the emotion that they both bring out. Gospel, as a kid, was the first music I loved, because it was about how it made me feel. My uncles could do, what we called, 'turn church out,' with just an emotion," Foster said, "Blues does the same thing. But, I have to tell you this. I've always liked blues, but I could only begin to relate to it and understand it within the past 10 to 15 years, and that's because blues is about living. It is about giving a witness to ups and downs of life."
Blues, as an artistic idiom and musical medium, always appealed to Foster melodically, but it was not until she acquired the world weary wisdom only time and experience can provide that she connected with it lyrically. Ralph Ellison, one of America's great authors who attempted to infuse the energy of jazz and blues into his literature, defined the Blues as "a biographical chronicle of pain expressed lyrically."
Ruthie Foster, and the influence she cites as seducing her to love the power of the blues, T Bone Walker, are not unique in their ability to feel deeply. The emotional turbulence of life is universal to sentience, but they do possess the gift of expression. Through the mastery of form, Foster can not only give life to emotion, but allow for it to resonate with an audience in such a way that it becomes accessible, relatable, and shareable.
Her uncles, mother, and grandmother achieved the synthesis of visceral reaction and artistic cultivation in a Texas church, and Foster showcased the same skill at City Winery. "That's what you are hearing on my records," Foster declared and asked, "Am I locking into those two emotional types – melodically and lyrically – of blues and gospel?"
One of the highlights of Foster's performance at City Winery was the acapella number, "People Grinnin' in Your Face." Foster, a pint sized fireplug with a beautiful smile, commanded the stage like a combat general, shouting out Son House's lyrics of self-empowerment. As her mannerisms grew more animated, and her voice rose to the heights of sonic power, it is likely that even some of the corpses in the nearest cemetery felt what she was communicating.
The efficacy of her performance finds equality only in her diversity. Her reinvention of "Ring of Fire" transformed the Johnny Cash hit from a country barnburner into the soft and sensual soundtrack for midnight romance at a jazz lounge. She sang singer-songwriter selections, along with a moving cover of The Staples Singers' classic, "The Ghetto." She closed the show, by request, with a sweet and tender version of "You Send Me."
Her own songs, like the soulful "Stone Love" and the raucous "Smalltown Blues," comfortably coexisted with such magnificent music, boasting of their own strength.
Her tutelage in a Janis Ian masterclass, and her time in New York as a member of Pete Seeger's choir, taught her the non-negotiable necessity of honesty and authenticity: "People might not precisely be able to tell what is different between a performance that is real, and one that isn't, but they will know something is different. Whether I am singing blues or gospel, I have to have my own story in there."
When I told her that her performances "turn church out for me," Foster replied, "It is about energy, and that's what you are picking up on. I'm feeling the same thing when I'm singing. People who do what we do (touring musicians), wake up at ridiculous hours, spend most of our time on the road, we have to find food, we have to get rest – the time on stage becomes the release. I'm not up there just smiling for nothing."
Foster's smile shined brighter than the spotlight in which she stood during her rendition of "Phenomenal Woman." The song sets music to the Maya Angelou poem of the same name. Foster told me that whenever she played North Carolina, the great poet and memoirist would send her flowers as a gesture of friendship and appreciation. An anthem of women's empowerment, it connected closely with many of Foster's performances.
The two elements Foster is hoping to enhance, strengthen, and awaken through the generosity of her musical gift are heart and joy. With a caveat of "not wanting to get too political," Foster said that driving around the country demonstrates the absence of heart in much of American culture and life: "We've gone from a superpower to a spectacle."
Ruthie Foster is not a political performer, but in a country continually lost in the miasma of its own cynicism, her mission to inculcate and resuscitate joy becomes one of subtle subversion.
"The one consistency in all my music is just the joy," Foster explained, "That's what I want you feeling and hearing."
"Where do you get your joy?" I asked.
"When I sit down on the floor with my six-year-old daughter, Maya, I find joy. She teaches me about joy. I get joy from singing. My family. My home in Texas. And there's something to be said for having tried and true friends."
Critics and theorists often claim that art is representational. They are correct, but at its best, art is also presentational. Art can present the world of the imagination, and allow it to compete against the limits, actual and artificial, that exist on the tedium of everyday experience.
As Foster shouted to the heavens, as she swayed her hips, stretched out her arms, and lost herself in her music, the audience found a world of joy.
David Masciotra is the author of Mellencamp: American Troubadour (University Press of Kentucky), Metallica (a 33 1/3 book from Bloomsbury Publishers), and , Barack Obama: Invisible Man (Eyewear Press).