Column
The Yawpers: "You Need A Hammer AND An Egg To Make A Mess."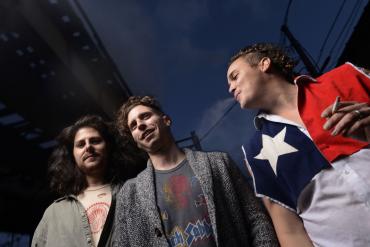 Rock and roll. From Denver, Colorado. Rock and roll with a contempt for apathy that rages through its lyrics, its videos, through its outlook. Scene by scene, landscapes and mean streets are blended with swampy garage rock and the ability to intermittently beguile.
The Yawpers offer fiercely intelligent thumping Americana punk-blues with a leaning towards the fierce and an alt-country affinity for the little guy. And it is those smarts, presented in a furious guitar and drum box set, that leave the notion at the back of your head that things could become unmanageable any given point.
They're a 3-part piece. Words-man Nate Cook writes the lyrics. An ardent reader of literature, from Whitman to Camus, it shows in his writing.  "Writing is done by me," he said. "The arrangements are much more collaborative." Cook is on guitar and lead vocals. Jesse Parmet on lead guitar adds harmonies and moody slide guitar, while drummer Noah Shomberg grounds it all, making good use of tom drums. "Both Noah and Jesse are classically trained," added Cook. "Noah studied at DU, Jesse at Berkley in Boston."
It should sound smaller than it does; the guitars are acoustic and there is no bass guitar. They have their ways, though. They have their techniques to ramp up and fully utilize all that they are as a band. They also have large reserves of pent-up energy (I think I've heard that called facilitative anger in some quarters). And they roar. They yawp. Once the sound kicks in, it demands that we move ourselves. It's like the chips are down; mentally or physically we have no choice but to notice what's going on.
The band's name stems from a line in the Walt Whitman poem "Song of Myself" – "I sound my barbaric yawp over the roofs of the world." It's a guttural crow, a complaining bark raining down on us. Our place, our distinct connection with our surroundings, can no longer be accepted without question – and this is translated in the Yawpers recent release American Man.
Take "Burdens" from the album for example. Friendly, nearly whimsical opening bars pretend the song isn't about getting the hell out of there before your surroundings eat you up. "I'm getting out of here while I'm young enough to run," the increasingly desperate 17-year-old protagonist tells us, as his hometown haemorrhages its youth. Title track "American Man" is a disaffected boot in the arse. "Living my life with my head in the sand/ Praise the Lord, I'm an American Man."
They recently signed to Bloodshot, which released the American Man album. However this isn't Yawpers' first release. There was the 2012 self-released full-length Capon Crusade, which offers the same level of in-your-big-fat-face rocks and riffs, and is presently on its third print run. There was also the EP Savage Blue, and a bootleg covers record Good Songs/Shitty Versions.
It is not just their sound that packs a wallop, though. Their videos are out to shock, and they do. The video for "Doing It Right" from American Man could easily be X-rated – it's violent – consider yourself warned if you are going to watch it. Meanwhile, the horror of the denim shorts that are sported in the video for "Silicone Love" from Capon Crusade set the scene for base behavior, and left this viewer truly unsure whether to laugh or disapprove. (I laughed. Which I strongly disapprove of.) What I see on the screen is of course only part of the picture. How I process it, what I do with it, is up to me.
The Yawpers are presently rabble-rousing their way across stages in the US and will be for the next few months. In the middle of that, songwriter and frontman Nate Cook took on the task of answering questions I had emailed. Driving through somewhere on that tour bus, Cook sat down and did his homework. That's a 7/10 Nate. Could try harder.
Cara Gibney - American Man isn't pulling any punches; there is a lot of scorn in there, a lot of frustration. "Watching the masses toe the company line/They kill the gardens and dilute the sublime." You tell us "No silver-tongued man can inherit the earth" and "The life we won is being given away."  Are you writing these lyrics with the intent of putting out a message in your songs about what is going wrong? Or are those words simply what pour out when you start writing?
Nate Cook - They are both. Those quotes specifically I identify with on a personal level. Others on the record I wrote as an exercise of character writing. But those ones definitely are me talking. Message? I don't know. The act of saying them is more the message than what is being said. The words obviously bear weight for me as an artist, but it's a personal weight. They aren't a decree or a call to arms. But I want the record to be an example of saying what you need to say, and not cowering behind tropes carved out by someone who hasn't been relevant in decades. You can be honest, and individual, and speak articulately. Grow a pair, and go fuck some shit up. 
CG - Your videos are sounding your "barbaric yawp over the roofs of the world." There is relentless violence, gasoline huffing, abuse of the homeless, blood, a severed penis, discarded limbs, and an overall disregard for any rules that have ever been written, or offence that could be taken. Can you tell me about these videos, please? Why are they so in your face? Who made them? What has been the reaction to them?
NC - I wrote and directed all of them. They were designed to just shock people into listening. They were also meant to reflect the American id in a Freudian sense. All violence, disregard, revenge, and pussy. That's the stupid side of our aesthetic, and acts to balance the more nuanced parts of what we do. You need a hammer AND an egg to make a mess. We haven't had as much negative response as I would like. Maybe next time. 
CG - How did this all start? How did all three of you meet and decide to belt out that sound with two acoustic guitars and a set of drums?
NC - We started in a speakeasy in Boulder. The band was born out of a solo residency I had. Jesse started joining me on stage. Then we added a drummer. Presto. 
CG - Where did the musicianship come from? Are you from musical families? Were you involved in bands at school?
NC - None of us come from particularly musical families. We just liked it, and tried to get decent. We have all had bands since our teens. 
CG - I listened to an interview with Nate where he talked about how, when you are in a band, you need to take it seriously. He said that the band comes first; girlfriends, paying rent, and eating come in at #2. Is that still the case? Is the rent getting paid nowadays?  Is that policy working with the girlfriends?
NC - Rent is getting paid. My wife and I are figuring things out. I still don't eat sometimes. 
CG - You are touring the US right through to mid-January 2016. A Facebook post on Nov. 20 said "Fort Collins. Sold the fuck out."  The tour seems to be going well then? Does it make any difference having Bloodshot behind you on this tour?
NC - Bloodshot has been a godsend. They give great backrubs, and feather my hair. This tour has been insane, and is just getting wilder. 
CG - Are you living the dream? If there was one thing that would make it better, what would it be?
NC - The dream? Fuck. I don't have an island or anything. But people are listening to what I'm doing. What else can you ask for as an artist? An audience is paramount. 
CG - You will be having a break from touring over the holidays – what will you be doing over the break?
NC - We have three weeks off in the next four months. I'll probably take the chance to enjoy some privacy, and forget that I'm about to do it again. 
CG - In a musical nod to the season can you give me your favorite holiday/Christmas tracks and tell me what it is that's so good about them.
NC - This one speaks for itself.  (Lou Reed, "Xmas in February" from New York)
CG - During this holiday season, is there a message you would like to send out?
NC - Stop fucking killing each other.
Video credits: TheYawpers, BSHQ, Jam In The Van