Live Review
Americana Music Awards Festival & Conference (Nashville, Tenn. - September 17-21, 2014)
on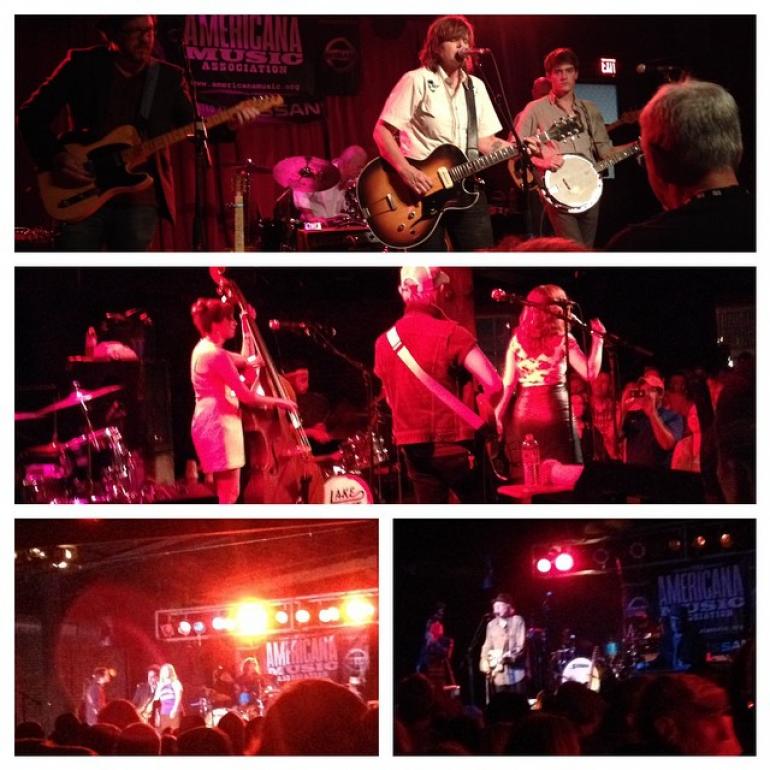 Let's just be clear, right up front, I don't usually attend music conferences or festivals. Crowds just aren't my thing. But, with the Americana Music Awards Festival and Conference is right in your backyard... it's hard to say no. Plus, a lot of folks that I wanted to shake hands with or expose my ears to were going to be there.
Knowing my own personal limits, I skipped the awards show and late-night gatherings on Wednesday so that I could be fresh for a 13-hour Thursday. After hitting a morning mingling session and a very loud Canadian luncheon/showcase, I hid for 30 minutes — a strategy I'm including in the forthcoming An Introvert's Guide to Music Conferences — to gear up for a pretty solid digital marketing panel about the Power of Free.
Come mid-afternoon, I ambled over to Blue Bar for an unofficial showcase put together by Korby Lenker that also included Angel Snow, Matthew Mayfield, Tim O'Brien, and Mindy Smith, all of whom I'd never seen perform before. Let me just say that these are all very talented artists, but hearing music in a sparsely populated bar in the middle of the afternoon is just an awkward experience. Luckily, I got to catch up with one of my oldest friends along the way.
From there, it was over to the Mercy Lounge enclave for the rest of the evening. Not sure why, but I absent-mindedly skipped LeeAnn Womack's opening set. So, Amy Ray kicked my night off and did it just right. With a relaxed, easy approach, Ray threw down the best solo set I've ever seen her do. And the crowd — including Parker Millsap — seemed to enjoy it as much as I did. Robert Ellis followed her up with a tight, but fiery set led by "Only Lies," which he performed the night before on the Ryman stage.
I purposely only caught the last few minutes of Angaleena Presley's set because... well, just because. Once that was over, I scurried downstairs to bask in the wonderment of Buddy Miller. As good as he is on his own, the whole thing rose even higher when Womack joined him for "Golden Ring" and "After the Fire Is Gone." Not even Miller could contain his sheer excitement at the end of that first one. It was absolutely pitch-perfect in the way that real country always is.
Back upstairs, Millsap blew the roof off and won over any newcomers or naysayers in the room. It's impossible not to love this kid and his talent. If you like Brandi Carlile, do yourself a favor and give Millsap a listen. With only 15 minutes before Lake Street Dive's set, I boogied back down to hear a few Trigger Hippy tunes because... well, Joan Osborne. Those guys do it up as ragged and raw as Lake Street Dive does it up funky and fun. Even listening from the side of the stage with bass amp woes, LSD is a good time to be had. Looking very forward to their next Nashville appearance.
Still reeling from all of that amazing music, I made sure Friday night was a lot less jam-packed. It was my first time at Third Man Records and, wow, what a place that is. The Haden Triplets opened the night with a band that included Ry Cooder, John Hiatt, Joachim Cooder, and Gabe Noel, the happiest bass player I've ever seen. The crew worked through 45 minutes of harmony-laden folk songs, along with a couple of comic interludes courtesy of Cooder Sr. Next up, Jonah Tolchin and his band turned it up to 11 with a set of blazing blues from his fantastic Clover Lane album. I like this kid so much that I also made sure to catch his Saturday set at Grimey's Americanarama.
I deemed Saturday night to be Ladies' Night with a slate of Liz Longley, Lera Lynn, and Caroline Rose. Going it alone at the Rutledge, Longley offered a lovely start to the evening. Alternately reminiscent of Jonatha Brooke and maybe KT Tunstall or Anna Nalick, Longley has a gorgeous voice and a knack for melodies that both go wherever she needs them to. Over at the High Watt, Lynn was backed by some of Music City's finest — drummer David Racine, bassist Annie Clements, and guitarist Todd Lombardo. As promised on Twitter and despite bad stage sound, Lynn rocked, closing the performance with "Out to Sea," the best cut from her new album, The Avenues. Unfortunately, the audio difficulties continued for Rose's set and she had a harder time with it than did Lynn. Still, the kid tore it up well enough to impress a lot of people — me, included.
Though Jed Hilly and his AMA crew put together a pretty seamless and varied week of events, on Sunday, I was glad to heed the wisdom of the next chapter in the Introvert's Guide... "Day 5: Stay home."