Live Review
Everything Is Electrified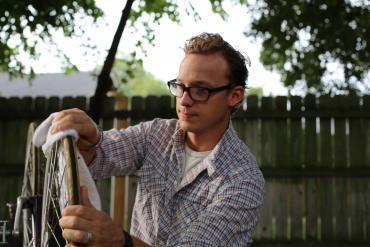 Ben Sollee was nine years old when his public school teacher introduced him to the cello. As he recounted the story at the Mothlight in Asheville, North Carolina, last night, the Kentucky native comes from a line of musicians who then introduced him to Appalachian fiddle tunes, R&B, and various other styles. He namechecked Pete Seeger and Ani DiFranco as heroes and leaned into a 90-minute set that borrowed from his rather extensive catalog and that of some other artists (Anais Mitchell, Tom Petty). There is much to unpack when you consider all these facts together, but with a Ben Sollee show, it's best to just chill out and open your ears. 
That's what the people in the front were doing -- sitting criss-cross-applesauce on the floor, their heads bobbed and swayed comfortably as Sollee's bow sawed and bounced across his strings. To his left, percussionist Jordan Ellis owned the rhythm, alternating between his snare/bass/hi-hat kit, cajon, and an electronic pad he'd programmed for both additional drums and synthesized tones.
They pulled out a lot of old favorites -- "Captivity," "Prettiest Tree on the Mountain" -- and dove through some newer stuff from their 2016 release InfoWars. For crowd favorite "The Long Lavendar Line," from InfoWars, Ellis added a track recorded off a cell phone's talking GPS. But except for that canned voice, the entire set was an excersize in how much art and noise two people can make, organically, with their hands. Answer: quite a bit, all of it good.
The night was opened by local singer-songwriter Utah Green, whose understated story-songs creaked and chirped through her artful voice, acoustic guitar, and banjo. She closed her set with a touch of cute overload, as her five-year-old son kneeled on a stool and sang along in a second mic. 
Sollee and Ellis's set ended just as unexpectedly, with both playing different parts of the cello for a rousing instrumental number and sealing the whole deal with a turn on "Blue Moon of Kentucky."
But first, their "new friend Olivia" danced her ass off all over the stage -- hair flinging, feet stomping, arms flailing, pelvis jutting -- as the duo made its way through an electrifying version of "Electrified" (from 2011's Inclusions). Sollee told me later that she has been traveling around South America, picking up moves. Earlier in the day, they'd recorded an improvised cello-and-dance number in the River Arts District, with a videographer who's following him on tour. That'll be something to see.