Live Review
Fairport March On, With A Spring In Their Step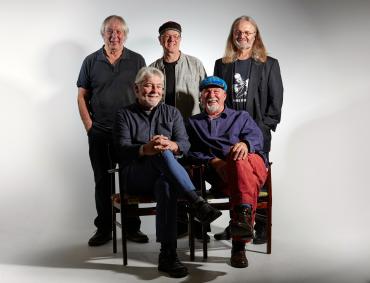 Fairport Convention, who have made such a contribution to creating English folk-rock, turned fifty last year. After such an illustrious career, multiple line-up changes, tragedy and triumph, they could be forgiven for taking a well deserved retirement. Quite the opposite though, they are back on the road once again with their spring/summer tour of the UK. Then we look forward to their annual festival at Cropredy, Oxfordshire in August. How do they do it?
After their opening night at London's atmospheric venue, the Union Chapel, my response would be is that they remain a working band. Fairport's knack is to blend material from their beginnings all the way through to more recent releases. 
This is probably Fairport Convention's most stable line-up ever; guitarist Simon Nicol, a founder member who, apart from a four year break in the early 1970s, has been with the band ever since. Bassist Dave Pegg joined in 1969, and the even the newbies have been around for a while now; violinist Ric Sanders joined in 1985, multi-instrumentalist, Chris Leslie and drummer/percussionist Gerry Conway since the late 1990s. Where did the time go?
That this group still love performing is evident from the moment they took the stage. The spring tours are a more relaxed affair with the band seated in a line. That did not diminish the energy, or commitment, if anything that set-up tightened their bond with the audience in this magnificent venue.
The two openers bookended the 1970's; the traditional 'Ye Mariners All', then a Fairport composition 'Walk Awhile'. Both were based on a solid reel to both engage the audience and limber up the band. The pace dropped for 'Genesis Hall', a classic from 'Liege & Lief', the album generally credited as having started English folk-rock. That Fairport remains committed to the road couldn't be better emphasised than 'Our Bus Rolls On', a cheery nod at fifty years on the road and still going. It does sound related to 'Walk Awhile' though.
Perhaps it was the venue, the seated format or both but the individual playing really came across perfectly. Nicol's gentle picking opened 'Step by Step' and as Leslie sang he and the others subtly added their layers. The rest of the first set just showed the scope of these musicians. 'The Rose Hip' was a beautiful recital highlighting the delicate strings of Sanders and Leslie, 'The Widow of Westmorland's Daughter' a bawdy romp, the allure of musical life in 'the Wood and the Wire' finishing with a rousing 'John Gaudie'. This is a band most definitely loving what they do. And that's despite some gags from Sanders that redefine "cringe".
Part two started deep into the back catalogue with one of my favourites, 'Sir Patrick Spens', Fairport's take on the old Scottish ballad of maritime disaster. Whether Sandy Denny on Liege & Lief or Dave Swarbrick on 'Full House' or Simon Nicol tonight, this always gets the hairs on the back of the neck tingling, "the King sits in Dunferline toun, Drinkin the blude-reid wine, 'O whaur will A get a skeely skipper,Tae sail this new ship o mine?"
Sandy Denny was also remembered in both her haunting, 'Farewell, Farewell' and 'Fotheringay'. It was forty years ago last month since her passing and these were sensitive and moving tributes. 'Banks of the Sweet Primroses' completed this wonderful particular delve way back.
Then the set got slightly becalmed  slightly lost its way, or perhaps that was just my mind stuck at Fairport shows of long ago. However, proceedings were brought into sharper focus by a blistering tom-tom and percussion slot by Conway that led into the magnificent 'Matty Groves'. Whether acoustic or full tilt, this is one of Fairport's most powerful songs that encapsulates their ability to adapt a traditional ballad of love and tragedy into a contemporary song to prolong its life for decades more.
There is really only one song to beat that, so for an encore they did 'Meet On The Ledge'. It is one of the most emotional songs I have ever heard and it still does it for me. No more required.
Pegg's parting shot was "see you at Cropredy". I suspect that will apply to many in tonight's audience. This particular member of the audience (whose first Fairport show was not far off fifty years ago) departed having heard songs that feel like old friends yet have not lost the allure that made them such close companions in the first place.