Live Review
God's Love: DELIVERED to Beacon Theatre, NYC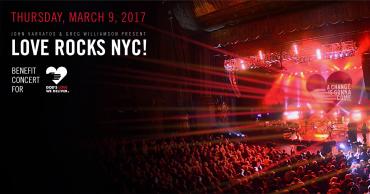 At least twice a year, Anne Margaret Daniel (who, by the way, is very, very BUSY with her F. Scott Fitzgerald book) and I circle back to life's big questions: Have we missed the opportunity to see Larry Campbell play with Derek Trucks? Will we ever have that opportunity?
Now, this alone would be worth a princely sum, but throw in four intermissionless yet perfectly orchestrated hours that include:
Susan Tedeschi
Joe Walsh
Warren Haynes
Amy Helm
Mavis Staples
Jackson Browne
Billy Gibbons
Michael McDonald
Dr. John
Gary Clark Jr.
Patty Smyth
John McEnroe
Bruce Willis
Keb' Mo'
Aaron Neville
Marc Cohn
Anthony Hamilton
CeCe Winans
Lisa Fischer
William Bell
Blind Boys of Alabama
Jackie Greene
Sam Moore
Catherine Russell
Joan Osborne
Tash Neal
Marcus King
Will Lee
Paul Shaffer
Steve Gadd
Shawn Pelton
Eric Krasno
Jeff Young
Bill Murray
Alecia Chakour
Mark Rivers
Evan Barker
Ron Blake 
Elaine Caswell
Dennis Collins
Joe Fiedler
Mike Flanigin
Aaron Heink
James Hynes
Chrissi Poland
Nicki Richards
Andy Snitzer
... and you have outstanding value for the price of the ticket. 
On Thursday, March 9th, 2017, American gospel, soul, R&B, rock, and pop music champions, torchbearers and standard bearers­ — younger and older — gave of their time and talents to benefit NYC's own God's Love We Deliver. The inaugural annual benefit concert was held at The Beacon Theatre, where I have spent some of the best nights of my life. But, for 30 years, God's Love We Deliver has been hard at work, bringing meals and other sustenance to scores of homebound New Yorkers.
The House Band
When Larry Campbell is in the house for four hours it's a good night -- always. Here, he joined Steve Gadd, Shawn Pelton, Eric Krasno, and Jeff Young, all under the direction of CBS Lifer/bassist Will Lee and CBS Lifer/keyboardist Paul Shaffer. Kudos to all of them, and to the entire killer horn section and backup singers (I only recognized Tedeschi Trucks Band's Mark Rivers and Alecia Chakour up there but am trying to get the complete list of participating artists.)
Highlights
For openers, Bruce Willis and his harmonica jammed with the house band on "Tenth Avenue Tango." It was a grand choice for Amy Helm and Jackie Greene to follow and bop around on "Yes We Can Can."
Indomitable Mavis Staples, who joined Amy Helm for a stirring "May The Circle Be Unbroken," invited audience participation on "I'll Take You There."
"Keb' Mo' did one of the most beautiful covers of The Beatles' "In My Life," necessitating I dab my eyes.
He played with Tash Neal (The London Souls) and the hearty and hirsute Billy Gibbons (ZZ Top) for "The Thrill Is Gone."
And, you can fast forward to later in the night when Gibbons took a beat or two between ending "Get Out Of My Life Woman," and launching into "La Grange."
A swooning sax was featured on the Anthony Hamilton/Catherine Russell duet of "Night Time Is The Right Time."
Gary Clark Jr., who did a searing "Born Under A Bad Sign" with William Bell, brought out his own band to play "The Healing" and "When My Train Comes In."
You had to figure that Warren Haynes would perform "Soulshine."  After doing so, he brought out Marcus King for "Bring It On Home."  I have developed a little fascination with the enormously talented King, whose eponymous band has been produced by Haynes, and who has been a featured guest with Tedeschi Trucks Band and Gov't Mule.  I heard him New Year's Eve, when he joined Gov't Mule in a tribute set to those musicians we lost in 2016 (particular standouts were David Bowie's "All The Young Dudes" and King's haunting vocals on Prince's "Purple Rain.")
Jackson Browne soothed with his classic, "Running on Empty," and gave us another gift by leading the Blind Boys of Alabama and Michael McDonald in Dylan's "I Shall Be Released."  (I dare anyone to show me a mature male voice in popular music that has aged finer than that of Michael McDonald.) 
Inspiration was abundant in Michael McDonald's/Catherine Russell's duet of "Ain't No Mountain High Enough," Aaron Neville's cover of Sam Cooke's "A Change Is Gonna Come," from which the benefit lifted its tagline, and the Blind Boys of Alabama's collaboration on "People Get Ready."
Susan Tedeschi and Derek Trucks opened their set with "Loving You Is Sweeter Than Ever," welcomed Haynes for "Space Captain," and Jackie Greene for "Turn On Your Love Light."  For that platinum blues tune, which was made famous by Bobbie Bland (a favorite artist that Tedeschi Trucks Band often covers), Sam "Soul Man" Moore joined in.  For me, and, judging by some of the comments I overheard, for others, this was a zenith of the night. The conspicuous joy on everyone's face, most especially Trucks', was contagious and made you giddy. (What a Truckshead commits to is keeping one eye on Derek's fingers, as that is how we are most accustomed to having him communicate, while simultaneously keeping the other eye on his face, since we so delight in catching fleeting glimpses of what we imagine must be going on inside there.)
In addition to performing "Ain't That Good News," Sam Moore did perform his signature "Soul Man." While most now associate that tune with The Blues Brothers (obviously, they weren't in attendance at the Beacon, but, hey, Bill Murray was).  Me?  I think of Steve Forbert, who named his twin sons Sam and Dave. (Matter of fact, I thought Forbert would have been a welcomed addition to this line up, and I yearned for him to lead us in a chorus of "Romeo's Tune."  Oh, well, maybe next year.)
Joe Walsh, in fine fettle, tweaked his "Life's Been Good" lyrics to reflect that people no longer write letters but emails, even if rock stars continue to tear out walls and have accountants pay for it all.  (I wondered if there was some decrepit portrait of him backstage, as he looks and sounds and plays so good, as if time has not passed – however, indeed, that was true for just about everyone on the stage.)
Patty Smyth, erroneously introduced as Patti Smith, strutted her stuff about the stage in a ballsy and affectionate cover of Zeppelin's "Whole Lotta Love," accompanied by her husband, John McEnroe, on guitar.
Marc Cohn's appropriately subdued and moving cover of the gentle Van Morrison "Crazy Love," sharply contrasted with the kinetic solo performances of the dynamic Lisa Fischer and CeCe Winans, on "Gimme Shelter" and "Hey Devil," respectively.
Very, very late in the night, just when you thought he probably wasn't going to show, Dr. John took to the piano to do "Such A Night," with Joe Walsh playing guitar. As has been reported, there were glitches for the first couple of moments, but then everything was smooth sailing once more.
We knew from the get-go that the finale would have to be Susan Tedeschi leading all performers in "With A Little Help From My Friends," a frequent encore of Tedeschi Trucks shows (though my favorite encore of TTB still might be the Sly Stone medley, and, for a split second, I wondered if they instead might end the evening with "I Want To Take You Higher").  After such a terrific show, the fear was that it would all go to hell in a handbasket, as these unwieldy finales often do. With the late addition of Joan Osborne (sadly, she didn't make any other appearance that night, perhaps due her engagement at the Carlyle), and I think absent Dr. John (I did not spot him returning to that crowded stage but maybe he was back there somewhere), the gigantic ensemble convened for a big goodnight kiss of "With A Little Help From My Friends" that was executed beautifully.
And, if you lingered after their final bow, you could watch the orchestrations of trying to get all performers positioned for photos. (I had turned my back for a second and cannot say what transpired in that instant, but when I looked back to the stage, a stagehand was flat on his back, and Susan Tedeschi was reflexively reaching out her arms and helping to pull him to his feet. It brought to mind that magnificent photo of her -- I believe she credited it to Renee Zellweger -- taken backstage at a show, right before going on: Her guitar strapped across her chest, she was removing a load of what she later explained was her kids' laundry from the dryer.)
Some Background Worth Mentioning
Love Rocks NYC was spearheaded by New York City realtor Greg Williamson and fashion designer John Varvatos, two socially- and philanthropically-minded, music-loving businessmen. In addition to funds from other private donors, the night was underwritten by corporate partners such as the Wall Street Journal and Q104.3. So, all proceeds from the sold-out event went to support GLWD. I work in the nonprofit sector and have enormous respect for the teams who make these gigantic undertakings logistically, artistically and financially work. It ain't easy. 
Why We Should Give a #*!&
While many organizations such as GLWD derive most of their operating budgets from private donations, cuts to their public support would be greatly felt since demand for their services always increases.
When GLWD was just getting organized, early in the AIDS crisis, many of us, still quite young, found ourselves cast in the role of caregiver to our friends, neighbors and family – those who, seemingly overnight, turned from robust young people in the prime of their lives, to very old and sick people.  GLWD pioneered this new terrain of outreach and care, empowering us with information, and providing us with example, template, and protocol. My generation of New Yorkers are better people because of the work of GLWD.
As they did then, GLWD still delivers nutritious meals and sustenance to homebound New Yorkers. It was noted in client testimonial videos, and in person pitches by GLWD CEO Karen Pearl, and part-time emcee Bill Murray, that when a client has children and/or a caregiver, GLWD includes meals for them, as well.  Just as important to note: For those without families and caregivers, food delivery is often the sole social interaction some homebound people are afforded daily.  And, in those instances, the food deliverer is the one who can and does make all the difference in keeping that client safe.
Take Away
It's true that the audience for Love Rocks NYC was skewed a bit older, as the ticket prices were high and the music classic.  I spoke to many people who schlepped their own children along, not just to expose them to the music that means so much to them, that is their sustenance, but to instill in younger people that our New York community is one characterized by painfully hard-won wisdom, compassion and empathy.
As we all age, and as GLWD has evolved from that single-disease platform to address those impacted by hundreds of illnesses and conditions, we all must contemplate if, and to what extent, we are our Brother's Keeper. Well, at least, for the next four years.
And, speaking of life's big questions: What really stands between any one of us and disaster, anyway?
A simple twist of fate, yes?
Maybe, just maybe, we'll all be singing that next year (hint, hint...).