Live Review
A Little Time(bomb) Off Ahead: Old 97s + Vandaveer
Old 97s
on December 31, 2016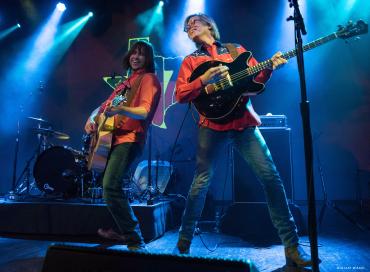 "It's just a passing phase… we're all 1's and 0's in waves… we are temporary, but man, it's so beautiful."
So goes folk-pop gem "A Little Time Off Ahead," the lead track off Vandaveer's The Wild Mercury. On New Year's Eve at The Hamilton, the lyrics took on added meaning, tracing the arc of a tumultuous year and reassuring us that we'll find our footing together.
The Kentucky-by-way-of-DC band, fronted by Mark Charles Heidinger, kicked off the evening in fine fashion with a set that included uptempo singalongs like "Roman Candle" and darker, angular numbers like "Spite," the noir atmosphere of the latter augmented by J. Tom Hnatow's pedal steel.
In "Drunkard's Doom," vocalist Rose Guerin took center stage with a saturated, sinuous fire-and-brimstone ballad.
The 2016 album's titular reference to Dylan's description of Blonde on Blonde signals Vandaveer's attention to Americana traditions of storytelling through song.
But the band's sonics stretch the fibers of the genre, layering spacey guitars over a muscular rhythm section (Robby Cosenza on drums and Blake Cox on bass) to create depth and mercurial textures.
In a year when we bid farewell to a Starman, one of the Mercury 7, and a princess-general from a galaxy far, far away, the vignette in "The Wild Mercury" of ancient astronauts downtown at the arcade, running high scores on Asteroids, was unexpectedly poignant.
With Phillips Saylor of Stripmall Ballads making a guest appearance on banjo and acoustic guitar, the evening was one of friends and collaborators from near and far.
This was the second time that Vandaveer and the Old 97's have performed together on New Year's Eve at the downtown Washington, DC venue.
For the alt-country trailblazer Old 97's, it was a chance to preview material from the forthcoming Graveyard Whistling, which arrives February 24 (ATO Records). The irreverent "Jesus Loves You" showcases Rhett Miller's signature wit and wordsmithing (he makes wine from water, but I just bought you a beer).
The 97's played two sweaty, energetic sets, running through crowd favorites like "Barrier Reef," "Rollerskater Skinny," and the rollicking, tongue-in-cheek introspective "Longer Than You've Been Alive" (off 2014 release Most Messed Up), alongside deeper cuts and an evocative cover of David Bowie's "Five Years."
Bassist Murry Hammond took the lead for several songs, including "Valentine" and Merle Haggard's "Mama Tried." The band's kinetic energy had the crowd dancing all night as Ken Bethea moved back and forth, leaning over the stage edge and into the throngs of delighted front-row fans.
As we neared the end of 2016, Rhett paused and asked the venue to project the countdown clock on the wall. Up flashed a live feed from Times Square.
At moments, Philip Peeples would glance over his shoulder at the video feed, smiling and anticipating the moment when the music stopped and champagne flutes were lifted up. Someone handed up party hats as band and crowd together counted down the final seconds.  "Auld Lang Syne" followed, transitioning from an intimate crowd singalong to a raucous rock number.
The 97's continued through the second set, ending with the encore of "Timebomb." Rhett leaped off the drum riser as couples and friends cheered and embraced.
To cross the threshold into a new year at a concert -- a community formed within the interstices of song and story -- is a special thing indeed.
More photos on Flickr (Vandaveer here, Old 97s here).
Follow Vandaveer's sojourns (Facebook, Instagram, Twitter).
Stay up to date with Old 97's (Facebook, Instagram, Twitter).
See you out there, friends.