Live Review
Mary Gauthier/Ben Glover at Kings Place, London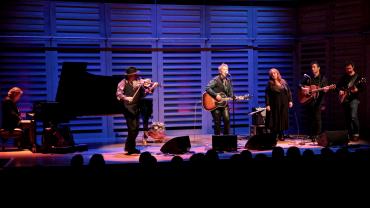 If this show had to be described in a single word, "partnership" would be a strong contender. Both Mary Gauthier and Ben Glover have recently released albums that are collaborations; Gauthier's Rifles and Rosary Beads with war veterans and on Shorebound Glover works with several of today's finest artists. Both sets were enhanced by the contribution of a single musician; guitarist Colm McClean with Glover and virtuoso violinist Michele Gazich with Gauthier. To complete the partnership the show ended with both performing together then they were joined by a surprise appearance before their own UK tour, Gretchen Peters and Barry Walsh.
Kings Place is a modern 400 seat auditorium that serves a variety of musical purposes; the acoustics are superb but the place does have a rather utilitarian feel. Ben Glover was the perfect choice to break the ice and with his easy going Irish charm he soon warmed the place up forming a friendly bond with the pleasingly full hall.

Glover's set came largely from Shorebound, opening with 'Keeper of my Heart'. In a way, the sparseness of the surroundings complemented Glover in that there was nothing to distract from the music, his voice full of feeling and McClean's economical accompaniment. At a similarly modest pace easing into his set came 'Ride the River', a collaboration with Kim Richey.
Glover's chat between songs was both informative and amusing. Expanding on how his new album came about he described his collaborators not just as musicians but as friends, people he'd most want to work with anyway. And it's not just fellow artists whose advice he sought. Ideas for songs don't only come while strumming on his guitar, one came while walking his dogs. He hummed the melody to them and one, O'Malley, responded with a look that said, "yes, now go and turn that into a song".
Naturally Glover sang 'Catbird Seat' , co-written while on tour with Mary Gauthier. Unsurprisingly perhaps, it is dark, about murder, but what stood out is how Glover can draw out his partner's style without dampening his own. He sings with such intensity and McClean's stinging playing only added to that tension. Next came 'Dancing With The Beast' co-written with Gretchen Peters and the title track of her new record.
The standout song of the set, and probably the album was 'Kindness'. It's message is simple, just think how much a little kindness would go towards mending today's fractious world, "May you know kindness/May kindness know you". The song is part prayer, part meditation as Glover's pleas, almost in a whisper, draw the listener deeper,"If the world gets lost in sadness/ May you find a prayer of hope". 

Mary Gauthier continued this theme of partnership in the several songs she performed from Rifles and Rosary Beads and her totally absorbing intros to each. There were old favourites but they took a back seat in this set. Throughout Michele Gazich's searing and dramatically timed violin accompaniment added to the depth of Gauthier's songs.
Gauthier started with meticulous renditions of 'Between the Daylight and the Dark' and 'Last of the Hobo Kings'. Again, the spare surroundings helped to add to the melancholy of these two, the latter almost spoken by Gauthier then punctuated with a blistering harmonica, as if the words didn't hit home. As if.
But that concentration went up a few notches when Gauthier explained how Rifles and Rosary Beads came about. The album is a collection of songs she co-wrote with wounded military veterans in the SongwritingWith: Soldiers programme, where around a dozen veterans put their experience of war and its effects into song with the help of the participating musicians. Not all wanted to be there but eventually all found the process of creating songs out of their trauma has had a positive impact on the veterans' long process of rehabilitation.
Mary Gauthier wears her heart on her sleeve. She doesn't hold back and can be very forthright. What struck me about her descriptions of these very harrowing cases was that no matter how desperate their situation, she never lost hope for these suffering people. She has an arid wit and frequent smile that gives everything she says far more power than any angry polemic, no matter how justified.
'Rifles and Rosary Beads' so titled because that's all the veteran who co-wrote the song recalled from the conflict, is about the injuries sustained by a roadside bomb. "Rifles and rosary beads/You hold on to what you need/Vicodin morphine dreams/Rifles and rosary beads". Gauthier sang with a poignancy, minimal guitar and dramatic intervention from Gazich but that more than enough filled the room.
Injury is not confined to physical though. Most of the record is about the mental devastation wrought by war. Gauthier's message is clear, 22 military veterans kill themselves every day. This is an epidemic yet rarely acknowledged. 'Stronger Together' shows how the families have to cope with returning loved ones they hardly recognise. 'Soldiering On' is about how comrades have become the family, "But what saves you in the battle/ Can kill you at home/A soldier, soldiering on". Gauthier explained another frequent condition, survivor guilt, then sang "Still On The Ride". Working through feelings of not deserving to be here while a close comrade was killed, Gauthier suggested that perhaps the buddy is now the survivor's guardian angel. Yet there is hope, each participant found the process healing in some way, giving them confidence to press on with their rehabilitation. All had made remarkable progress.
Looking further back, Gauthier performed a biting 'Mercy Now'. Ben Glover returned to duet on 'Oh Soul' that he and Gauthier wrote together. No fan of the POTUS, Gauthier said she hadn't realised just how prescient that song has become, with the sold soul not being of an individual but an entire country.
Gretchen Peters and Barry Walsh joined them for 'Another Train'. "Ben and I wrote this on some rainswept station in the UK". Sounds familiar, even if the rest of us can't put our time in similar circumstances quite as eloquently.
The finale was a fitting choice, 'This Land is Your Land'. With all the cooperation on show tonight the legacy of Guthrie and Seeger is in very safe hands both on stage and judging by the audience participation. These are all artists whose many talents are all the more attractive when they work together.