Live Review
Reunions and Range: Day Three at the Signature Sounds 20th Anniversary Celebration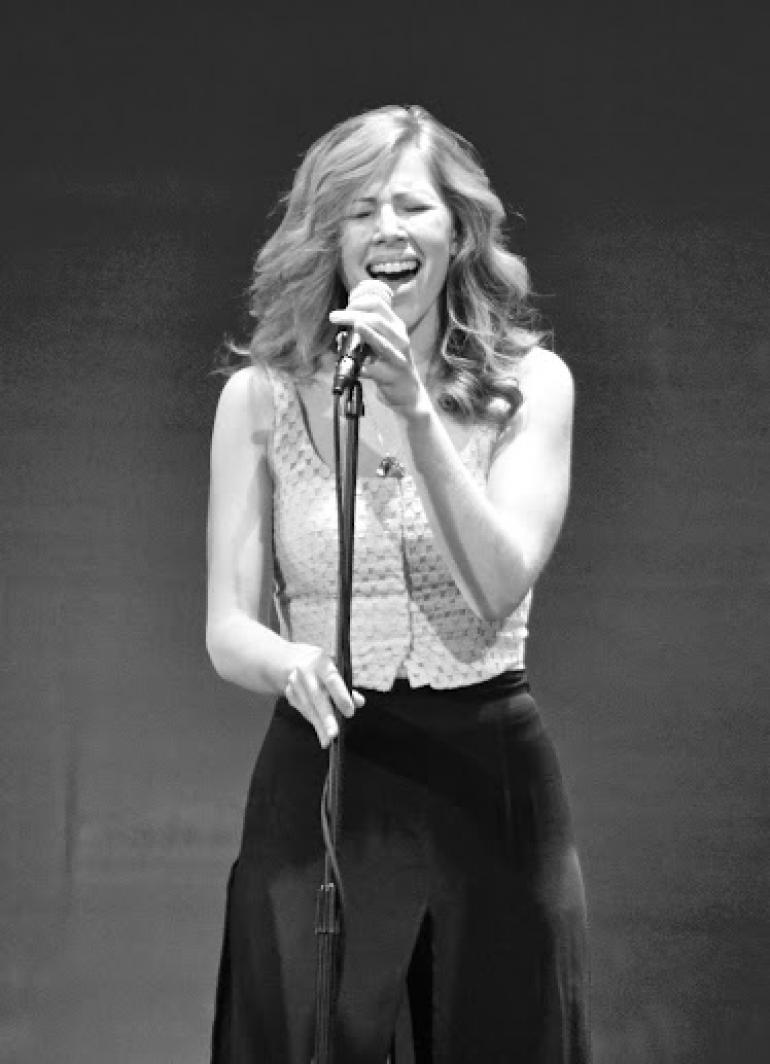 Sunday night at the Signature Sounds 20th Anniversary had a moment that was as much fun listening to music as can be imagined. It proved to be one of many moments from a weekend of moments: After a full set of "modern vintage" highlighted by the sly and flirty "Everybody's Darling" and the soft-popish "Burn," Miss Tess & the Talkbacks invited headliners Lake Street Dive to try something they've never done before.
The eight — Miss Tess and her three Talkbacks, plus the four players in Lake Street Dive — launched into a smooth rockabilly chug, driven by Thomas Bryan Eaton's lead guitar and drummer Matt Meyer's steady beat. It sounded something like Tom Petty's "The Apartment Song," but I couldn't place my finger on the tune. Eventually, I had to admit that I didn't know the song, but it was so infectious that, by the end of the first chorus, I convinced myself I must've heard it before. It was Ted Hawkins' "Sorry You're Sick," and was a far cry from the solo acoustic original, transformed with electricity by Miss Tess and the breakout Lake Street Dive. 
The stage was swollen, with Tess in the center on one microphone, LSD lead singer Rachel Price on her right, sharing with Eaton. LSD's Mike "McDuck" Olson stood further right, almost in the shadows, but became pronounced when his trumpet was called upon. To the left was bassist James Coyne, sharing his mic with LSD's bassist Bridget Kearney and drummer Mike Calabrese.
Miss Tess took the first verse with her smoothly powerful voice suited to cut through a smokey lounge. Eventually, Price and Calabrese each took a verse of their own, but the fun lay in the chorus.
Tess sang the first line: "What do you want from the liquor store?" and six voices answered: "Something sour? Something sweet?" Tess's voice rose to another a line: "I'll buy you all that your belly can hold." Again, the rest answered back: "You can be sure you won't suffer no more."
It was a force of soulful fun that drove and moved, that clamored to get to the chorus again, where voices collided and rang through the Academy of Music. It's feel-good music, and it came at the tail end of a feel-good weekend, just before the finale with Lake Street Dive, who make every song feel good, who make every song impossibly fun. Just look at the cell phone video of the cover. It doesn't do any justice to how the song hit live, but as far as cell phone videos go, it's impossibly fun.
"Sorry You're Sick" was dedicated to Signature Sounds owner and founder Jim Olsen, who had been playing host for this weekend. It's one of his favorites, and it's plain to see why when Miss Tess and company got through with it.
Jim might have needed this song for the home stretch, just like all of us who were at all seven events over the last 50-ish hours: "This has been a long, amazing weekend…we're twenty hours of music in," said Olsen, as the crowd laughed at the emphasis he put on "long."
It might seem trite, after posting blogs about how special Friday and Saturday felt, to say that Sunday was special too. But, quite honestly, it was. There were two concerts, each of which felt singular in nature, because we didn't know when (or if) we'd see these acts — in this place, in this way — again.
Reunions
After ten years together, Crooked Still took a hiatus in 2012, but Sunday afternoon they were back together for the first time since the break.
The band had no plans to get back together, until they were approached by Signature Sounds to play a reunion show for the 20th Anniversary Celebration. They agreed, and set up a mini-tour, playing the Anniversary as the finale of a three-show run. But it was only temporary, with no mention of any future Crooked Still projects on their website or during the set.
The audience files in for the afternoon show, buzzing with the type of excitement that surrounds seeing an old friend. Conversations floated about the past. Many in attendance were with the Boston-born Crooked Still for the previous decade, and looked forward to the fleeting chance to see the group again. But before that happened, Rani Arbo & Daisy Mayhem took the stage with harmony-driven folk, followed by the big band gospel stylings of the Sacred Shakers.
During Rani Arbo's set, Mark Erelli came out to play the lap steel, which, at this point in the weekend, is unsurprising. Erelli deserved an MVP award, having played more songs than anyone at the Anniversary. He had his own set on Friday, then sat in at varying points with Jeffrey Foucault, Kris Delmhorst, Peter Mulvey, and Chris Smither. He played at the tribute to Dave Carter on Saturday afternoon, before his bluegrass ensemble Barnstar! played a set on Saturday night. Then he helped Heather Maloney with a cover of "Wrecking Ball" and took a verse on "I Saw the Light" with Eilen Jewell. At 9 a.m. on Sunday morning, he gave an interview and played a few songs on Jim Olsen's radio show, then played a few more with Barnstar! on the same airwaves.
Judging by the raw time he spent on his guitar that weekend, it seemed impossible for someone to enjoy playing music more than Mark Erelli does.
When the curtain rose to Crooked Still, there was little fanfare, little talk about breaks or reunions. They simply launch into music that sounded as tight as ever. Anchored by singer Aoife O'Donovan's airy, knowing voice, Crooked Still sounded refreshing but familiar -- the uniqueness of their sound took center stage again.
Unlike the rest of the folks that weekend, Crooked Still has a quality that is more timeless than old-timey. They're less gritty and down-home, with a cello, violin, stand-up bass, and banjo. Guitar was used sparsely, and there was no drummer. There never has been. 
Live, like on recording, they are tonally whimsical, almost Celtic at times, with songs that sound like they occur naturally, like they were born out of a different era but meant for today. Much of the weekend's music sounded like a bar room or honkytonk, but Crooked Still sounded like wind passing through a forest, like a boat rolling across the ocean.
A cover of Gillian Welch's "Orphan Girl" began with Dr. Greg Liesz's quick-picked banjo, bouncing bows on Tristan Clarridge's cello and Brittany Haas's violin, while O'Donovan took on the persona of the titular character. The same was true on the traditional "Captain, Captain," where O'Donovan's convincing lament of the widowed lover was backed by Haas's crying violin:
Captain, captain, tell me true, does my sweet Willy sail with you?
No, my dear, he isn't here for he is drowned in this ocean, dear…
Captain, Captain, build me a boat, out on these waters I must float
Searching for my Willy dear, for he has drowned in this ocean dear
The lament didn't last long, though. The reunion brought more revelry than heartache -- all good times, no bad. The band followed with a grooved, cunning take on "Come n in my Kitchen," a uniquely Crooked cover of the Beatles' "We Can Work It Out," and the soaring "Golden Vanity."
"Golden Vanity" gives a chance for the band to play around, to jam, maybe to catch up on the time lost over the last three years. The result is appropriately jovial.
O'Donovan was softly sweet on the mic, unendingly complimentary to the rest of the band, who she clearly holds in the highest esteem. She urged the audience to see the other projects they've pursued on the indefinite hiatus, but admit that it's been too long since they've shared a stage.
Per the band's website, Crooked Still "decided to take a break from touring in 2012 in order to pursue other projects and recharge creatively. One year quickly became three as Aoife O'Donovan made an acclaimed solo CD, Greg Liszt toured and recorded with his band the Deadly Gentlemen, and Corey DiMario, Brittany Haas, and Tristan Clarridge all collaborated with a long list of acoustic music's top artists." I'm not sure if there is more in the hiatus than that, but it seems like there could hardly be hostility when you sound this good. The only hope is that these reunions will become more frequent.
For their encore, the band gave an upbeat, major chord-driven version of "Shady Grove." As had become protocol for the weekend, they invited whoever was backstage to help, and the Sweetback Sisters emerged. Breaking from O'Donovan's mouth, backed by extra voices and Clarridge's cello, the tune was big and sweeping, with the audience participating with little prompting. The chorus — "Shady grove, my little love/Shady grove my darling/Shady grove my little love/I'm going back to Harlan" — gets caught in your ear and stuck in your head, and it played on even after Crooked Still had taken their bows.
The venue cleared, and the audience passed across the street and back to their cars, unsure when, or if, they'll see Crooked Still again. But, as people hum "Shady Grove" and move down Northampton's blocks, one thing was universal: we're glad we saw them here, today.
Lake Street Dive
"We're just a little roots music label," Jim Olsen said some six hours later, during his final introduction. "We don't normally get people on the Colbert Report or Letterman." It was the last night of the Anniversary Celebration, the grand finale, the last act Jim had to introduce.
Survivor's "Eye of the Tiger" played under dim lighting, and one-by-one, the shadow of each Lake Street Dive member took their place. Despite the appearance with Miss Tess and the Talkbacks earlier, anticipation of their arrival had rebuilt over admission, and the band delivered.
When the lights came on, Lake Street opened with dizzying energy, keeping the audience moving through "Rabid Animal," "Clear a Space," a cover of Annie Lennox's "Walking on Broken Glass," and "Bad Self Portraits," the title track from their breakthrough album.
On "Stop Your Crying," the band showed range that's laughably wide, with a heavy distorted guitar intro from McDuck, a bowed bass from Kearney, and three-part vocals. It's something like pop, but encompasses as many different styles as a song can have. Seamlessly, LSD balances their indie soul with hints of jazz and guitars that are part-surf and part-punk. Motown backing vocals jump out of every internal, and before I could think of how I'd quantify the performance when I would eventually write about it, the group had abandoned almost all their instruments, using the strength of their harmonies on an a capella version of "Nobody Knows," with only a whisper of a trumpet from McDuck, and an occasional plucked bass from Kearney.
Really, the set resulted in awe. After listening to their albums and now hearing them live, they seem too big for this room, too big for this place. In a year's time, there will be too much demand to book LSD in a place so intimate. Even if they do play another 800-seat-theater, you probably won't be able to get tickets.
Lake Street Dive is cohesive -- a band in every sense. They share writing duties, solos, and vocals, and have fun doing it. McDuck is a multi-instrumentalist with his own technical coloring of the guitar; Mike Calabrese has the power of a modern day percussionist, but with the smooth delivery of a big band drummer, and carries excitement with it all the way; Bridget Kearney provides a groove on each baseline that give their songs distinction, hitting whole other levels of aptitude on "Clear a Space" and "Bobby Tanquerey."
The music is catchy, but with depth -- a brilliant, crafted explosion of sound. The vocals, however, bring it from something great to something undeniable.
Rachel Price is a force of nature, shining bright amongst a quartet that is already supremely talented, endlessly special. She may hit more notes in one performance, one set -- sometimes one song -- than most singers will hit in a career. She has the instincts of a jazz singer, the power of a soul singer, and the range of a diva, but with a style that's all her own. She throws her hair around and moves her knees and hips like a go-go dancer, keeping a confidence that most would lose when not holding an instrument. But she doesn't need an instrument to hide behind: she has a generation-defining voice in a time where most voices are poked, prodded, and bastardized. Listening to her improvise over the course of a night is pure, unfiltered joy. Quite simply, she's the best singer I've ever heard live.
Midway through "Bobby Tanquerey" the band moved into "Jump" by Van Halen, then returned to "Bobby."
On "Seventeen," they showed their mastery of tempo changes, and did it again on their encore of "I Want You Back," the cover that launched the band into stardom in the first place. Unlike the original YouTube video (which hit 2.5 million views), on Sunday night, they gave the song power, tempo, and polish, before Price ended it with a whisper.
The night came full circle when LSD returned the favor and invited Miss Tess & the Talkbacks out to play the sassy "What About Me?" before taking their bows and leaving the stage ... though no one seemed ready to leave.
A week before the 20th Anniversary Celebration, I published an article on Lake Street Dive. On Sunday, they confirmed, then totally surpassed, every positive word I wrote. 
From start to finish, Sunday was as much fun as someone can have listening to music, and that's refreshing. The weekend was refreshing — it's good music for good music's sake. And even though the weekend has passed and exists now only in pictures, memories, highlights, and cell phone videos, its sights and sounds are still alive, still rattling around in the heads of those who were there.
And, if you weren't, mark the 30th Anniversary Celebration on your calendar. You won't want to miss it.