Live Review
Rockin' with Edison at Rockwood Music Hall
Edison
on March 1, 2017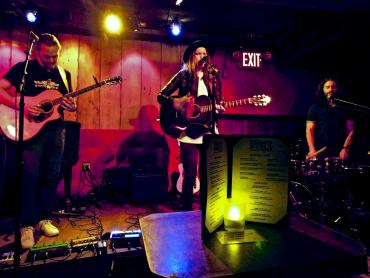 Unlike the first half of the saying, "In like a lion," last night in the Lower East Side of New York City saw March starting off on a rather calm note. A warm evening with virtually no wind, the setting almost felt identical to the last time indie folk rock trio, Edison, were passing through back on the first of September, exactly six months prior to their scheduled tour stop for the night at the famed Rockwood Music Hall. 
Stage three of the famed venue is sometimes overlooked because of its less overt presence behind its stage one and two counter parts that lie right off of the main street of East Houston. Nevertheless, the intimate basement lounge setting – packed nearly right against the low leveled stage with small cocktail tables boasting classic tea light candle ambiance – was cheerfully noisy with audience members that brought together close friends, city passersby (because this is New York and why not see what's going on in a popular venue?), and fellow musicians from Edison's label, Rhyme & Reason Records, all coming out to show support for the traveling group and have a good time.
A full and uninterrupted hour ahead of them to entertain and play, Sarah Slaton (vocals, guitar), Dustin Morris (drums, mandolin, trumpet, harmonica), and former Lumineers member, Maxwell Hughes (guitar), took to their marks and mics with the grins of excitement. The night was filled with a mix of classic older tunes, songs from their debut album, Familiar Sprit (Rhyme & Reason Records, 2016), and most thrilling of all, a handful of brand new songs recently written by the band during a break and writing retreat prior to departing on tour last month.
Most of the people in the room were well versed in Edison's folk and acoustic melodies, as the band's primary M.O. is to play anywhere and everywhere – making sincere and lasting friends along the way. Fans in any particular city might not see them that often but all that time in between means really getting to know their music. While this might make an evening of hearing those same songs seem like a predictable night out, this could not be farther from the truth. Though Edison are unconventional in their songwriting arrangements (no traditional drum kit setup for Morris here!), especially given their very acoustic minimal roots, every live show – with last night being no exception – sees them take the time between visits to a place wherein they make the most subtle of changes to make every song feel entirely fresh and new.
Whether it's adding in an extra grace note and hammer-on in the mandolin based hook of classic tune "Arrow," changing up who sings the descant vocal in travel anthem, "Open Road," loudest for that set or, introducing a punctuating but perfectly fitting and precisely performed snare drum pattern into the painful but powerful single, "Water in the Well," Edison don't coast on what they've already made while working to give people something new. Strewn among these refreshed familiars, new is indeed what the room was given during the hour, with the likes of "Lion heart," the tentatively titled "Ghosts 2.0," "Take Me Home," and "Sideways." The latter two songs, which came back to back near the end of the set, were the most striking, as Slaton showcased a few new effects over her vocals (e.g. tune chorus in "Sideways") that gave each song an immediate factor of intrigue that would make anyone's head perk up if they walked by. Digital coloring aside, Slaton's pure vocal aptitude and her ability to crank up the emotional severity of even the most common lyrical themes, is a quality that remains key to Edison's uniqueness, no matter what kind of elements they may or may not incorporate into future material.
 
"This next one ["Take Me Home,"] is a new song. It's 1AM, you're at the bar and you just want someone to take you home so you don't feel alone, even though you feel more alone than ever." – Sarah Slaton
In fact, much the second half of the set was intriguing; not just for musical reasons but also for the dialogue and banter in between. Just before hitting the "Open Road," Slaton found herself connecting with a gentleman in the room who was the sole player of the classic video game, "Crazy Taxi," which came about in conversation following Slaton's attributing to Hughes' impressive solo guitar abilities ("Idea 5") to his "crazy arms."
 
"Anyone in here ever play 'Crazy Taxi?' I was the only one that ever played that, while everyone else played something else so it's always cool to find other people who know what I'm talking about. Where have you been?!"
The conversation wasn't all fun and games though, as the trio also took time to speak genuinely about goings on in the home state of Colorado, where arts based initiatives have led to the flourishing of an entire music district intent on encouraging kids to get better grades in exchange for getting the opportunity to learn about music, music technology, and more, all while getting mentorship and guidance from established artists like OneRepublic and The Flobots.
The night flew by as quickly and as the room emptied out for the next set, knowing that it will be a while again before New York City sees Edison pull up in their Van (Morrison) and Trailer (Swift), the only thoughts at hand were "hurry back," and "hurry and record those new songs!"